Ba Be Lake deserves the name people have given to it – a pearl of northeast Vietnam. Just like a great escape to land of opportunity, you can't imagine what is waiting for you. Ba Be Lake is just like that, despite how much you try to picture the place; in the end Ba Be will appear totally different. In the north of Bac Kan province, deep in the core of Ba Be National Park lie an immense surface of water being surrounded by endless green mountains and primeval forests. The 5 million km2 area of the lake defined by a 30m water depth includes 3 small lakes as in the meaning of the name Ba Be (Ba Be means "three lakes"). On height of 450m above sea, covered in length of 8km with cave and underground stream system, Ba Be Lake has important values with distinctive geological landscapes, outstanding geomorphology, and wide range of biological diversity.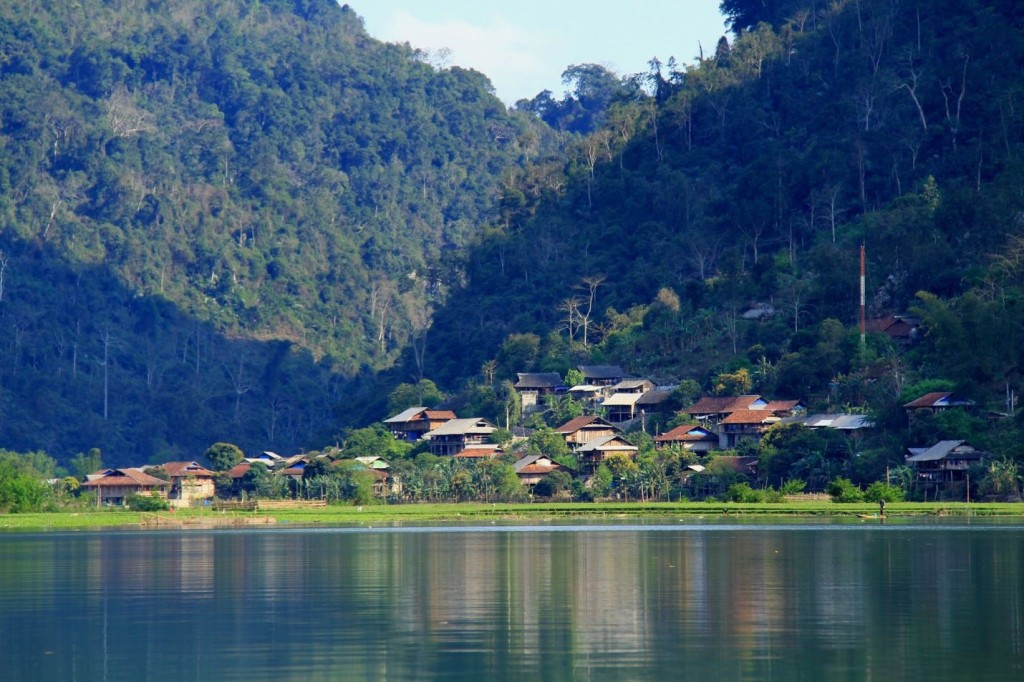 There is a saying that in Vietnam everything starts with a legend. Ba Be Lake has a famous one. Once upon a time, in Bac Kan, each year Nam Mau villagers held Vo Gia festival to worship Buddha. The festival attracted thousands of people in surrounding areas. One day, a leper who was an old woman came to the festival in unpleasant appearance. The old woman came to villagers to beg for some money. However, the people turned her down by chasing her away, some even yelled at her. This cold attitude resulted from the wrong opinion of leprosy infection. But few people still showed her their consciences by giving her meals or money. One of those was a widow who invited the old woman to her house, showed no fear and dined with her. She let her rest in a granary at the back of the house. In the middle of that night, the widow and her son woke up abruptly by a roaring noise coming from the granary direction. They opened the granary's door, the old woman was no where to be seen, instead of her, a dragon was sleeping with its breaths like thunders. They were too scared to make a sound, just came back to their beds and lied there still till the dawn broke. In the morning, the old woman told the widow that she wasn't human but a dragon, pretended to be a beggar to test the kindness of Nam Mau villagers and guests who came to the festival to worship Buddha. And seeing that all of them were liars and hypocrites, except for the woman and the son, the divine superior had decided to punish them with a cataclysm. But as for the mother and son, because of their sincere kindness, she told them to run up to high mountains to hide and when everything is calm, then use 2 pairs of rice husks to rescue people.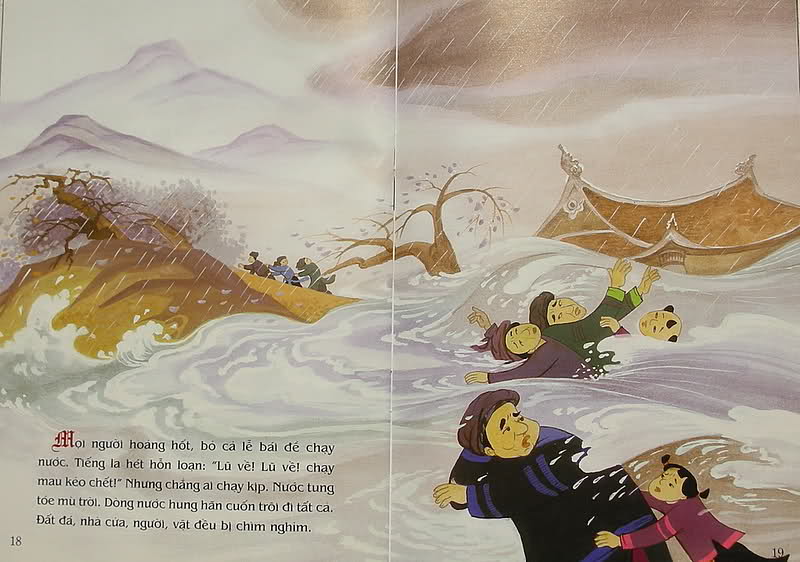 After that, the old woman disappeared. In the next day, when many people were gathering for the main festival, a devastating flood struck the valley. People were terrified and running for their lives. But the heavy flood drowned most of Nam Mau villagers. The widow and her son survived, threw 2 pairs of rice husks in water and they turned into 2 boats. They used the boats to help others and brought them to their house on a mountain. Thereby, a new village was born still named Nam Mau. The valley then became 3 huge lakes and was called Ba Be Lake (Three Lakes) as of today.
Ba Be is located on a high ground and surrounded by primitive forests, so all year round, the atmosphere here is always cool, but the best time to visit should be in summer to escape the heat of cities. Or you can visit Ba Be in spring when a festival is held with so many interesting activities as traditional games and folklore performances. Going by car or motorbike are both possible since the road to Bac Kan is easy. It takes you about 3 hours to 4 hours to reach the lake depending on which road you take. The way through Bang Lung town (Don Market) is shorter. Other option is going by coach from My Dinh Station. You can take a straight route from Ha Noi to Ba Be or take 2 routes: Ha Noi to Thai Nguyen City and take another from Thai Nguyen to Ba Be.
You must buy an entrance ticket for 25,000VND. Continuing along Nang river, you stop at Boc Lom quay to rent boats or kayaks. Paddling along the poetic Nang river you arrive at Puong Grotto which is 300m long, 30m high to witness a magnificent karst structure and colorful stalactites. Boats can go through the grotto's entrance on Nang river to the other opening.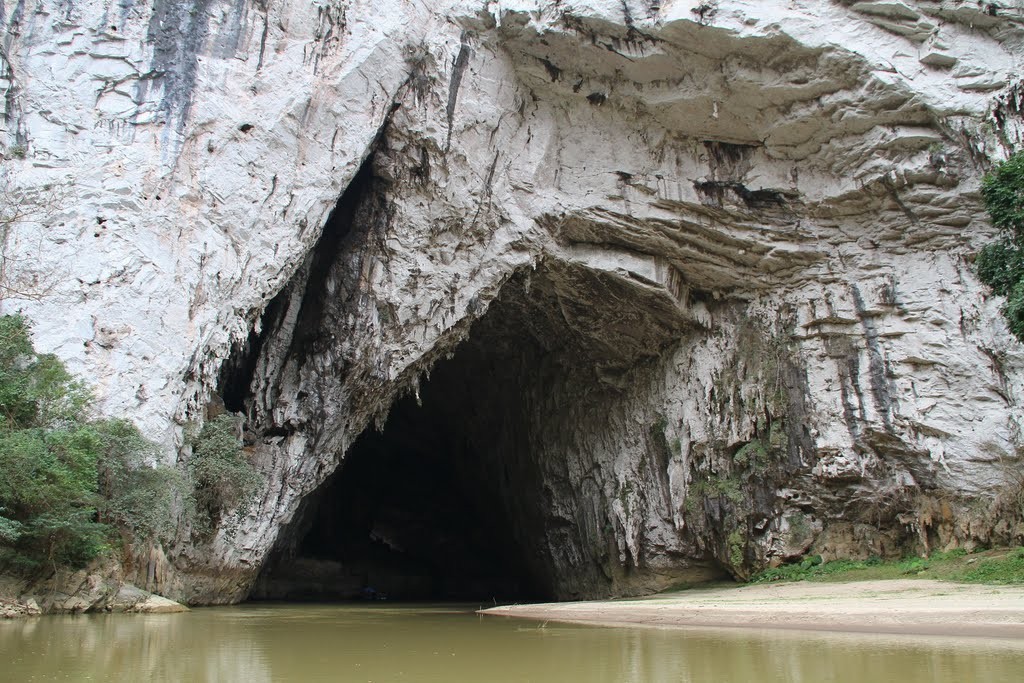 Going with the flow of Nang river, to the west of the national park, you stop at Dau Dang waterfall. The fall lies between 2 karst mountains containing 3 levels, distance to each is about 3-4m. The landscape of the fall is majestic yet peaceful. This is also the living place of Chien fish weighted to tens of kilos each.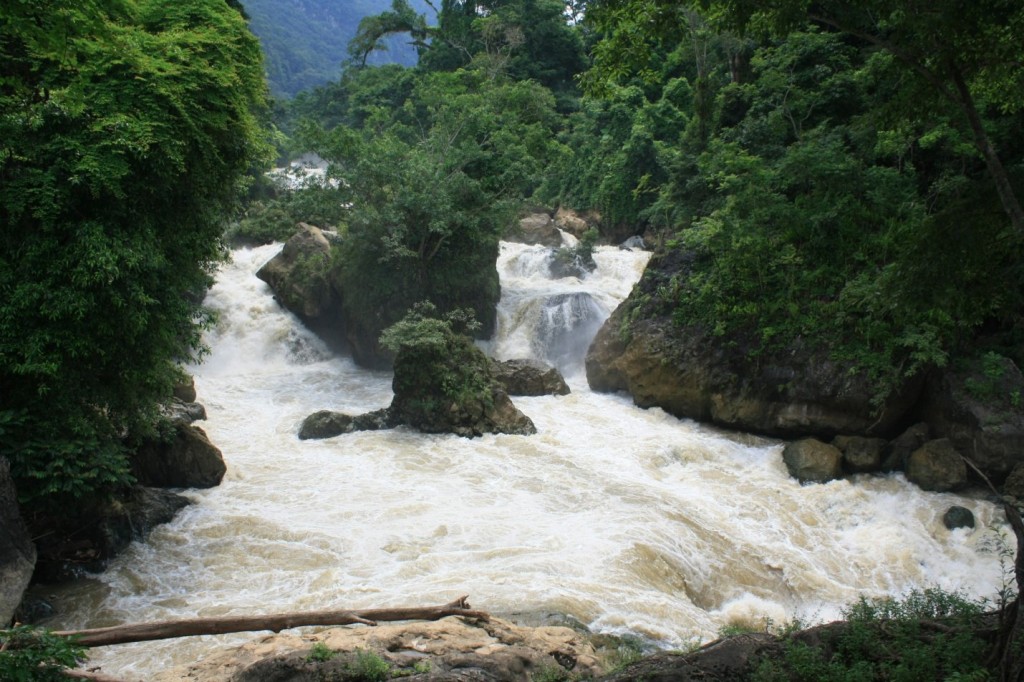 Going back to the T crossroad, you turn right to access the main lakes. In the third lake, you can go on land to visit Fairy Pond. This small pond is separated to the main lake, contains freshwater and is surrounded by a karst structure. There are some local fishes live in the pond. People come here to enjoy the quiet atmosphere rather than hoping for a big catch. The name of the pond started with a story of a hunter when passing by the pond was lured by the beauties of the fairies that were swimming in the pond.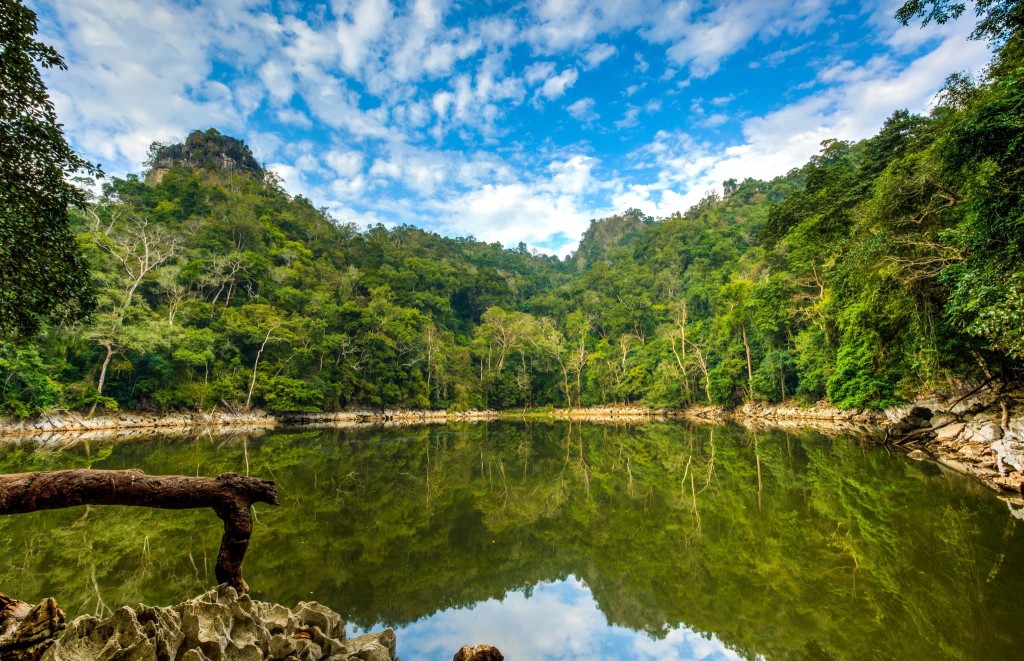 On the way to second lake, you can visit destinations as An Ma temple which is situated on an islet in the middle of the lake; Widow Islet and Ba Be sightseeing point. Widow islet, as the legend tells, was the living place of the widow and the son after the rescue Nam Mau villagers. The green islet rises above the emerald green water like a gem of the lake. This is a great site to take picture or rest.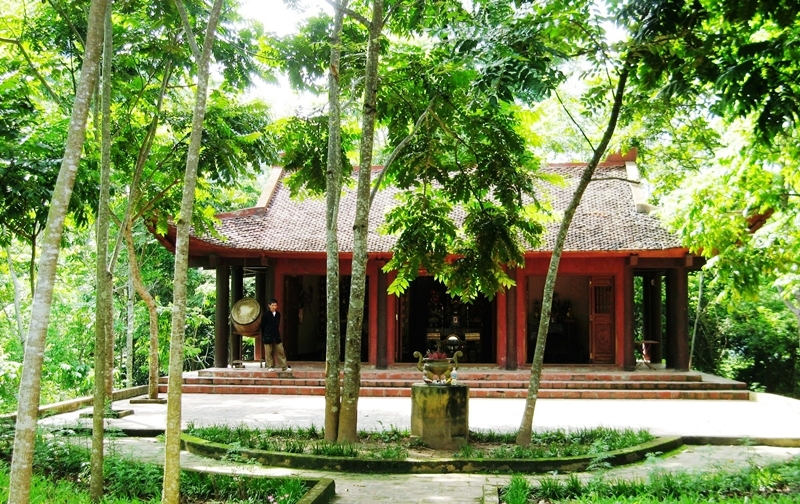 Pac Ngoi is a village of Tay people with 40 Tay traditional stilt house and 400 villagers. The village is located right beside the first lake.
If you are not interested in kayaking tour and want to try something more special, you should definitely try dugout boats. Dugout boat is a specialty of Bac Kan which is thin and long just like the rice husks as in the legend. Nowadays, there aren't many dugout boats in Ba Be lake due to not only the lack of a certain type of wood, but also the convenience of motor boats. Tourists prefer dugout boats more than motor boats but in case you can't swim, don't rent the former. Because boating on dugout boat is quite dangerous for inexperienced travelers, you would fall into water if you stumble. And the lake is so deep and dangerous even to good swimmers so consider carefully for your safety.
Our journey isn't ended yet. In the buffer zone of Ba Be National Park, Silver Waterfall and Hua Ma Grotto are great sights to see. Silver waterfall is located at Hoang Tri commune with height of 40m. Waterfall looks like a giant white scarf falling down from the sky. In summer, you can't avoid to stay at the fall as long as possible to enjoy the pristine natural environment, cool air and water harmonized with sights and sounds from the primitive forests.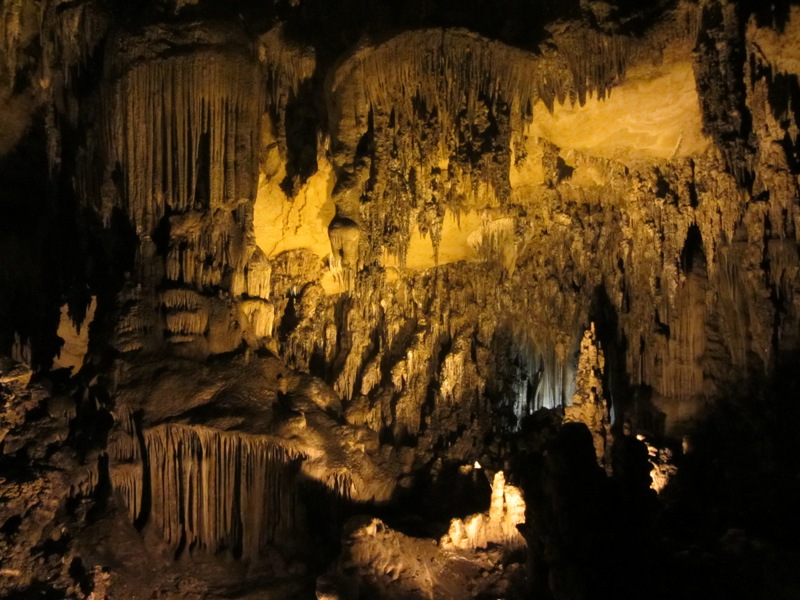 Leng river continues to bring us to another masterpiece of nature. Hua Ma Grotto is not far away from Silver Waterfall and located halfway to Co Don Mountain (mountain of loneliness), in the middle of Ghost forest. The grotto and the forest are dark and gloomy all year round. Legend tells that Ghost forest where ghosts and lost souls can be found. There was a general who came to the forest to patrol and heard the howling sounds of soldiers' souls who died fighting for the country. The general decided to camp at the bank of Leng river and killed a horse to dedicate to those lost souls. Since then, the souls were freed, the grotto started to have beautiful stalactites. The foot of Co Don mountain is 350m above sea, with 300m stair length to the entrance of Hua Ma grotto. The entrance contains 3m wide and 5m high, the total length of the grotto is 700m, width – 1ha. Visitors will have chance to experience the most the thrilled emotions as soon as they step in the Ghost forests.
Home stay in villages is very interesting. You should go with group to cheapen the price per member. Reasonable time to stay at the lake should be 2 days and one night. First day is for activities in kayaking in Nang River and main lakes. Second day is spent on land to visit Silver waterfall and Hua Ma grotto. In afternoon, you start to return to Ha Noi and arrive at 5pm or 6pm.