In general, Vietnamese take breakfast very seriously, especially the old generations. Breakfast can be cooked at home but mostly eaten outside. At any big street in Hanoi or Saigon, you can find a food stall or restaurant or vendor at any corner selling foods for breakfast. They serve from 6am to 10am every morning and all kinds of dishes that are cheap and nutritious.
Pho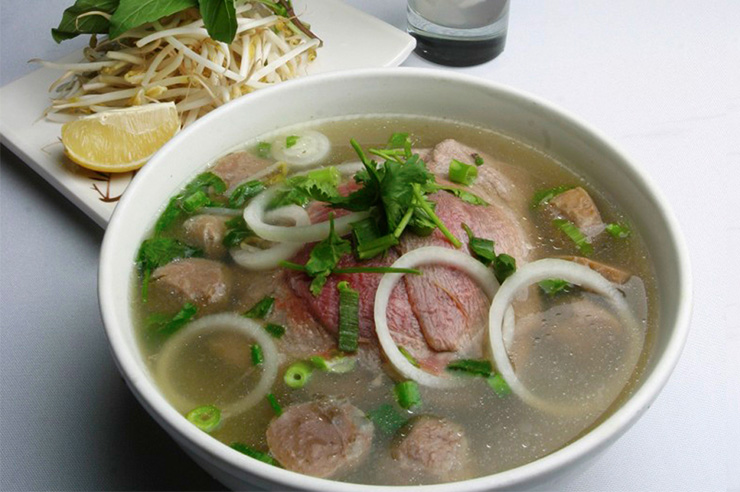 Pho was a cheap and abundant breakfast dish for everyone. Now it's still abundant but not so cheap anymore, at least to Vietnamese. I can see why Pho is more expensive now than before because it takes a lot time to prepare and cook, especially the broth, and involves a lot of ingredients and spices. Each bowl of Pho consist of rice noodle, hot broth from pig's bones, chicken meat or beef, green onions, and served with a lot of herbs and additional spices like lemon, chilies, salt…. Eating Pho in the morning can make you feel full all the way to lunch time and it still has less calories compared to western fast-food. Around Hanoi, Pho is popular and restaurants or stalls that serve Pho are everywhere to be found. Normally, any food at Old Quarter is slightly expensive than other streets, mostly around 45,000-60,000VND for a bowl while you can pay 25,000-30,000VND for a simple Pho with chicken at any street outside the touristy areas.
Bun (Rice Vermicelli)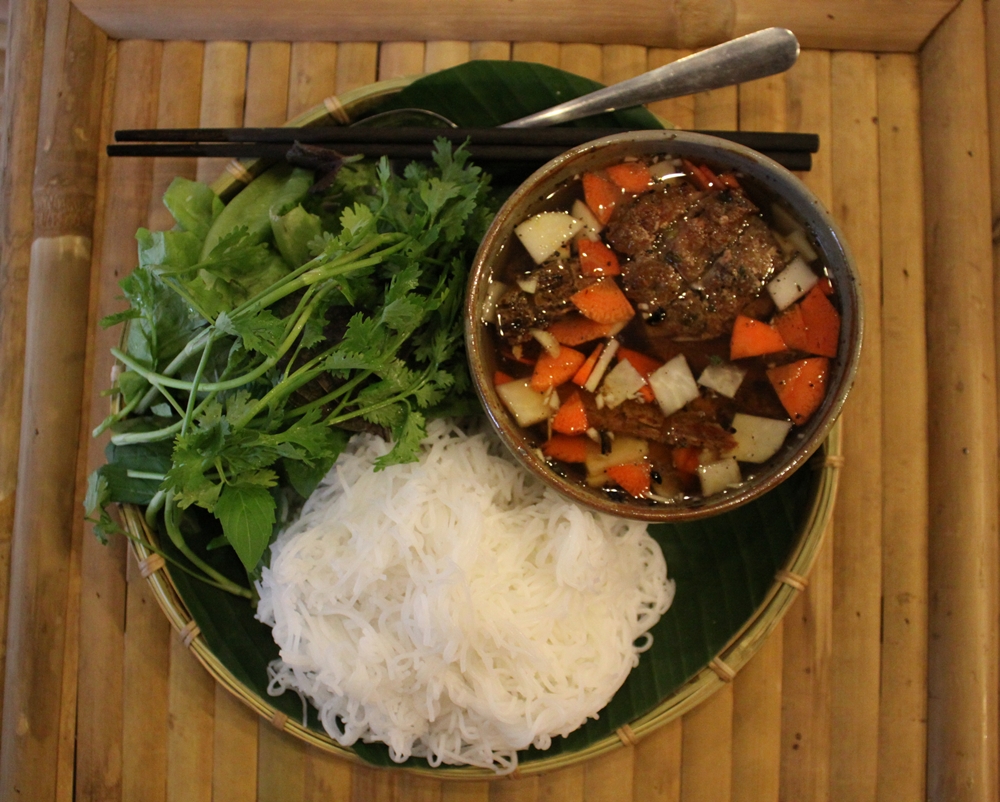 Bun Cha is also very popular in Ha Noi and the way to eat Bun Cha is distinct to other Buns. The vermicelli is served separated with the fish sauce bowl unlike Pho or other Buns where the vermicelli/Pho is dipped into a full bowl of broth with toppings. Bun Cha uses no broth but a diluted and kind of sweeter fish sauce with grilled chopped meat and pork inside. You put a bit of vermicelli and herbs into the fish sauce's bowl and eat with the pork meat. Bun Cha is cheaper than Pho, and again 40,000-50,000VND per serving at Old Quarter and 25,000-30,000VND in other streets.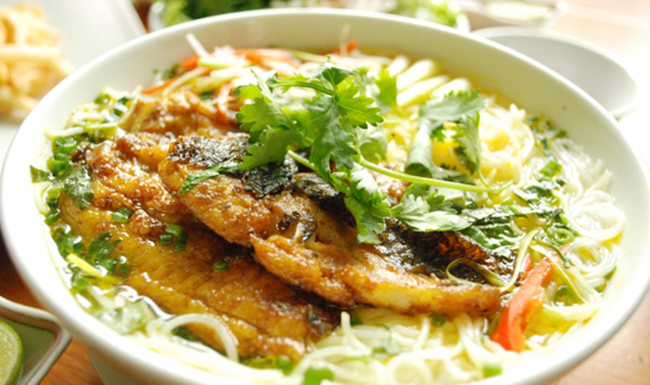 Bun Bo Hue, Bun Oc (vermicelli and snail), Bun Ca (vermicelli and fried fish): Bun is indeed a favorite dish of Vietnamese people especially in summer because it also made from rice but cool and easy to eat and combine with many other ingredients. All these Buns have a sour taste from tomatoes garcinia cowa and lemon lime. The prices for each kind of Bun are also varied depending on the main ingredients. Bun Bo Hue is the most expensive and Bun Oc or Bun Ca is cheaper.
Banh Cuon (Steamed Rice Rolls)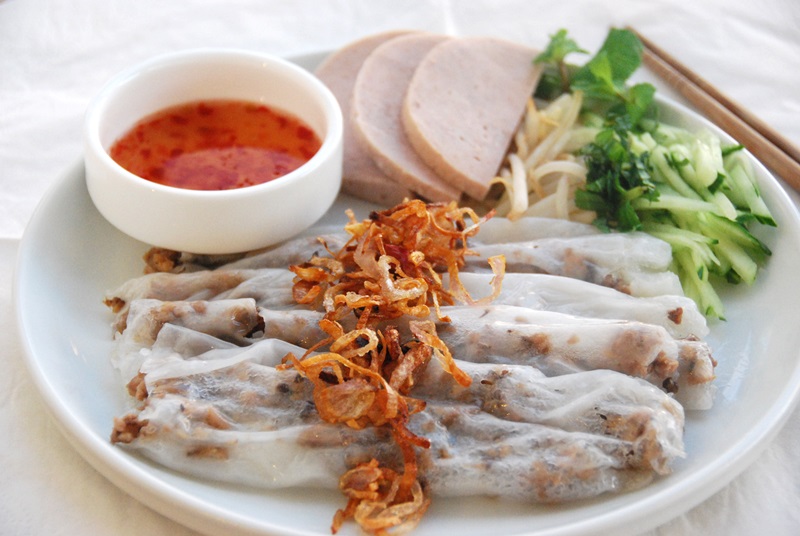 Banh Cuon is also popular as a breakfast meal because of its cheap price, tastiness and low fat. Banh Cuon is also an age-old dish which has inspired many other kinds of roll. The dish is rather simple: thin steamed rice papers roll loosely to keep the seasoned ground pork and minced wood-ear mushrooms inside. Dip the rolls into the dipping sauce made of mostly diluted fish sauce with special flavor. Again, Banh Cuon is also served with herbs like many Vietnamese dishes. A decent serving of Banh Cuon usually costs around 25,000VND to 35,000VND.
Banh Mi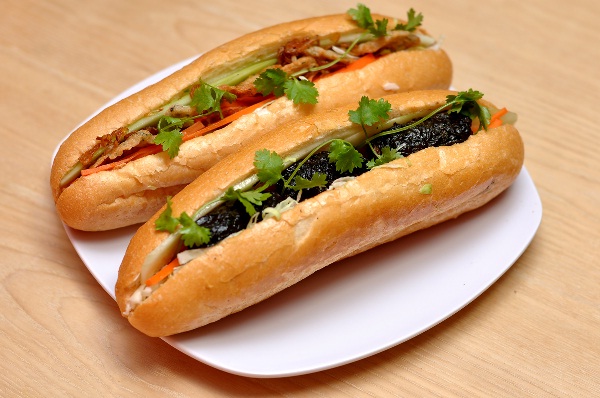 Together with Pho, Banh Mi has become one of the iconic street foods of Vietnam. But before it got famous worldwide, Banh Mi was a dirt cheap breakfast dish and eaten by everyone, especially by children and the poor and middle class. There was a time every child just had to pay 5,000VND to have a small size Banh Mi with fried pate and some meat floss to eat on the way to school. Nowadays, there are many types of Banh Mi with different fillings we can name such as thit nuong (with grilled pork, meat), pate, fried eggs, cha/ cha lua (pork roll), thit nguoi (cured pork cold cuts), xiu mai (pork meatballs), ca moi (sardines) or combos. You can buy a Banh Mi anywhere in Hanoi for about 15,000VND to 25,000VND.
Xoi (Sticky Rice)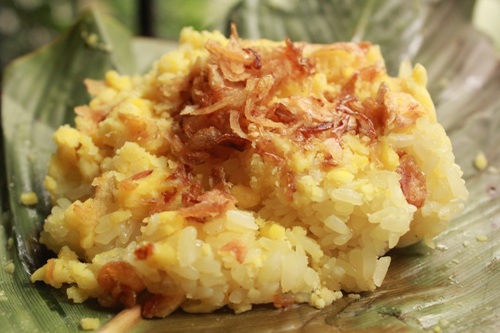 Xoi is the cheapest breakfast dish of all street foods in Vietnam. Many choose Xoi for their daily breakfast because of its convenience, it's easy to carry, and when you can't finish it at once you can always keep for later, unlike the other dishes. Xoi is often sold by vendors and food stalls. The well-cooked glutinous rice is kept covered inside the basket of Xoi ladies. Just when they unfold you can smell the pleasant fragrance of rice, peanuts, fried onions…. The Xoi ladies have to wake up early to cook the rice and they are the earliest to sell breakfast dishes. You can see them at any school gate in the morning selling to the students. Just with 5,000VND you will have a decent serving of Xoi Xeo (with mung bean, meat floss and fried onions), Xoi Lac (with peanuts) or Xoi Do Den (with black beans) wrapped carefully in a banana leaf to make it smell good.
Chao (Porridge)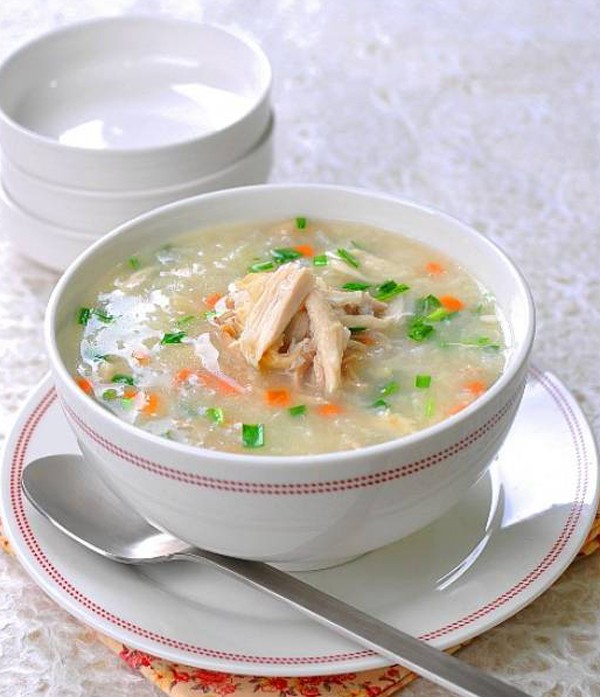 Porridge can be eaten not only for breakfast but also for lunch and dinner. However, there aren't many Chao restaurants or stalls because the dish is very easy to cook even with only rice cooker. Chao would be more delicious if you cook with minced pork, chicken, duck or eel. Perilla is often added for its flavor and medicinal benefit.
Trung Vit Lon (Balut)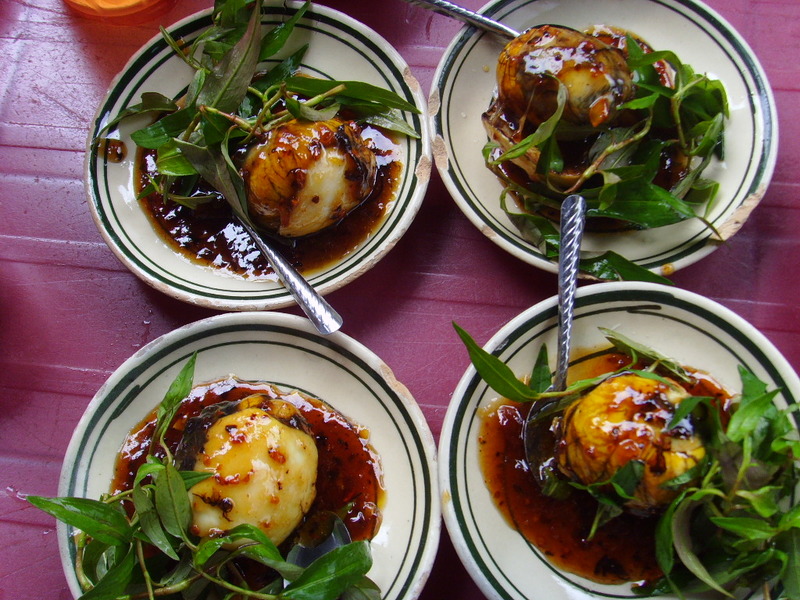 Trung Vit Lon seems to be really strange to westerners and many refuse to eat this dish because they consider eating an almost baby bird is quite brutal. The dish is very popular in Southeast Asia countries, especially Vietnam and Indonesia. In Vietnam, people eat balut with salt, ginger and herbs which can make it ten times more delicious. Because of its medicinal benefits, Trung Vit Lon is commonly loved and eaten mostly in morning.
Other "Banhs"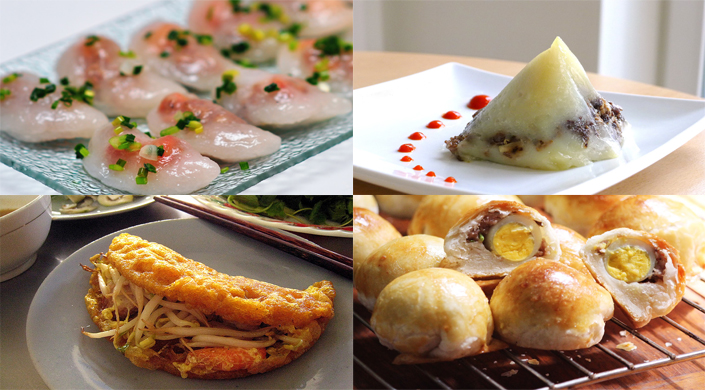 "Banh" in Vietnamese means "cake" and there must be hundreds of cakes can be found in Vietnam. Banh is a very wide variety of food to Vietnamese. Unlike westerners have specific words for specific kind of cake like crepe, pastry, donut, bread… Vietnamese call all of those things "banh" and its name after like Banh Mi (bread/sandwich), Banh Giay, Banh Gio, Banh Cuon…. All of them can be eaten for breakfast with cheap prices.