Recently, we have received so many emails questioning about the visa extension in Vietnam due to the newest measures of the government – suspending visa issuance for all countries and closing borders due to the Covid-19 Outbreak. These decisions have raised great concern among ex-pats who staying in Vietnam cannot return their home countries during this time and face some visa extension related problems. Therefore, in this post, we will answer 7 most common questions from our customers as well as solving some misunderstandings about the Vietnam visa extension.
Vietnam Visa Extension during the Covid-19 Outbreak:
Before an outbreak, most tourists choose a visa run to renew a visa, but it doesn't work at this time when they can't both leave and re-enter Vietnam. Visa extension seems to be the best choice to prolong your stay now while remaining in the country. You may also meet some problems or feel uncertain since there has been a lot of visa news updated. Therefore, it is our pleasure to help you get your visa extension done during the Covid-19 time, promising to give you the most convenient and time-saving service.
Let us introduce you the whole easy process of Vietnam Visa Extension with VietnamVisa-Easy: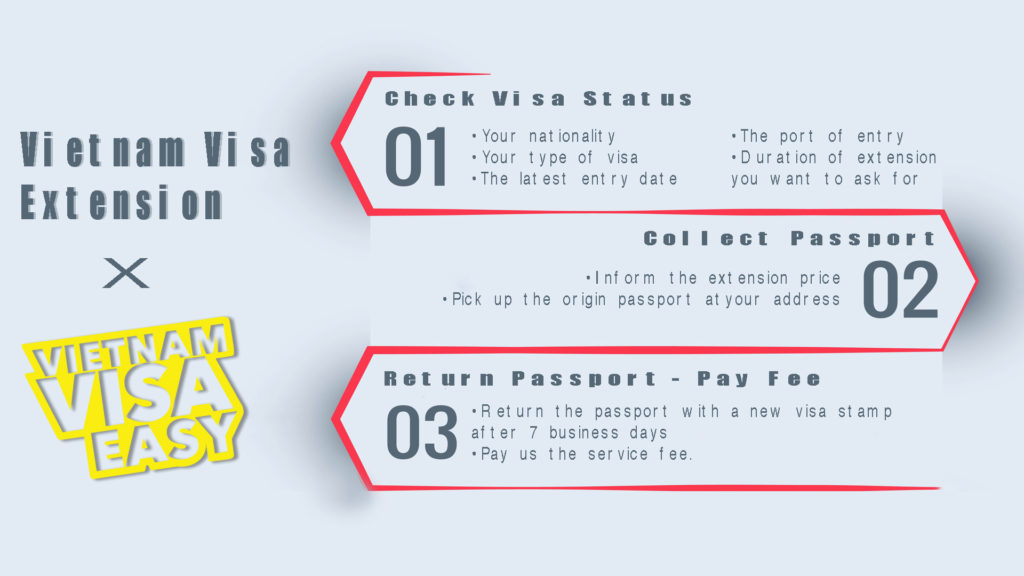 Please read Vietnam Visa Extension to see how to apply to the Vietnam Visa Extension step by step.
FAQs
1. Is it possible to get my visa extended at the Covid-19 time?
Yes, you still can extend your visa.
2. What do we need to prepare for a visa extension through your company and what is the next step?
You need to prepare your original passport and provide us your temporary address due to the virus situation. To save time, we will request you to send some information including your nationality, your type of visa, the latest date of your entry, the port of entry, and the duration of extension you want to ask for. This step is for a visa status check to see whether your visa is extendable and to inform you about the price of the extension. After that, if you agree to use our service we will collect your passport and get it done for you.
3. How long do you need to keep our passports for and where do they need to be picked up from?
The average processing time of a visa extension will be up to 7-10 business days excluding Saturday and Sunday. If you want to speed up the process (2-3 business days), you will have to pay an additional fee. For those staying in 3 cities: Hanoi, Ho Chi Minh, please kindly provide us your address, we will come and pick up your passport in person and return it and you will pay the service fee then. If you are living in other cities and provinces in Vietnam, please send the passport to our offices through the delivery service. 
4. Does the visa extended start from the date of our current visa expiring or from when?
In many other countries, the visa extended begins from the date of the current visa expires. But in Vietnam, it starts from the date your extension application is approved. Therefore, to avoid overstaying your Vietnam visa, we recommend you to apply for a visa extension 1 week before your visa expires. 
5. When the three–month visa expires, can we apply for another three months if we can't return home due to the virus?
 At present, you can apply to extend your visa for a period of three months. 
6. Why do the agents don't publish the visa extension prices?
Many people misunderstand the problem around travel agents never show the extension fee, so that they always get confused and wonder whether Vietnam agents take advantage of them to earn more money, especially at this virus time. So the answer from us is, depending on each time and case, the price is unfixed. That's why we ask you to give us a photo of your visa stamp and your nationality first to check its status and later, to inform the price. 
7. Why the extension fee in Vietnam is higher than the visa fee?
As getting your visa extended is much more convenient and time-saving, the extension prices are always higher than the visa on arrival cost. Additionally, Vietnam Immigration Apartment wants to prevent every foreign case staying in the country for illegal working purposes. So, if the extension price is low, all tourists can extend their stay in Vietnam easily without wasting time, travel expenses, and much effort. This condition may be of great benefit to foreigners working illegally in Vietnam, making it hard to control them and creating negative impacts on the economy. Vietnam welcomes tourists coming to visit the country but they do not encourage them to enter Vietnam and prolong their stay for illegal employment.
If you have any question, please feel free to leave the comment below or send it to our email: support@vietnamvisa-easy.com