According to this source, Vietnam has decided to extend the 15-day visa-free entrance for citizens from five European countries that are Germany, France, UK, Italia, and Spain for another year, until July 30th 2017.
Therefore, citizens from the countries below are not required a visa for the days allowed:
14 days: Brunei
15 days: Belarus, Denmark, Finland, France, Germany, Italy, Japan, Norway, Russia, South Korea, Spain, Sweden, United Kingdom
21 days: Philippines
30 days: Indonesia, Laos, Malaysia, Singapore, Thailand, Cambodia
Visitors from other countries have to obtain a Vietnam visa before visiting. Other than applying online to get a VOA (visa on arrival) which is cheaper and faster, if you want to get your mind at ease and don't want to worry about getting visa stamp at the airport, you can apply at any Vietnamese embassies. The prices for a Vietnam visa vary depending on visa types and length of stay, or even from country to country. The official prices for visa services are not released on the websites or they might be quoted at different rates when you get there.
US passport holders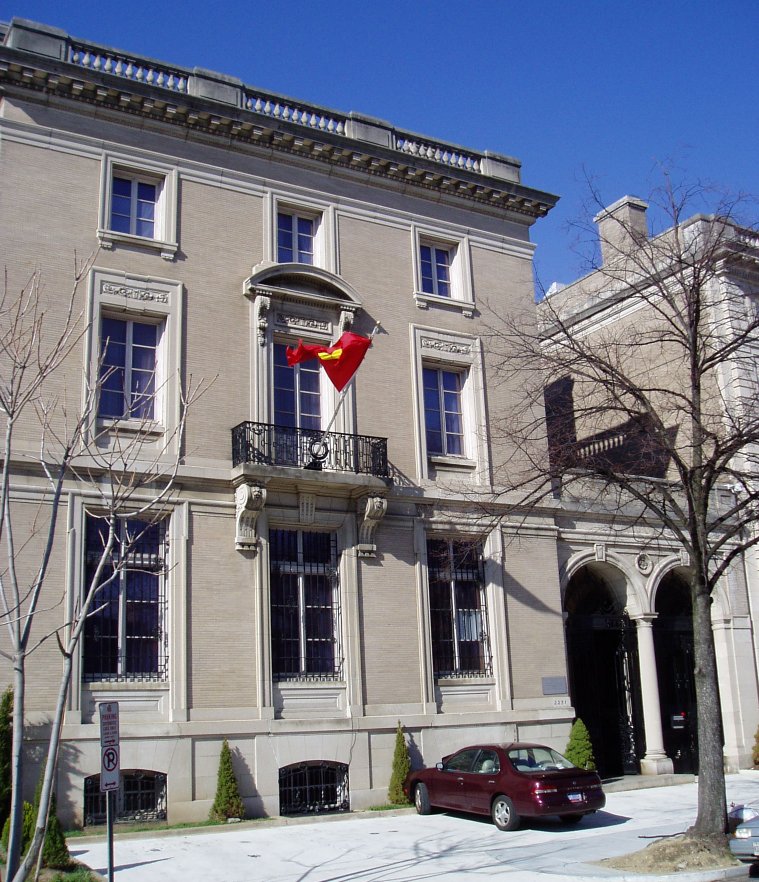 Vietnam embassy at Washington D.C
Add: 1233 20th Street, NW Suite 400 Washington, DC 20036
Embassy of Vietnam in San Francisco
Add: 1700 California St., Suite 430 San Francisco, CA 94109, USA
The Vietnamese embassy in New York
Add: 866 UN Plaza, Suite 435, New York, N.Y. 10017, USA
Types and Fees:
30 days, single entry: $80 per person
1 year, multiple entries: $240 per person
Note: As of September 2016, all US passport holders coming to Vietnam must obtain either for 1-month single entry visa or 1-year multiple entry visas. All Vietnamese embassies and consulate in America offer both two options mentioned above with prices as listed. However, the Visa on Arrival for US passport holders is only applicable for 1-year multiple entry visas. For business travellers, a sponsor or guarantee from a partner in Vietnam must be obtained.
Vietnam embassy at Ottawa, Canada
Add: 55 Mackay St, Ottawa, ON K1M 2B2, Canada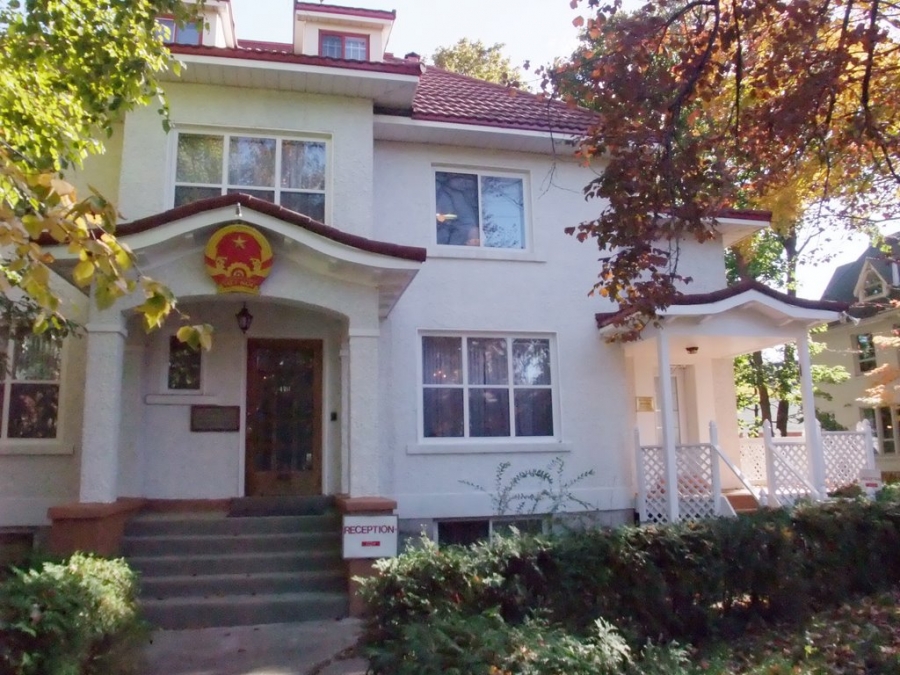 30-day tourist single-entry: $100 CAD, as of 2015.
Normal process takes 3-5 working days. There is rush service available for 2 working days but you have to pay an extra fee ($30CAD?).
Vietnam embassy at Bangkok Thai Land
Add: 83/1 Wireless Road, Lumpini, Pathumwan, Bangkok 10330, Thailand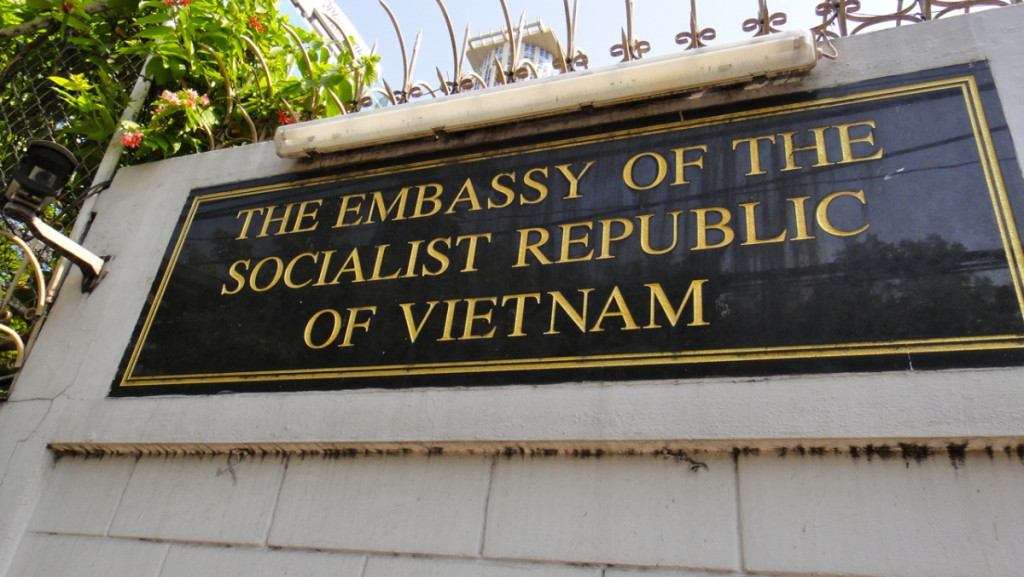 The embassy offers free on their website for Vietnam visa as below:
Single entry visa: $25 per person
Multiple-entry visa:
Valid up to 3 months: $50 per person
Valid for from more than 3 months up to 6 months: $95 per person
Valid for from more than 6 months up to 12 months: $135 per person
Valid for from more than 1 year up to 2 years: $145 per person
Valid for from more than 2 years up to 5 years: $155 per person
However, there is a report of being charged higher than the rates above. As of 2015, the actual price for 30-day single-entry visa is 2,450THB, equivalent to ~$70 USD. Other prices are probably higher.
Vietnam consulate at Luang Prabang, Laos
Add: 417-418 That Boset Village, Luang Prabang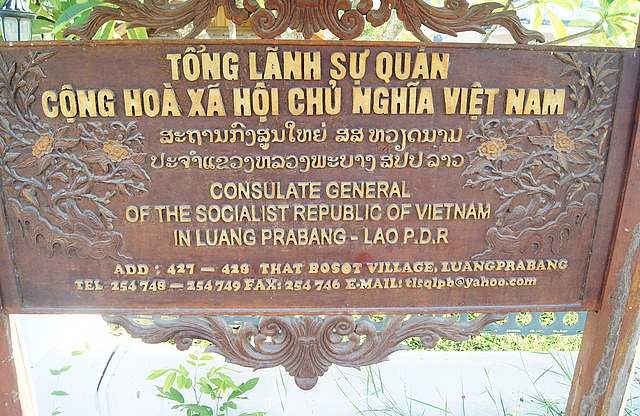 Getting Vietnam visa at Luang Prabang is cheaper than in Bangkok and Vientiane.
30-day single-entry visa in 3 working days cost $60, in 2 days $65 and in 1 day $70.
Vietnam embassy in Hong Kong
Add: 15/F, Great Smart Tower, 230 Wan Chai Road, Wan Chai, HONG KONG, CHINA
Visa Types and Fees:
1-month single entry:
Normal service: HK$580
Next day: HK$ 720
Same day: HK$ 640
1-month multiple entries
Normal service: HK$ 800
Next day: HK$880
Same day: HK$960
3-month single entry
Normal service: HK$1040
Next day: HK$1120
Same day: HK$1200
3 months multiple entries
Normal service: HK$1280
Next day: HK$1360
Same day: HK$1440
6-month multiple entries
Normal service: HK$3000
Next day: HK$3100
Same day: HK$3200
*Please keep in mind that all the prices reported by applicants in this article are for reference only. The prices offered from embassies in real-time can actually be slightly different.