Fully vaccinated travelers with a negative Covid-19 test before entering can self-quarantine at home or place of residence for a specific period, Deputy Prime Minister Vu Duc Dam said in a statement at a meeting on Wednesday.
The Ministry of Health needs to issue guidelines on quarantine to reflect this change no later than Dec. 15, Dam added. This would remove the current quarantine requirement on arrival at designated facilities.
Those who are unvaccinated still have to undergo mandatory quarantine at centralized facilities.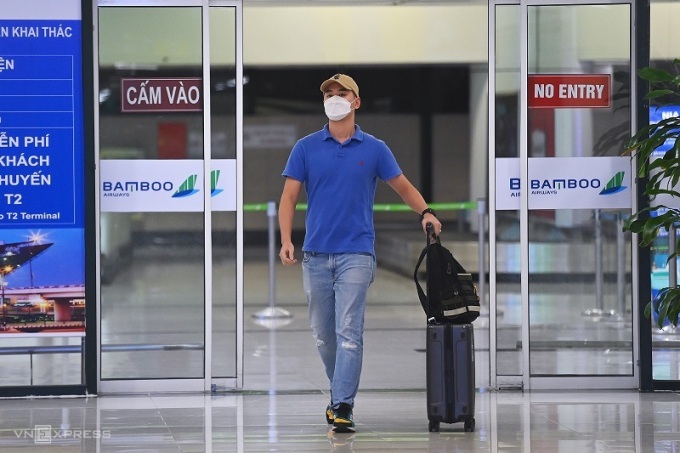 Vietnam is now in different circumstances, Dam said, noting that despite the rising number of cases, the country has managed to control the spread of coronavirus and achieved a high vaccination rate.
The fourth wave that emerged from late April has seen more than 1.35 million cases, of which 1.03 million have recovered. So far 55.5 million people have been fully vaccinated.
Dam said the Transport Ministry and aviation authorities need to work on the expedited resumption of international flights.
An official of the Civil Aviation Authority of Vietnam said at the meeting that they have connected with the "vaccine passport" system of other countries to ensure that all passengers are fully vaccinated.
The unvaccinated passengers must show proof of on-arrival quarantine to book a ticket.
The Health Ministry required fully vaccinated passengers who have a negative PCR test result to be isolated in a designated facility for seven days and self-monitor their health for the next seven days. This requirement applies to those who have recovered from the Covid for no longer than six months.
Several Ministers expressed concerns about the ability of the country to control the pandemic with the emergency of the new variant Omicron.
Vietnam has welcomed over 200,000 foreign experts and highly-skilled workers since the beginning of the pandemic.