On the following of the incident happened in late July where a bus driver's assistant of Viet Nhat Travel (Nha Trang) forced two female foreign passengers to leave the bus, part of which was recorded on mobile phone by a Taiwanese tourist who also took the same bus, we have received mixed opinions on the topic.
In majority, many shared the thought that what the bus driver's assistant did was wrong, even if, as his company's account explained the reason he did what he did was he himself being driven by the aggressive behaviours of the two passengers like spitting/insulting and not cooperating (apparently the passengers didn't seat at the seats which they had paid for). A fair amount of people disagreed with the two tourists who they believed had to be the cause of the commotion and this whole thing didn't need to happen if they could have just taken their seats as arranged.
However, a small group of people assumed that this incident is, as a matter of fact, a very common thing to happen in Vietnam and this driver's assistant represents for all Vietnamese or at least a large part of Vietnamese people. Some even warned others to stay away from the country and some just simply thought they would never come to a place like this.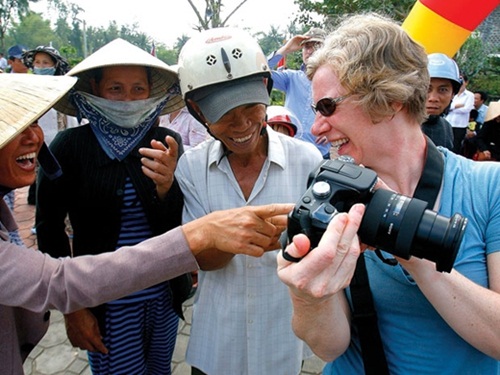 Neither the passengers nor the assistant nor other witnesses have spoken directly on the incident themselves, so literally we are still left in the dark of what really happened. Yet, to put aside of this unresolved question, we want to turn to the other one which raised a bigger issue: are Vietnamese people rude, hostile towards foreigners and do we all behave like the bus assistant and overall is Vietnam safe and worth travelling?
So let's recount some of the incidents happened recently to see if we can turn the table around:
Hanoians helped a foreigner who fainted on the street
On 7th November of 2015, a picture of a fainted tourist on the street of the capital of Vietnam attracted great attention from the media.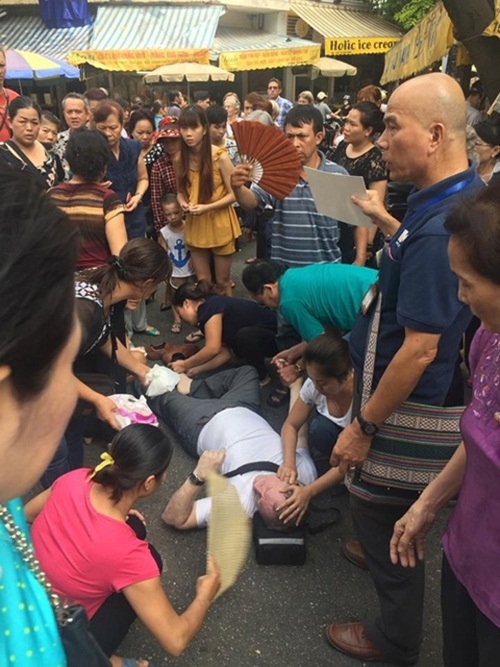 As we see, the tourist was laying on the ground, being surrounded by many locals. There were five women who physically helped the man.
With the account of T.G.B, we knew that the tourist had fainted while walking on Hang Be street. In fear that this tourist might have suffered a stroke, the local people quickly used 10-finger acupuncture and soles massaging technique to recover his consciousness (which are commonly practised in daily life of Vietnamese people). About an hour later, the tourist woke up and was able to talk and function normally. Still, an ambulance was called by locals to take him to hospital for a full check.
This incident at the time attracted great attention on the internet but mostly from local people, praising the individuals who'd helped the fainted tourist.
Injured English teacher helped by locals
Unluckily we don't have a picture of this event – another story about an English teacher in Vietnam named Philip Veinott (age 30) who had a motorbike accident and was helped by locals.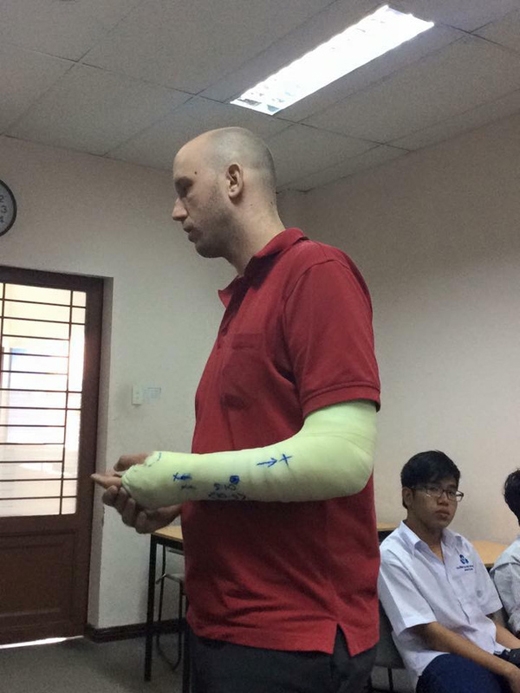 Philip was injured right in front of a household in Ho Chi Minh city. Not only Mr Bach and his wife (householders) gave first-aid treatment to his wound, they also took him to the nearest hospital and even paid his hospitalization expenses.
Mr Bach shared his thought on the event: "I saw Philip just like my son so I empathized with him and wanted to help him. Whoever was in need I gladly wanted to give a hand if I could, moreover, this is a foreigner who would be in big trouble without help in his situation."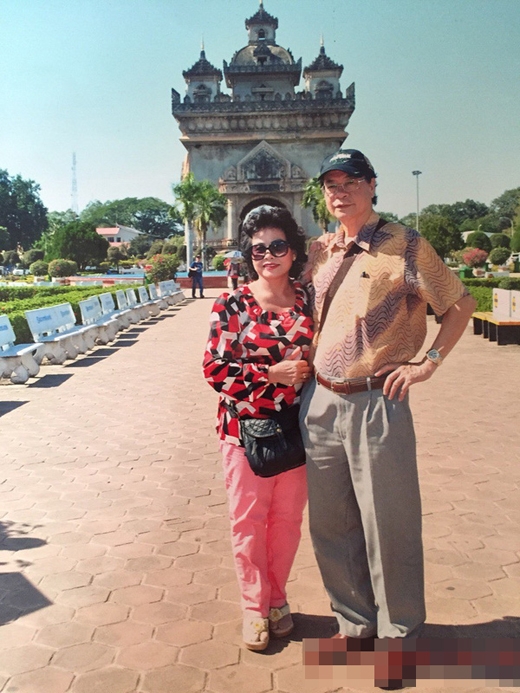 Veinott now is in charge of marketing and social media for Vietnam Is Awesome, a tourism website offering a local experience for foreign tourists. On his Facebook, he had called the day of the accident was "the luckiest unlucky day" and his story went viral on the social network.
A local fed a drunken foreigner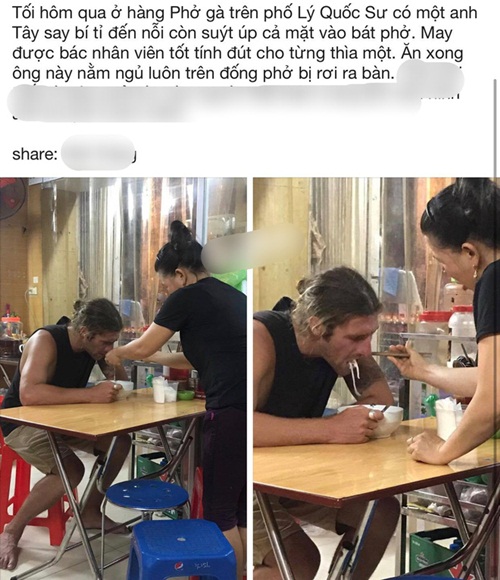 One more heartwarming story also in Hanoi was told by Facebook user M.T. At a Pho restaurant in Ly Quoc Su street, a foreign tourist was so drunk to the point he couldn't eat Pho himself. A restaurant's staffer showed kindness by feeding him. Many other locals and tourists praised the act of this woman as a good example of how Vietnamese people treat tourists.
A French tourist helped by a local in Da Nang
As reported, around noon 3rd April 2016, on the way to Linh Ung Pagoda a hospital staffer named Nguyen Thi Thong met a female French tourist, Vidal N. (age 70) who had a severe accident. She quickly approached and after checking, aware that the tourist's right femur was broken. Using her professional skill, she successfully fixed the broken bone by a splint then called an ambulance. By her much-needed help, the pain of the fracture was reduced which contributed a lot in her recovery. Miss Vidal N. went through a femur surgery on day 9th April and was discharged from hospital on 14th of April.
Miss Vidal N. later shared: "When my bone was broken because I couldn't speak Vietnamese so it was really hard for me. Lucky for me I met Miss Thong. During my time in the hospital, she visited me often. I won't forget her kindness and the medical team who took care of me all this time…"
In any country, there are always all kinds of people. On your part, the most important thing is to prepare for your trip carefully before you go. Knowing the basics of the culture, abiding the laws of the place you are visiting not only makes your trip easier but also helps you to show respect to the locals. By doing all of this, we are sure you won't have any problem when travelling.
So now we can agree not everyone in Vietnam behaved like the bus driver's assistant in the story happened in Nha Trang. In overall, Vietnam is a safe country to travel with endless charms and friendly people. The tourism industry of Vietnam is developing and it's still far from perfection which can satisfy everyone. The locals too need cooperation from you, the tourists – your open-minded views and judgment. We hope that no one will be afraid to visit our country and for those who won't, would have amazing experiences in Vietnam.
Anyway, it's only our opinion. How about you? Have you ever travelled to Vietnam? How have you felt about Vietnamese people? We gladly hear your story!