In possession of many poetic attractions, Moc Chau is well worth a visit.
In the middle of Moc Chau plateau is a climatic sub-region featuring cool summer with average temperature of 20oC and winter drier than other regions. More than that, Moc Chau owns plenty of historical relic, Son Moc Huong cave, pine forest, Chien Vietn pagoda, Dai Yem waterfall, Pha Luong summit and culture villages of Mong, Dao ethnic groups, with dances, specialties, cuisine and handicrafts featuring long time cultural characters.
Son Moc Huong cave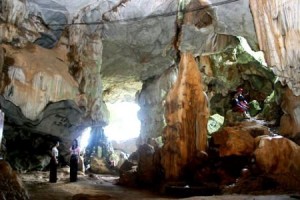 Son Moc Huong or Moc Chau bat grotto is a familiar spot to many tourists when traveling to Moc Chau, Son La. From Moc Chau town to Son La commune about 300m, Son Moc Huong cave is on the right, about 150 m from national highway 6.
The cave's gate faces to the south overlooking large valley, where places 7 small mountains similar to 7 gems. Standing at eastern gate, you could have the general view of Moc Chau town. The interior is a system of stunning stalactites that make you feel like being lost in fairy tale.
Pine hill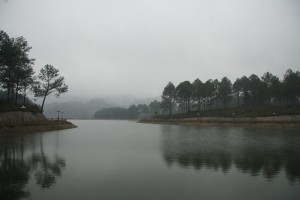 Going along district route about 2 km, tourists will reach an old pine hill with beautiful scenery. This destination is very close to the town, suitable for camping activities due to convenient traffic. As scheduled, this place will construct an ideal golf course in the future.
Dai Yem waterfall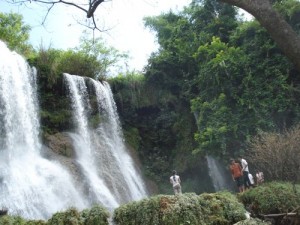 The name Dai Yem was derived from a story about a girl saved a boy from the flood with a brassiere. Although the waterfall' location is low, two flows drop from the height of 100 m, one side comprises 9 layers, the other consists of 5 layers. The two waterfalls are separated from 200 m, still the distance is a flat ground which is a perfect spot for tourists to gather.
Moc Chau tea farm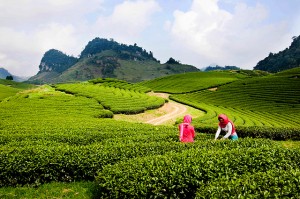 Moc Chau has a tea factory specializing in manufacturing for export and domestic demand service. Moc Chau farm was established in 1958 with thousands of cows. It is one of the biggest farms supplying fresh milk and tea of Vietnam. Visiting the plateau, you will watch immense material fields and gardens covered with white-blossom plum-trees.
Pha Luong summit
Pha Luong summit is located about 70 km from Moc Chau, in Tan Xuan and Chieng Xuan communes with the height of 1500 m. There is a flat ground of 10 ha on the peak which is very suitable for sports such as horse riding, trekking or climbing.
Visit ethnic minorities' village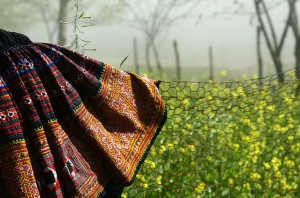 Long Vuong, Van Ho-Moc Chau area is the residence of many H'Mong ethnic people. Convenient traffic creates favorable conditions to develop cultural villages, organize ethnic festivals and distinctive cultural activities of the H' Mong ethnic group. From the village, you can be boated to two forests locating at km 45 and Chieng Sai, where the Thai people of Moc Chau and the Laotians use a common language.
Xuan Nha-Sop Cop Nature Reserve
Situated about 40 km from Moc Chau to the south is Xuan Nha-Sop Cop Nature Reserve, where owns many primitive forests and valuable animals such as tigers, bears….. This place has favorable conditions for eco-tourism development
Moc Chau Plateau is located at 1050 m above sea level, about 200 km from Hanoi to the Northwest in national highway 6.