Being endowed with rich landscapes bearing poetic beauty, Do Son tourism area has become a favourite destination to relax and entertain many tourists in the North. People come to Don Son to enjoy the fresh atmosphere, swim in cool water, visit Hon Dau island and attend dynamic activities such as parasailing, fishing, mountain climbing, jet skiing…
Moreover, tourists are offered a lot of options for holidays in Do Son with a complex of the relic, national landscape, villa, park, primitive forest. Do Son tourism has a close connection with neighbouring tourism areas including Cat Ba, Ha Long, Mac dynasty's area, Tien Lang countryside…to create a series of interesting destinations for tourists to explore Haiphong in National Tourism Year 2013.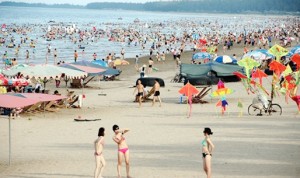 System of beaches: The most prominent beaches include Section 2, Corps 295 and Hon Dau International Tourism Area of which section 2 has been screened sands and cleared up, very clean and convenient for tourists.
The complex of national relics includes Tuong Long tower, Nghieng wharf, Unknown ship K15 wharf, Ngoc Xuyen shrine of which Tuong Long tower and Thap pagoda building are situated at the peak of Ngoc Son mountain. On 25 May 1955, at Nghieng wharf, the last French soldier withdrew from the North after 9 years of hard resistance war. Unknown ship K15 wharf is placed at the foot of Van Hoa hill, adjacent to the green valley (section 3). This place still remains vestiges of old K15 dock, which was built and protected secretly. The unknown ships often landed at the dock to carry weapons supporting Southern battle.
Hon Dau island-national landscape has valuable long-standing primitive forest and Nam Hai Than Vuong temple, where fishermen often come to pray for luck before fishing. On the island stands ancient rock field, Hon Dau lighthouse and especially complex of Vietnam Heritage Tree namely rubber tree, over the 700-year cotton tree.
System of villas: Foremost, Bao Dai villa is situated at the top of the hill (section 2) with 36 m high above sea level and adjacent Nam Phuong villa. Besides, there are some French villas managed by Do Son Tourism Joint Stock Company.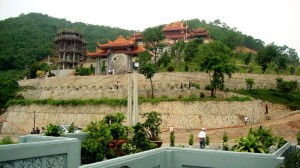 Hon Dau International Tourism Area: modern with "mini-Dalat" area, natural beach, park, golf learning centre, dock, statue garden…
Apart from destinations stated above, tourists could visit other interesting destinations such as Ba De temple, Ngoc shrine, Rong stream, Casino at Section 3…