The American USD Today Newspaper has announced the top most attractive markets in the world of which Vietnamese Ben Thanh market honourably enters the list.
The selection is based on the ability to reflect food importance and local characteristics through items in the market.
Not only is food supplier, but the markets in the list are also an ideal spot for tourists to get a souvenir or enjoy specific dishes ranging from fast food to abundant meal. Thereby, tourists could have a general view of traditional flavour and experience the local culture.
The list of best cuisine markets comprises all area throughout the world but most of them are in Asia and Europe, which are famous for long-standing culture. The top 3 includes the La Boqueria market in Barcelona, Spain; Borough market in London, England and Noryangjin fish market in Seoul, Korea. Ben Thanh markets rank at 15th position.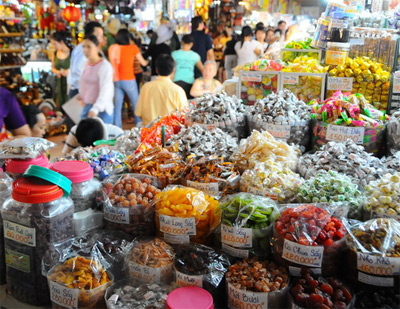 Ben Thanh market enters top 15 world's best markets
Ben Thanh market, one of the oldest architectures in Ho Chi Minh city is appraised to be an attractive destination of tourists by an American newspaper. Situated in the bustling area in the city, tourists could visit the market and admire textile products, souvenirs, handicrafts or enjoy Vietnamese traditional food.
In Ben Thanh market, you will see the cooks use fresh ingredients to process dishes. Don't stop yourself from enjoying a real Vietnamese meal or dessert beverage such as fruit smoothie, ice coffee. The market welcomes tourists even in the evening with tasty local specialities of different regions like noodles, noodles with crab meat at street-side stalls.
Start your journey to Vietnam by applying for a Vietnam visa on arrival  now.