If you have no idea about a place to travel this month, please come to Can Gio, the first Biosphere Reserve by UNESCO of Vietnam. Before you go, spare a little time to read this blog for having a perfect holiday.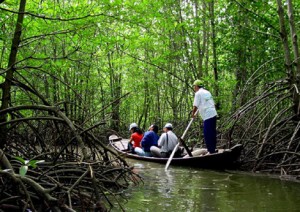 Coming to Can Gio beach, the visitors will certainly be excited with the image of well-arranged stalls and hundreds of people playing with the waves. Many groups of young persons are gathering on the sand, nearby are about 50 pupils and families with different generations from grandparents, parents, children… However, the visitors should prepare food at home because the price at this place is not quoted and maybe overcharged. In spite of this problem, the beach is still a favorite attraction for its pure air, clean water and yellow sands.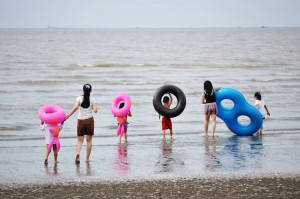 With only VND 10,000/person, the visitors will be able to have fun with lovely monkeys on Dao Khi (Monkey Island), a must-see spot in Can Gio. If possible, the visitors should partake in memorable activities such as fishing crocodiles in mangrove forest, visiting Dam Doi (Bat Pond) with crab fishing…. A weekend of peace in Can Gio will definitely offer you memorable moments.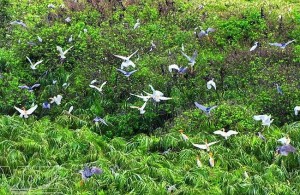 With a total area of 75.740 ha, Can Gio forest is a diverse complex of fauna and flora, suitable for eco-tourism and recreation. Particularly, Vam Sat area successfully constructed a natural bird garden that covers an area of over 100 ha. The visitors could explore the garden by boat or trekking through the fields. Entrance fee: VND 25,000/person and other services such as crocodile fishing, floating bathing costs VND 5,000/person/service.