With aim of popularizing tourist destinations, cultural products of Mu Cang Chai mountainous area to tourists during Terraced Field Festival 2013, of which highlights is the market with theme "Colors of Northwest's culture", Organization Board of the market has built a plan to direct communes and towns to prepare their specific products for the market.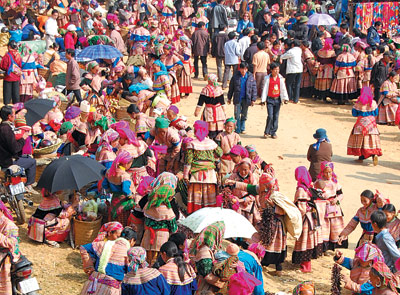 Accordingly, steering committee of the market assigned Nam Co, Cao Pha, La Pan Tan, De Xu Phnh, Ho Bon, Nam Khat communes to display traditional products of mountainous area such as Vietnamese apples, musical instruments, sticky rice, cardamom, cốm, cereal, wine, H'Mong vegetables, dày cake, honey, some traditional remedies of the nation and ethnic costumes.
Lao Chai, Khao Mang, Mo De, Pung Luong, Kim Noi, Che Cu Nha communes will prepare forge products, tools for economic development, honey, Vietnamese herbs, tea, peanuts, brocatelle fabric…
The town prepares two food booths. In addition, the booths will offer mountainous market traditional cultural products, tools serving for daily life of ethnic minorities representing identities of each region and ethnic group.
The market is expected to start from 27th to 30th September 2014 with 14 booths. If you had plan to visit Vietnam in this period, don't forget to spend some time at the festival.