Hello! To anyone who has concerns about the latest news over the recent visa changes in Vietnam due to the coronavirus Covid-19 outbreak. This post will provide you with complete visa information since the outbreak started till March 18, 2020.
In case you didn't know, Covid-19 is a new disease – a type of coronavirus – that can affect your lungs and airways. The first patients were detected in late 8th December 2019 in Wuhan, a city of 11 million people in the central Hubei province of China. Over the next few months, cases of Covid-19 have been confirmed in most countries worldwide and community spread is being detected in a growing number of countries. On March 11, the World Health Organization declared the Covid-19 outbreak a pandemic. 
On January 30, as the official death toll in China jumped to 170, with 7,711 cases reported across all 31 provinces in China, the Vietnamese government decided to extend the holiday period for students, close the borders, stop issuing travel visas for Chinese. As of February 1st, all flights between China and Vietnam were suspended. An entry ban on Chinese nationals was also issued. This entry restriction was also imposed on visitors who had traveled from or transited through China in the past 14 days.
Following China, Japan and South Korea were the next countries to suffer badly from the virus. As a result, on February 26, Vietnam suspended visas for Japan and South Korea over coronavirus concerns. February 29 saw the highest daily number of confirmed cases in South Korea, 813, bringing the country's total to 3,150 with 17 deaths. That day, the suspension of Vietnam visa waivers for Japanese and South Koreans became effective.
While China's coronavirus epidemic officially diminished in March, the global growth of the virus outside mainland China accelerated. The new cases reported in Europe increase day by day. Italy took the place of South Korea to become the country worst hit by the virus. On March 10, in an attempt to limit the further spread of Covid-19, the Vietnamese government imposed stronger measures, including ending visa-free travel and visa issuance for citizens from Italy, Denmark, Norway, the UK, Finland, Sweden, Germany, France and Spain, and suspending business visa issuance for the rest of Europe. That said, travelers from 19 countries of the EU are, as of March 13, still allowed to visit Vietnam on a tourist visa. 
Starting from midday March 15, Vietnam denied entry to all visitors who have stayed in or transitted through any Schengen countries and the UK. The visa on arrival was also halted. This restriction will be in place for 30 days.
In the next few days, when the imported cases of Covid 19 in Vietnam increase, the Vietnamese Prime Minister decided to stop processing visas for all countries. The overseas Vietnamese and their spouses and children who have a visa exemption certificate are still able to enter Vietnam providing that they must show a negative test result issued by a competent authority in their country. The rule starts effective from March 18.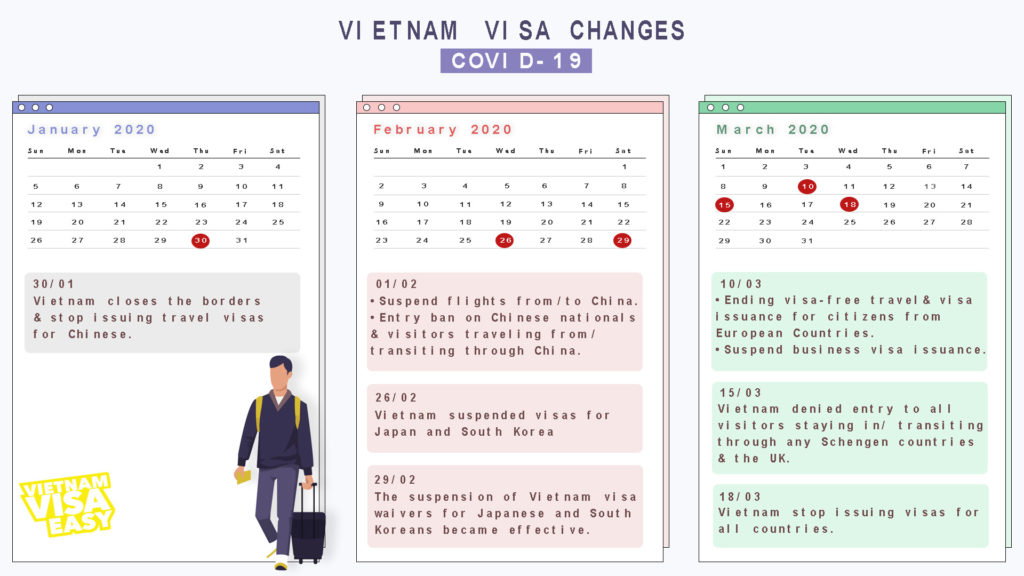 At present, all foreigners entering Vietnam must undergo temperature screening and fill out a medical declaration form. This form is available at airports and borders, and may also be completed online at https://tokhaiyte.vn/ . Anyone who develops virus symptoms must be quarantined for at least 14 days as a sanitary precaution.
There are several simple things to keep yourself and others safe from the Covid-19 virus:
Wash your hand often with soap and water for at least 20 seconds

Avoid touching your face with your hands

Cover your coughs and sneezes with your elbow or a tissue

Stay at home if you feel sick

Avoid close contact with people having cold or flu-like symptoms
We will continue to provide updates when they become available. If you have any questions about Vietnam visas, please write a comment or send it to our email support@vietnamvisa-easy.com. In closing, we want to thank you for your interest in Vietnam and our visa program, and we hope you stay strong and safe.