Did you ever take part in any Vietnamese festival? If your answer is "No", follow us to Dong Da Festival in Hanoi to witness the formal rituals and join exciting games at the festival.                                                                                                                      
Dong Da Festival is an annual event that takes place on the 5th of the first lunar month at Dong Da Mound, Quang Trung Ward, Dong Da District, Hanoi to honour emperor Quang Trung and Tay Son brothers for their victory against the Thanh Dynasty at Dong Da Mound in 1789.
More than 200 years ago (1789), this place was a bloody battle. On the night of the 29th and in the small hours of the 30th of February, 1789, the garrison of the Qing army in Khuong Thuong was destroyed by Tay Son forces. As a result, the Commanding Officer of Thanh dynasty, General Sam Nghi Dong committed suicide by hanging himself. Since then, the Dong Da Mound became a historical vestige representing the strength of Vietnamese people and the disgraceful defeat of the Northern foreign invader.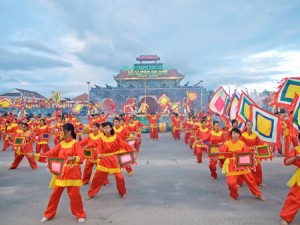 There are many dynamic games expressing martial spirit during the festival but the Thang Long Fire Dragon procession is the most prominent. A group of young men dressing in close-fitting white clothes with red stripes and belts raise the dragon above their heads and perform the dance "hovering dragon". Meanwhile, another group walks around the dragon and performs martial arts to reappear the Dong Da battle and praise the spirit of Tay Son forces. This performance is prepared thoroughly with flags and presidios so that the audiences can feel clearly the atmosphere of the battle, and recall the epic history of the nation.
After the capital was liberated on the 10 October 1954, the Dong Da festival is considered as the traditional event of nation. Therefore, the leaders representing the Party and Government often join and host the ceremonies of the festival every year. The festival attracts a huge number of visitors in Hanoi and other neighbouring regions so that it receives considerable investment and attention from the authorities.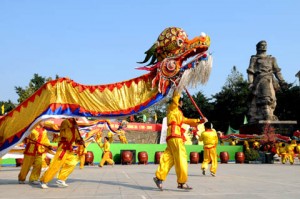 During the festival, the Dong Quang Pagoda, opposite the Dong Da Mound also implements religious rites and make soup to offer the souls enemy troops killed in the battle as a traditional good deed of Vietnamese people. On the same day, many people choose to pay their respect to the national hero by offering flowers at Quang Trung statue.