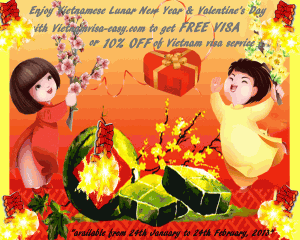 On the special occasions of Vietnamese Lunar New Year and Valentine's Day, Vietnamvisa-easy.com take great pleasure in offering our special thanks with amazing gifts available from 29th January to 29 February, 2013.
A promo code of A FREE 1 MONTH SINGLE ENTRY VISA for any visa applications for a couple (male & female applicants). This code is valid until 31st December,2013
10 % OFF of Vietnam visa service fee for other applications.
Apply Vietnam visa now to enjoy your gift!