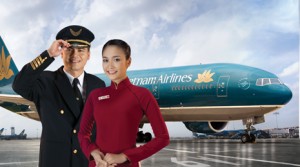 Information from the national flag Vietnam Airline announces that the airline is executing a new promotion targeting on customers who fly with family on domestic routines.
Accordingly, adult passengers aging 18 and above purchasing 1 domestic ticket, economic class, would be presented with one free ticket on the same flight for kid aging under 12.
This promotion is available for tickets which are issued from now until 31/1/2014, and the flights depart by 31/1/2014 and several other mandatory conditions. Customers of this "family package" must follow all requirements from the air carrier when travel with kids. Vietnam Airlines also sell Business Class tickets, as well as other special requirements for the flexibility of customers.
An important notice that this Family Package is not applied on 30/4-1/5 vacation, The Independence Day 1/9, New Year Eve, Tet Holiday and particular flights.
The Family Package was first offered by Vietnam Airline in 2011. Through years, the airline decides to expand this package's scale to domestic flights in attempt to diversify its domestic products.