The best time to visit Haiphong is summer because flamboyant is blooming very beautiful during period.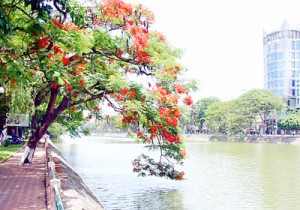 Attractions
The most popular tourist destination in Haiphong is Do Son, pristine beach witch clean water, and white sands. Besides swimming, strolling along the beach in the evening, enjoy seafood, you also have opportunity to visit one of 5 most famous lighthouses in Vietnam, Hon Dau lighthouse.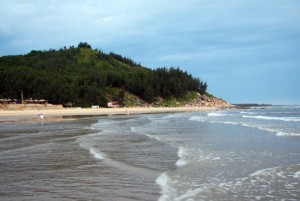 From Do Son or mainland, you could use boat or motorbike to visit Cat Ba island, Cat Ba National Park, and Cat Ba archipelago adjacent to Ha Long Bay. This archipelago has hundreds of large and small islets emerging among the sea, creating a unique natural scenery.
After experiencing interesting moments at the beaches, do not forget to rent a kayak to admire unspoiled beauty of Lan Ha Bay and conquer Hai Thanh mountain, Hon Thot island, Hon Guoc island, Monkey island, stalactite caves such as Ham Rong, Do Cung, Ca cave.
Besides these beaches, Haiphong also owns Cat Co 1 and Cat Co 2 beaches. The strongest impression of these two beaches is incredible beauty with one side is vertical cliff and another is clean blue water.
Haiphong also has Elephant mountain, the rocky mountain with spectacular caves and ancient cultural architectures such as Chi Lai shrine….More than that, Elephant mountain evokes your imagination about the mountain considered as cradle of prehistoric man.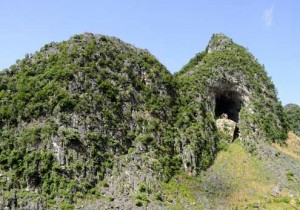 In addition, it would be shortcoming if traveling to Haiphong without visiting Bach Dang river, the famous river attached with glorious victory in the history of resisting foreign invaders.
Transportation
You could go to Haiphong by bus, train or plane from any provinces. Remember to take reference of ticket price, departure time and destinations before scheduling a detailed itinerary.
From Hanoi, you could catch a bus at Gia Lam-HaiPhong station with price of VND 70.000/ticket. After a sightseeing of Haiphong city, you go to Do Son by bus with ticket price of VND 30.000/passenger.
Haiphong is about 102 km from Hanoi. This distance is not too long or inconvenient for you to travel by bus or motorbike.
Please keep in mind that you should take with you every papers, obey road traffic rule and equip yourself with a pair of gloves, glasses, mask and mobile phone which has google map function.
When to go?
Haiphong is often refered to as "red flamboyant city". Thus, the best time to travel is summer. This is also the most appropriate time for you to immerse in unspoiled beauty, calm waves of Do Son beach and Cat Ba archipelago.
Accommodation
In Haiphong, you could stay overnight at guest houses or hotels. Particularly in Do Son, you have more 2 options including camping and local's houses. Please take note that camping is served for large groups (more than 10 persons).
Some guest houses and hotels whose room price is affordable including Phong Lan, Vista, Yen Linh hotels, Hai Duong, Hai Linh, Hai Ha guest houses…
Specialties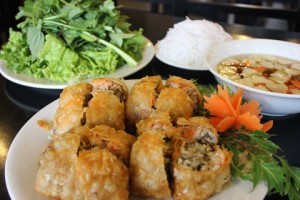 The must-try specialties in Haiphong are crab spring rolls in Cau Dat street, spicy baguette in Cot Den street, roll cakes, crab noodle soup. Moreover, Nhu Y pie, fresh seafood are not to be missed dishes when you explore Haiphong cuisine.