Hanoi is an easy city to travel on the wide range of public transportation means such as public bus, taxi, motorbike taxi and the upcoming Hanoi Metro rail system which shall be installed very soon in the near future. To get around the capital, you can choose the bus, taxi, electric car tour, cyclo tour or rent a motorbike to explore by yourself.
First thing you need is a map of Hanoi or a map of the bus network in Hanoi. This is necessary because Hanoi has so many roads and they tangles with each other while the lanes are just like spider nets. A smartphone will be great yet we suggest you have a print map stuck in your bag just in case.
BUS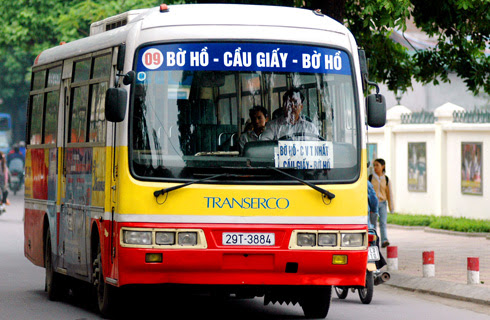 The local bus is the cheapest transportation means not only in Hanoi but also Vietnam for short-distance destinations. Buses are numbered and run on fixed routes. Passengers get on and get off the buses at bus stops. Normally the waiting time is from 15 to 30 minutes. Some large stops have a control panel which shows how far the buses are away from the stop and how much time you have to wait. Notice that on two-way roads, bus stops for the same bus are located on both sides so you have to be careful to not be confused which stop for which way. If you get on the wrong bus (running to the opposite direction), get off immediately. Most of the drivers and assistants don't speak English (except for airport buses), prepare beforehand is a must.
In the year 2017, Hanoi has upgraded city buses with new colours and free Wi-Fi:
Buses running from the airport to the city centre are coloured with orange and yellow
Bus no.90: Kim Ma – Nhat Tan Bridge – Noi Bai – VND9,000
Bus no.86: Hanoi railway station – Noi Bai – VND30,000
Bus no.7: Cau Giay bus station – Noi Bai – VND9,000
Bus no.17: Long Bien – Noi Bai – VND7,000
Buses running in the city centre are painted with blue, only some remains old colours – yellow and red.
Bus no.1 and no.2 both have stops at Hanoi Old Quarter. Bus no.9 stops right at the Sword Lake. Other buses no.8, no.14, no.31 and no.36 also stop nearby.
Bus no.13, no.33, no.55 and no.70 can take you to West Lake.
Bus no.9, no.22, no.45 and no.50 stop near Ho Chi Minh Mausoleum.
Charge for one ticket with the center city's bus is VND7,000, buses to outskirts of Hanoi have higher prices.
Motorbike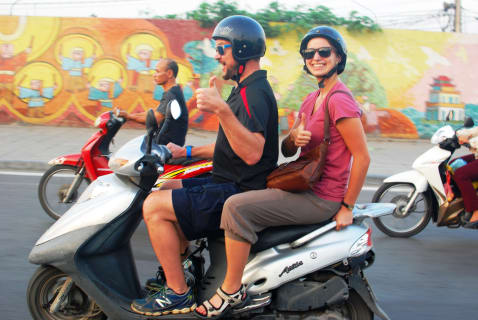 Getting to know Hanoi on a motorbike is a special and unique experience. Yet as fun, as it might seem, riding motorbike in Vietnam is considered a challenging thing to do especially for those who are inexperienced. We will tell you everything we know on how to survive the roads in Vietnam and particularly in Hanoi where the utmost majority of population drive motorbikes on a daily basis.
The roads in Vietnam are totally different from roads in western countries – they are disorganized and… have a lot of things going besides traffic. It requires all of the attention of the drivers on the roads and be really engaged. But first, you have to know the legality of driving motorcycles in Vietnam.
In the past, foreigners must achieve a valid local license issued by Vietnam authority along with his or her international driving permit issued by the National Automobile Association in order to rightfully drive a motorbike in Vietnam. You have to take a written test and riding practical. However, that procedure is no longer in place; all you have to do now is getting an international driving permit/license with your driving license granted by your country.
Insurance which includes full medical evacuation is much needed. But remember that you are not covered when you drive illegally, in state of drunk or drugs, or without a helmet. Helmets are compulsory in Vietnam, Cambodia and some other Southeast Asia countries.
When you get stopped by the police, they will check your paper first, if you don't have a legal driving license, your bike might be seized and you'll have to pay a big fine. Bribe can help you get away with it with trivial faults like running a red light or speeding but that way doesn't always work.
Buy or rent a motorbike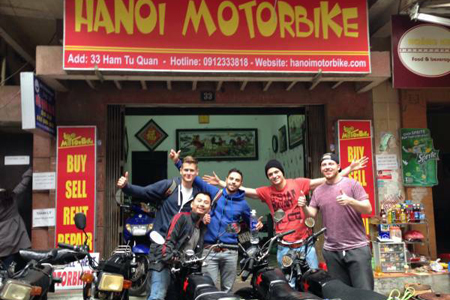 It's easy to buy motorbikes or scooters in big cities like Hanoi and Ho Chi Minh. There is a wide range of types, brands and condition of the bike so their prices will vary accordingly. You might find buying a second-hand motorbike a bit challenging because of the bargains so we recommend you to ask for help from a local who is experienced on the matter or at least someone can tell when you're paying too much.
Make sure that the Blue Vietnamese Registration Card is included, you can change to get your name on the card but in Vietnam, names don't really matter. The blue card single-handedly can prove your ownership to the police. Check the bike thoroughly and even give it a driving test before paying. Get the seller's contact details for future use.
There are many types of motorbike you can choose. Scooters are suitable for getting around the cities only while motorbikes are best for going up the mountainous roads.
Buying motorbike is not really a great thing to do if you only spend a little time in Vietnam while renting is. A motorbike for rent only costs you around VND100,000 to VND150,000 per day, fuel cost not included. When rented, a rental contract will be made, you don't have to pay up-front but leave a personal paper of yours to the lessor. I used to rent a motorbike in Ha Giang and I had to leave behind my identity card. Usually, everyone can rent a motorbike even if they are not licensed. In case the bike is damaged, the renter has to cover the repairing fee.
Riding tips:
There are traffic rules but very often they are violated by, most of the time, no other than the locals. Roads inside cities are messier than highway roads. People don't stay in their lane but swerve as they like. So the great advice is to pay attention and always predict someone will come in your way out of the blue. For your own safety, abide the rules right from the beginning and don't even think about trying things only locals are able to pull off.
Vietnamese people enjoy honking a lot which is a bizarre thing to many foreigners. They honk to inform their presence, especially when coming out of an alley. They honk to make you get out of their way, etc. Get used to the honking noise is the next advice.
Pedestrians jaywalk frequently, sometimes abruptly and can make you confused. Do not speed when driving in town and always pay attention to the right side of the road.
Keep enough distance with other bikes. In Vietnam, people will fill the empty space and try to outstrip others all the time. Look at the rear-mirror before you change direction or lane.
Rush hours can be very exhausting. If you can, avoid riding motorbike during these hours: in the morning from 7:00 AM to 9:00 AM; in the afternoon from 5:00 PM to 7:30 PM.