Hash house harriers, a new type of tourism is already available for visitors in Vietnam. If you have never heard about it, you should read the whole information presented herein. 
Hash house harriers was formed in 1930s previous century by English and Spainish living in Singapore, Malaysia and then spread throughout the world. In 1991, Hash house harriers officially imported to Vietnam, firstly in Hanoi and Ho Chi Minh, Ba Ria-Vung Tau, Can Tho, Danang and Lam Dong. In early 2013, Hash house harriers appeared in Nha Trang city, Khanh Hoa province and initially drew attention of many Vietnamese and international tourists.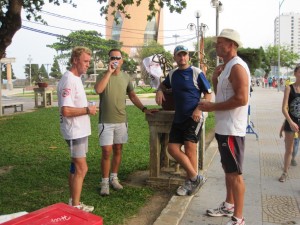 After  established, Nha Trang Hash house harriers club organized 27 tours for about 40 participants (most of them are foreign tourists) in every Sunday morning. The stopovers of the tours must be surveyed beforehand by the members and satisfy criteria: rustic landscapes with propriate area that take only one afternoon for a tour such as Vinh Thai, Vinh Ngoc communes in Nha Trang city, riparian area of Cai river in Dien Lac, Dien Phuoc communes, Dien Khanh district…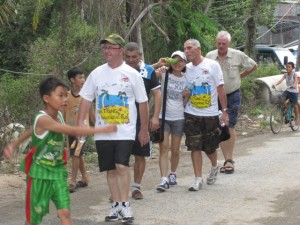 However, the most interesting is that the participants will not know the trail as well as the destinations during the game. They have to run nearly 10 km to find the destination according to the instruction of the leader and the signal. There are 3 types of signal: if encountering a pinch of white powder, the leader will call out "on on"; if the mark, the leader will speak out loud "go back" and if "stop beer" signal, all the runners will stop to drink beer, chat and take part in exciting games. During conversation, the runners use alias instead of real name to call each other.
Hash house harriers is considered as a activity presenting spirit of sport and occasion for tourists to relieve stress. Besides, as a member of the club, the participant will get support when coming to the countries which have Hash house harriers if he/she contacts the leader of Hash house harriers at address harrier.net.