In 2006, the People's Committee of Ho Chi Minh City established Tourism Protection, Task Force. After 7 years of operation, the force had a big attempt and contribution in keeping safety security for tourists in Ho Chi Minh City. Now you can totally feel secure when visiting the city.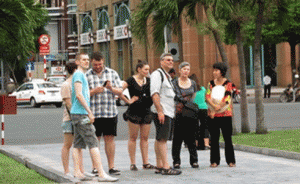 The Tourism Protection Task Force is under the control of Young Volunteer Utility Service Single Member Limited Liability Company with the main members are young volunteer force. The force constantly increases the membership from 128 on the first days to 248 at present. The force has patrolled and set a commanding post at 24 locations, mostly at central areas of District 1, District 3, of which priority places include Saigon Notre-Dame Basilica, War Remnants Museum, Municipal Post Office, Ben Thanh Market, Reunification Palace, Pham Ngu Lao Street, Le Loi Street, Nguyen Hue Street, Bach Dang Wharf… The force is responsible for providing tourists with useful information, helping tourists cross the street, working with local police to protect tourists from bad incidents caused by vendors and thieves. In addition, the force associated with tourism department with police to protect tourists and tourism environment. The force also often provides information for the police about the suspect subjects.
In order to protect tourists in the city, the leaders also deployed other solutions including giving punishment to the fake taxi drivers, establishing a hotline to support tourists, setting up vendors prohibition notices at scenic spots in the District 1, 3 and 5.