Vietnam Visa Easy was fortunate to join the Holi Festival, which took place on Sunday 1st of April at the Kinder Park in Hanoi. This is an annual event organised by INCHAM Hanoi (Indian business chamber in Vietnam).
About Holi
Holi is a traditional Hindu festival that marks the end of winter and arrival of spring. Known widely as the Festival of Color, it is a celebration of colour, love, as well as the triumph of good over evil.
Every year, Holi is celebrated in the evening of the full moon that comes in Phalguna (it usually falls between February and March), carrying on into the next day. The first evening is known as Holika Dahan. People traditionally gather around a bonfire to pray for evil to be destroyed by good and eat favourite food. On the second day of the festival, called Rangwali Holi, people chase each other around and throw water with powders (known as gulal) coloured red, yellow, blue, green at one another. Each colour is used to represent different things. Red reflects love, blue is the colour of Krishna (a Hindu deity), yellow is the colour of the spice turmeric and green symbolises spring and new beginnings.
Although the festival originated in India, it has been adopted in many places around the world, including Vietnam. Holi is mostly considered as a time for friends, families and communities to get together and enjoy themselves.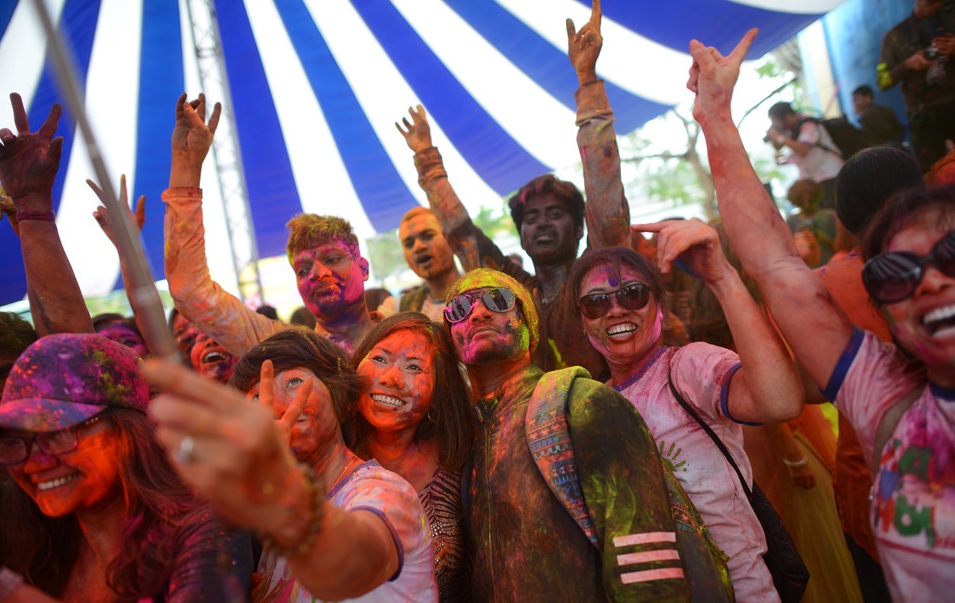 Holi Event
It was a beautiful day as the sun was shining and the temperatures enjoyable. Arriving at the Kinder Park, which is located in Lac Luong Quan, around the West Lake, it was fairly crowded already. The event was truly a family activity and as such there lots of families with younger children there. Included in the tickets were a free flow of coloured powder, drinks and foods and for the little ones, there was a makeup stand and henna table, which were constantly queued up.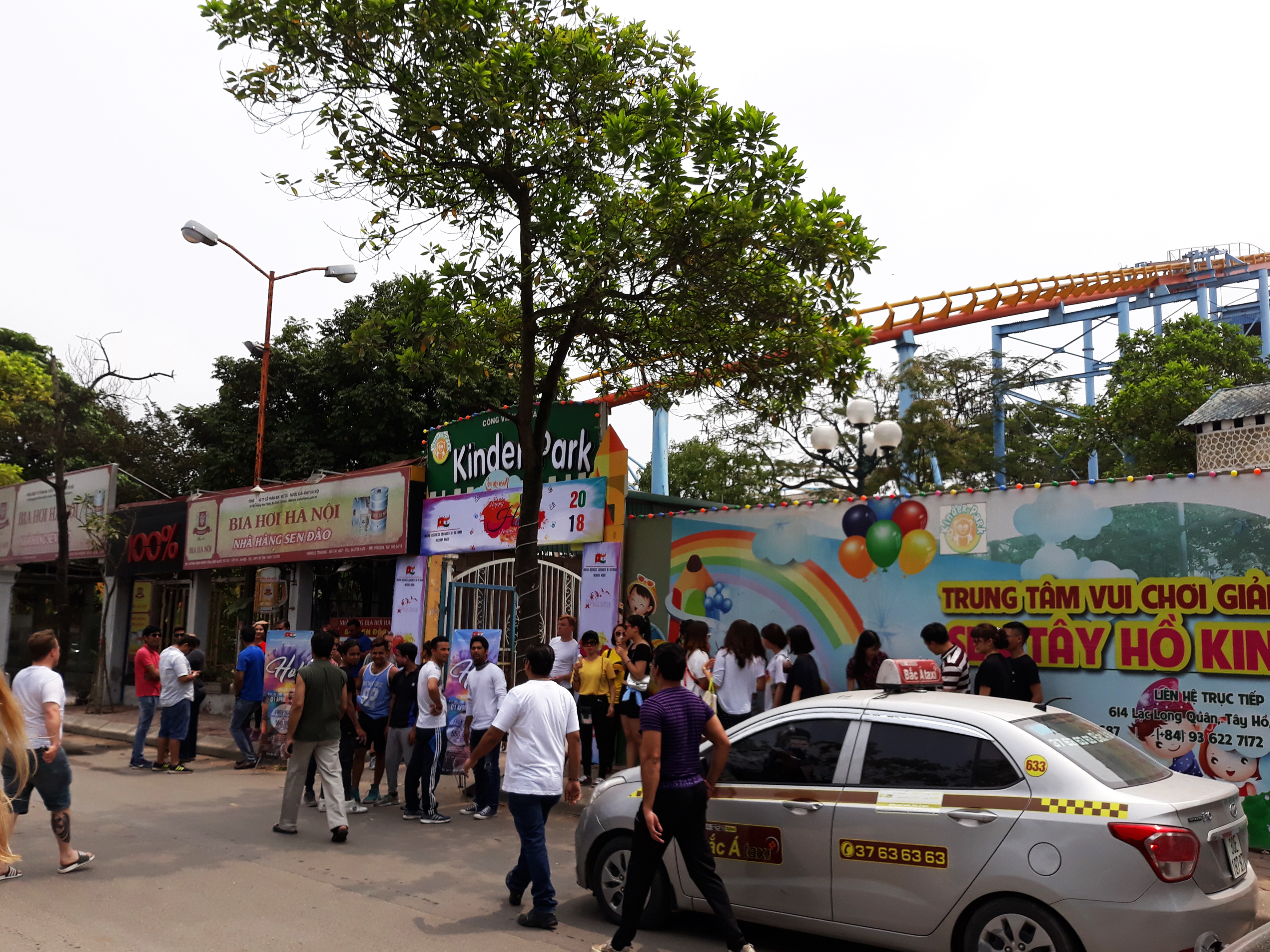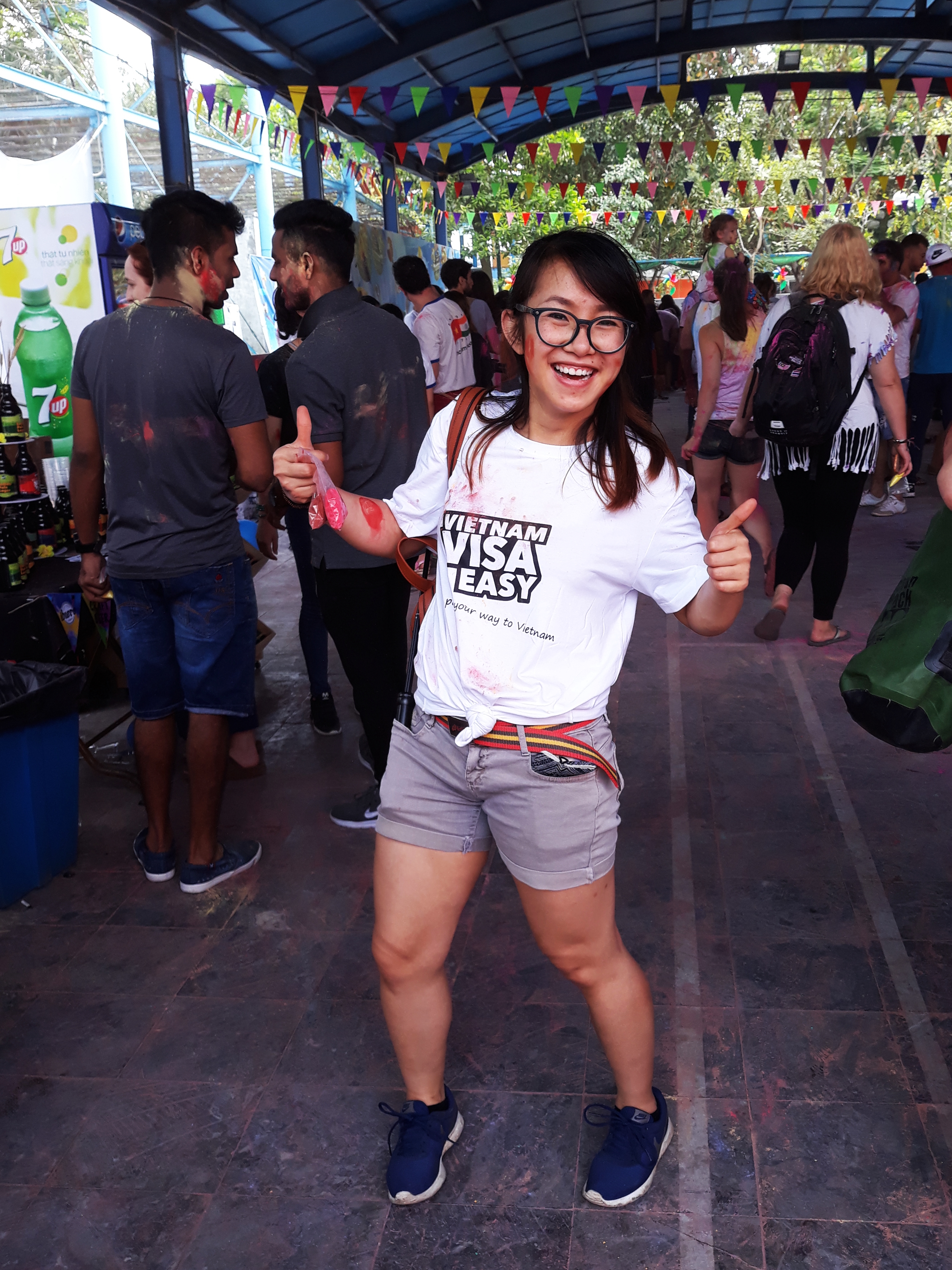 There was a stage with DJ's and the speakers were blasting a nice combination of both international pop dance songs and Indian dance songs, which provided a good atmosphere to dance. After having quite a couple of drinks, people, both Vietnamese locals and ex-pats, were happy to join each other in the dancing area.
After throwing lots of colours to each other, both friends and strangers, everyone looked quite colourful and happy. A fair amount of people showed up, as we were told 500 people attended the festival.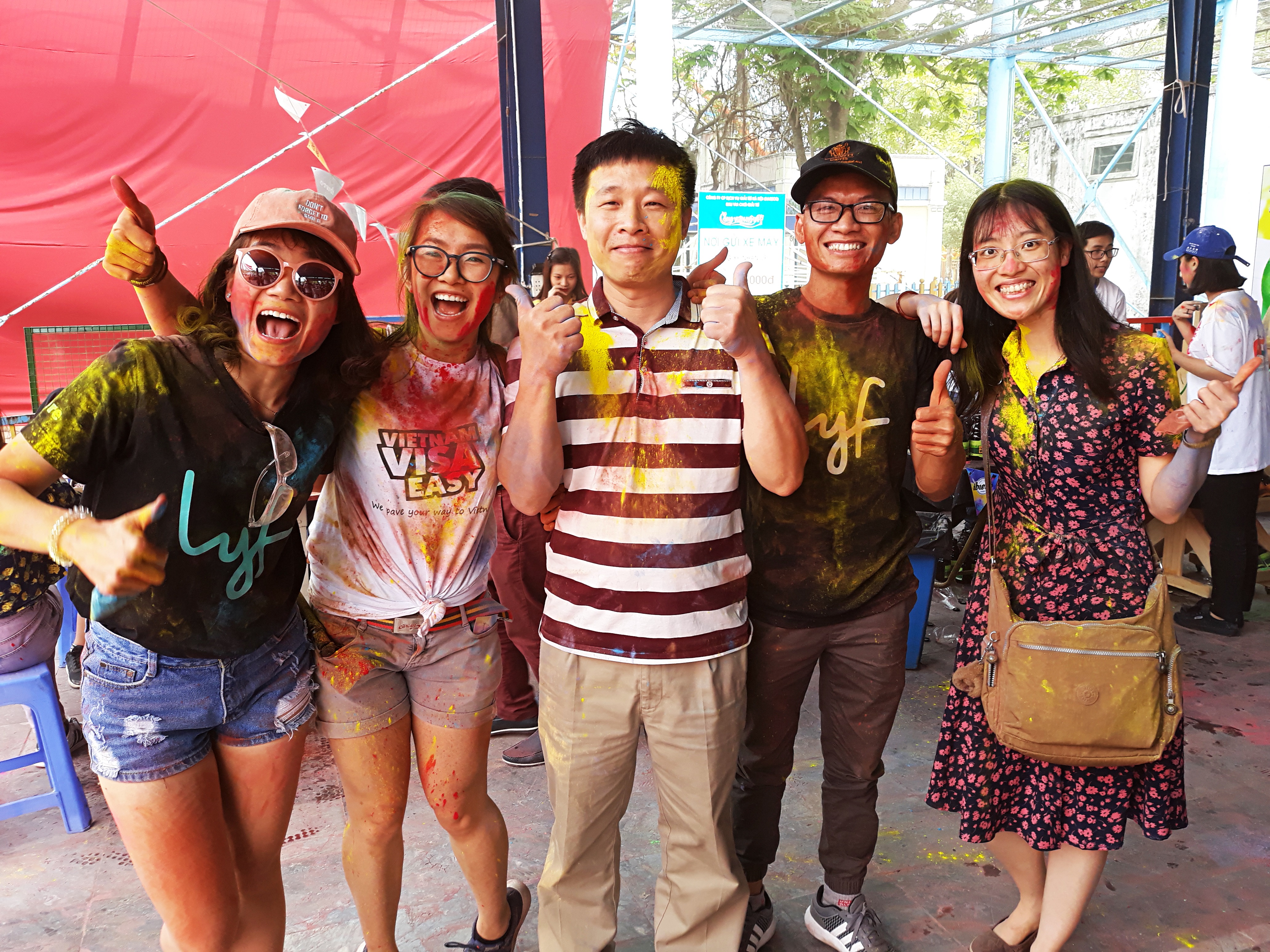 Indian cuisine
With all the fun people were having dancing and drinking, of course, they got hungry. There was a large buffet with Indian food and plenty of vegetarian options. The food was delicious and we stuffed ourselves with the typical dishes such as naan (Indian bread), raita (yoghurt with a mixture of green herbs), curries, cauliflower tandoori and so much more. Traditionally, Indian food is eaten with bare hands, usually the right hand while the left hand is used to serve oneself. Luckily for us, we received a spoon so we did not have to mix our coloured hands with the delicious dishes.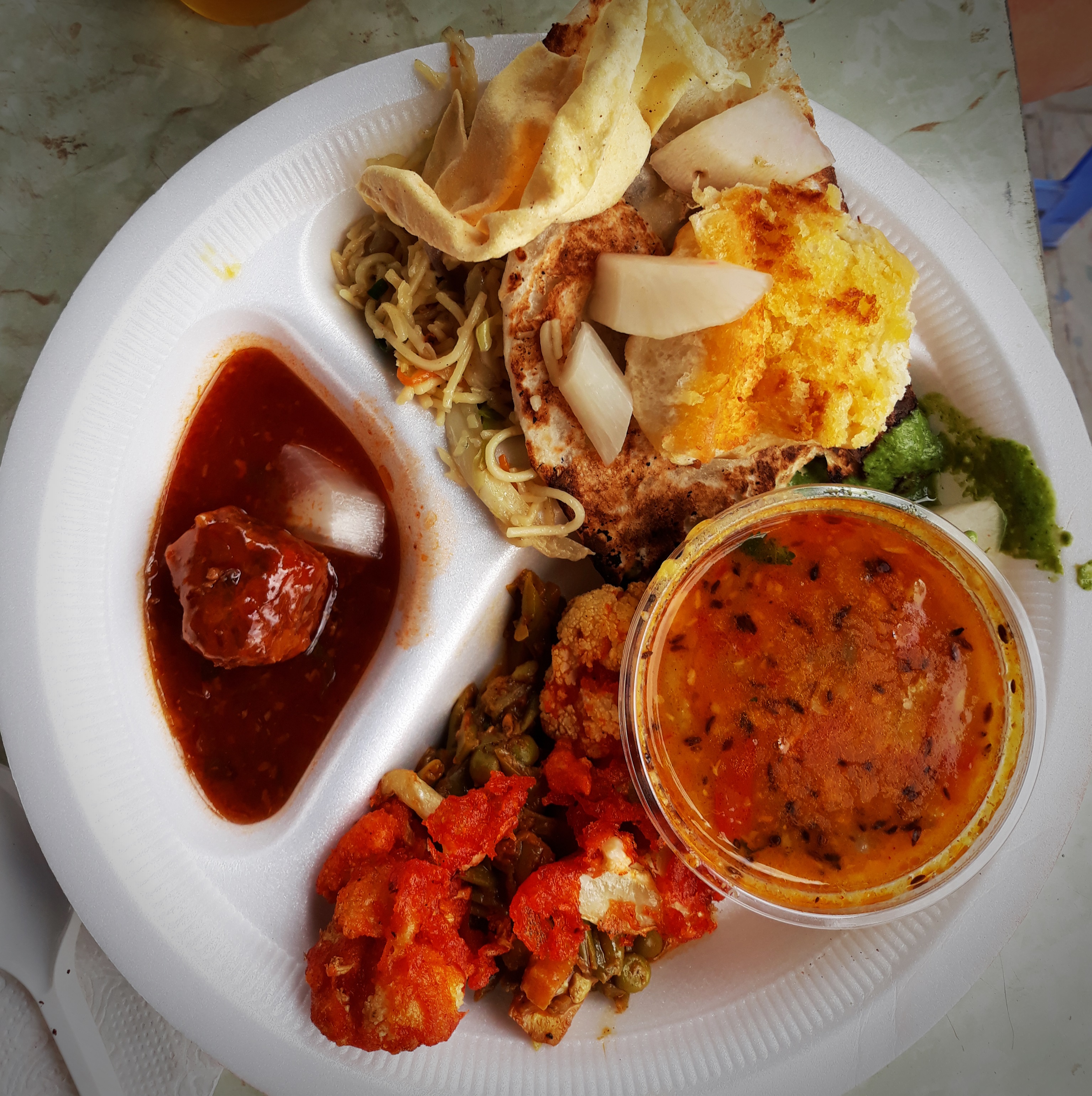 Henna
Eventually, we decided to get some henna tattoo as well and helped out the girl at the henna stand as there were so many people wanting to have one. Henna is a dye made from the plant Lawsonia inermis and used to colour clothes, body and hair. The leaves itself don't necessarily stain anything, but if you blend dried leaves into a paste, it definitely will. Henna has been used for centuries (Well before 1600 BC) as a natural dye and it remains popular, even in our modern society as it is said to have many health benefits and is an easy dye as it is not permanent.
Traditionally henna body art is used for weddings (or also called Bridal Mehndi) to bring out joy, beauty and luck.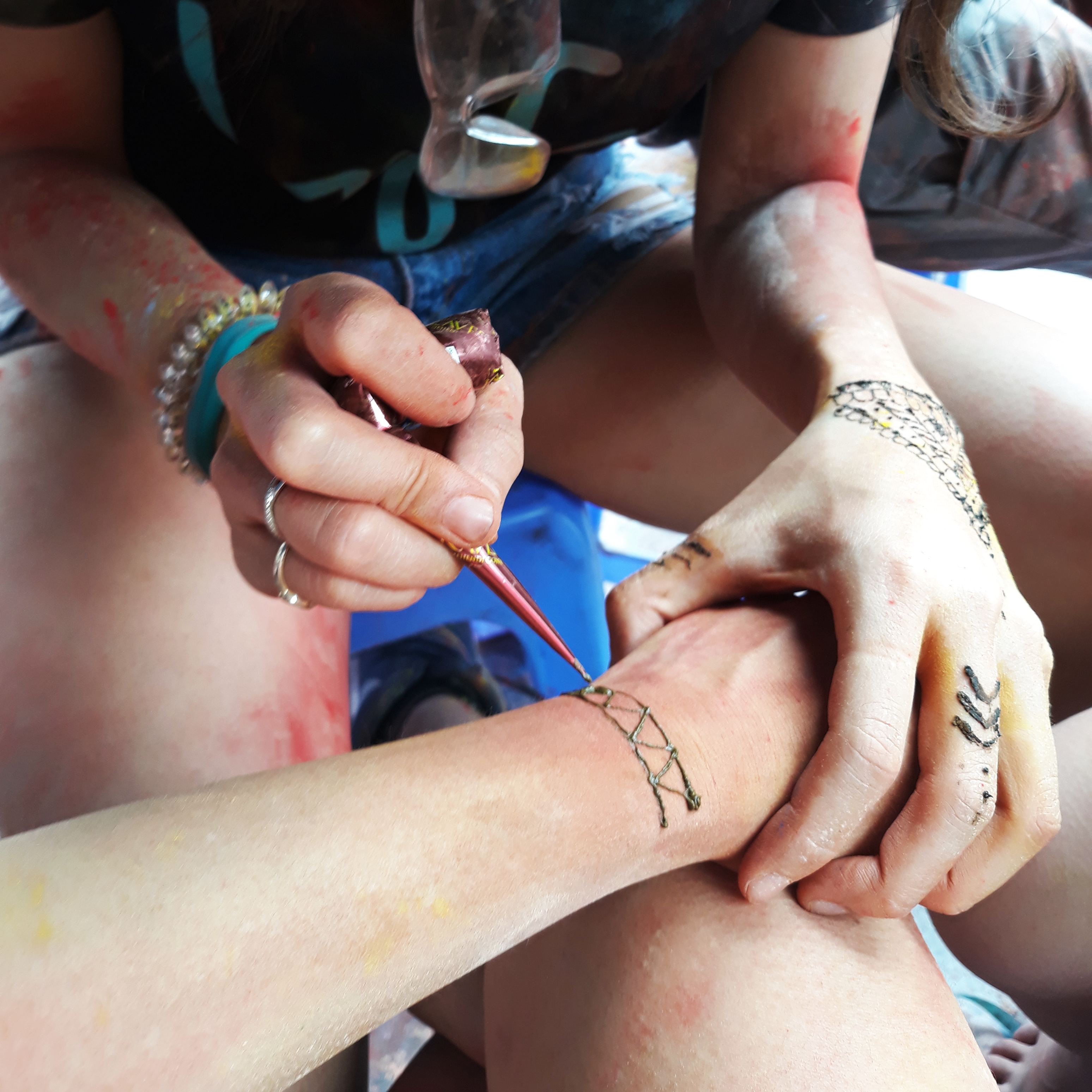 Conclusion
Holi Festival 2018 was a successful edition and lots of both locals and ex-pats were able to enjoy and celebrate this event. The weather was great, the food was delicious and there were a vast amount of side activities for young and old.
If you have the chance to join the next edition, I would definitely recommend it.
Happy Holi, everyone!