If you have chance to travel to An Binh island, don't miss a visit to homestay Ba Linh.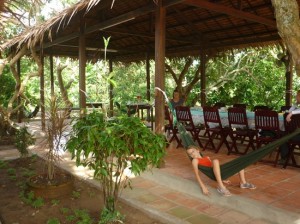 It takes only 15 minute boat ride from Vinh Long tourist wharf to Ba Linh destination. It is just 500 m away from the wharf. The first image appeared in front of me is a wooden 3-compartment house. It is interesting that the house is built with specific soil floor. According to the host, the soil floor has been remained due to his desire of preserving his father's architecture. However, the floor  has emerged the papules called "dragon scale". This is truly an ideal place for foreign tourists to know more about lifestyle of the Southern people.
Coming to homestay Ba Linh, the tourists will have chance to cook with the hosts. One thing that is seen clearly is the elaborate decoration of the dishes. By skillful hands of the owner, the lifeless cucumbers become living objects which remind us of familiar pictures of river countryside such á boatman, fishing boy…. In addition, the tourists will enjoy typical dishes of Western region like ca tai tuong chien xu, cha gio chien….in a rustic atmosphere.