Nam Du archipelago is located in Kien Hai district with 12 small and big islands. It covers an area of about 1,054 ha, including 11 islands situated the residence of fishing villages.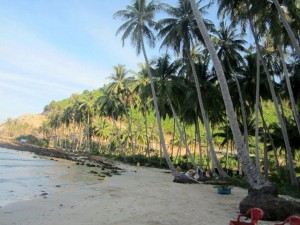 Nam Du archipelago belongs to An Son and Nam Du communes with 21 island of which 11 islands are inhabited island. Besides the densely populated islands such as Cu Tron, Ngang and Mau islands, the others are very pristine and deserted. Some of them have only some dozens households like Nom, Dau, Dung islands… The biggest island of the archipelago is Lon island (also known as Cu Tron island) of An Son commune with area of 771 ha, nearly 5,000 residents and beautiful sceneries such as: Chet, Co, Ngu. Gieng beaches…. The next is Nam Du commune with 10 attractive primitive islets; of which the most fertile is Ngang island with about 1,000 households. The residents on the island mainly earn living by fishing and aquaculture. The movement of cages-fish culture is thriving. Especially the unspoiled beauty of Mau island is a big potential for tourism development.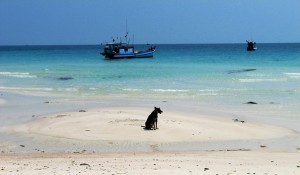 Economic life of people on the islands is mostly fishing and aquaculture; gross output of seafood exploitation in 2012 was 61,424 tons, the current number of boats is 1,778, and a total capacity of 123,896 CV. As far as aquaculture is concerned, there are 538 fish cages. In 2012, gross harvest reached 450,14 tons; This place has a lot of fresh specialties such as squid, flower crab, grouper species … particularly oc bien (sea snail), oc ngoc, oc nhay, oc co…
Situated over 2 km from Ngang island to the Southeast of Nam Du archipelago is Mau island whose area is 58,6 ha with over 130 households. Besides incomes from sea products, Mau island is also a great potential of tourist resort development with ideal destinations. Mau island has 5 beaches of which Chuong beach is the most charming. Also, the other poetic beaches include Nom, Da Den and Da Trang. Nam beach is the facade of the island with calm-wave and still air throughout the year. This place is also a trade exchange, wharf. The surrounding is rows of coconut tree and long stretching sand with clean blue water. Da Den is regarded as the most wonderful beach among the beaches on the island where has beautiful multi-color stones with many different patterns. Coming here, tourists will be able to immerse in blue sea or sunbathe on poetic unspoilt sands.
Hon Mau is not most touristed island in Vietnam but it doesn't mean that it is not a perfect destination for beach holiday. Travel to Hon Mau island this summer to connect to the nature and people here.