Whenever talking about Quang Ninh, tourists often think about Ha Long Bay-World Natural Heritage of Vietnam.  Reading this post and you will know that aside from Ha Long Bay, Quang Ninh has plenty of not-thoroughly exploited tourist destinations.
Coming to Quang Ninh, visitors will entirely feel the majestic beauty of sky and sea in Northeast region.
Cruise in Ha Long Bay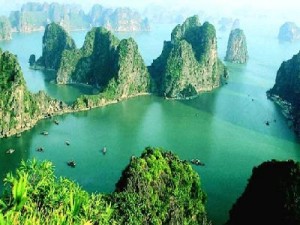 Ha Long is not a new destination to national and international tourists any more. Visiting Ha Long Bay, you will see that this is very a giant natural museum with miraculous primitive caves. Whenever setting foot in Quang Ninh, spectacular will mesmerize you and make you forget time is passing by.
With approximately 200 large and small islands (most of them are limestone islands), Ha Long Bay looks like a huge lively aquarelle with stunning caves inside the islands such as Thien Cung grotto, Dau Go cave, Sung Sot grotto, Trinh Nu cave, Tam Cung grottoes…
There are varied ways to explore Ha Long Bay's beauty but the most popular is cruising around the bay. By this way, you will see a dreamlike mist, far-away islands' reflection on the clear water… During the cruise, you will get excited to see floating houses of fishing village or the boats riding in a hurry on the bay.
In particular, traveling here in autumn, you will see a Ha Long Bay totally different when moonlight shines off the bay, the water surface looks beautiful as if it was wearing a shimmering coat. The islands also become more appealing, in the distance is small boat fishing squid. In this vaporous atmosphere, what is greater than having a party with your family and contemplate the moon.
Beautiful Co To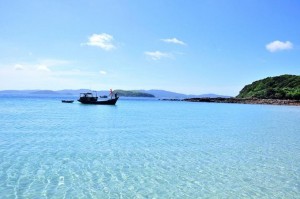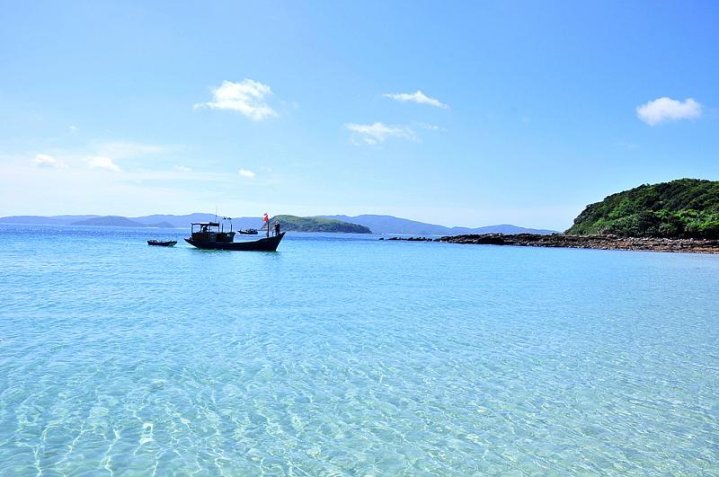 Co To is a pristine destination with all necessary elements of beautiful islands including white sands, blue sea, gorgeous sunshine. In recent years, Co To is becoming a hot tourist destination of young people who love traveling and exploring.
Co To is surrounded by vast sea. Thus, wherever you go on the island, it will lead you to the sea. Co To own many charming beaches such as Tau Dam, Hong Van, Van Chai, Bac Van, Vom Si, Vung Ong Vien beaches and the beach lying between large Co To and small Co To. If you take the time to go to the end of Tau Dam beach, you wil not only enjoy clear cool water but also see the seagulls birds searching for food along the shore.
While Bac Van beach is the home to starfish, Cau My beach is an ideal place to watch the waves and amazing cliffs. However, the most beautiful beach out of the beaches on Co To is Hong Van with miles stretch of white soft sands, flat shore, tranquil water and crystal pure like a giant mirror. At the beach, you could swim with colorful fishes or simply float on the sea, watch blue sky and constant changes in shapes of clouds.
Co To is well-known for both pristine beaches and primitive forests. This place has a dreamlike love road for tourists to stroll, leisurely ride in early morning. Moreover, you could also climb to the lighthouse to contemplate sea and small islands in the distance.
To reach the lighthouse, tourists have to go through a natural forest which is considered one of the most poetic pathways to mountain in Co To with roadside are blooming wild flowers, flying bees and butterflies, fresh air.
Poetic Bai Tho Mountain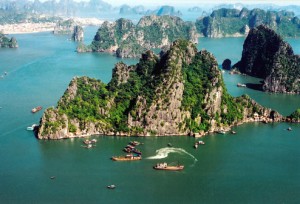 Adjacent to Ha Long, exactly called as its name, Bai Tho Mountain (Poem Mountain) from the distance is similar to a huge castle with 3 towers emerging from sea of white clouds.
Formerly, the mountain was named Truyen Dang (Spotlight). This mountain used to inspire many poets. In February 1468, when visiting the northeast, amazed at the gorgeous beauty of Ha Long Bay, emperor Le Thanh Tong composed a poem and had it carved on southern cliff. Thus, the mountain was called De Tho (Writing poetry) and then changed into Bai Tho (Poem).
Standing at the peak of Bai Tho Mountain, tourists will certainly be surprised by majestic scenery of Ha Long Bay with boundless sky, immense blue sea and imposing limestone mountains o the bay.
Pilgrimage to Yen Tu

Yen Tu mountain is the highest mountain in North East, Yen Thuong Commune, Uong Bi town. With breathtaking landscape Yen Tu was recognized as Special National Relic. Yen Tu's beauty is the combination between imposing mountains and system of ancient temples and pagodas with long-standing trees at roadside.
Yen Tu mountain is the home to many historical relics and referred to as land of Vietnamese Buddhism. Yen Tu became Buddhist center of Vietnam since emperor Tran Nhan Tong passed the throne to his son to spend the rest of his life as a Buddhist monk at Yen Tu and founded the Truc Lam meditation sect. He ordered building hundreds of constructions, large and small on Yen Tu Mountain for leading a religious life, sermonizing.
In Le dynasty, Yen Tu became the center of Vietnamese Buddhism and got restored many times. Since then, Yen Tu relic site is regarded as the meeting place of national culture and various architecture styles bearing the specific features of historical periods.
Amazing Cat Ba island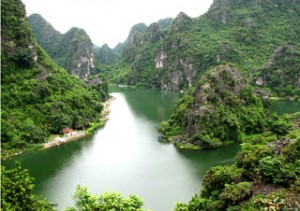 In spite of being well known for a long time, Cat Ba island still remains pristine due to its isolation. With fresh air, cool climate, beautiful beaches and primitive forests, Cat Ba island is suitable for leisure holidays and exploration tourism for nature lovers.
Cat Ba is endowed with a lot of small islands with distinctive names like Cat Ong, Cat Duoi, May, Quai Xanh islands… Each island features its own shapes and characters creating the diversity for the archipelago.
Traveling to Cat Ba, tourist should not miss Cat Co beach in the Southeast of the island. Here, you will immersed in cool water and play with the waves. From Cat Co, tourist could visit Cat Ong, Cat Dua, Cat Da Bang beaches… They are small silent beaches with fine pure white sands, clear water and surrounding mountain walls.
Next to Cat Co are stunning caves. If Trung Trang cave is spacious for hundreds of visitors to admire beautiful stalactites, Hung Son cave is significant historical evidence in resistance war against America.
Animated Tuan Chau
Tuan Chau island is located in the Southwest of Ha Long city. This is the only soil and schist land out of 1,969 large and small islands in the connection point of world natural heritage site. The island covers an area of 400 ha with perfect natural conditions. With 6 km stretch of sands, pure water surrounding over 200 ha of grebe pine forest, Tuan Chau is an ideal place to build the world-class resort.
Talking about Tuan Chau, people often think about world-class entertainment and tourist area. Tuan Chau tourism area is famous for the longest artificial beach in Vietnam with popular Tra Co sands of nearly 6 km long. Tuan Chau has a gastronomical street composed of 5 restaurants and round-shaped houses modeled after the royal architecture. They can serve 500 customers at a time with Asian and European and Vietnamese dishes cooked by famous domestic and foreign cooks. Restaurant staff is dressed in traditional costume. In the center you will be stunned by the club where there are performances of dolphin, seal and sea lion fashioned after the Sydney Theater in Australia and enjoy the Tuan Chau water music park.