We've heard quite a few times from foreigners the concerns about Ho Chi Minh City's security with the question "is HCMC a safe place to travel?". In this article, we try to find the most objective answers possible for this question.
Some facts about the city
"Sai Gon" is the old name of Ho Chi Minh City.
Sai Gon was founded in the 17th century under the Nguyen dynasty.
During French colonialism, Sai Gon was referred to as "Orient Pearl" or "little Paris". During that period, Sai Gon had become a centre of administration, culture, economy, and education of Indo-China.
From 1950, America directly involved in the Vietnam war, causing a significant change in way of life, politics and social structure of Sai Gon. Western life-style left a huge mark on the city as we see today.
From 30/4/1975, the South and the North reunified under a communism government, Sai Gon changed its name after the name of the great national leader Ho Chi Minh who led the fight against the foreign invasion.
The wards and districts in Ho Chi Minh City are numbered, not named after national heroes and historical characters as other provinces and cities in Vietnam.
Ho Chi Minh city is facing a serious problem with flooding. This was known as one of the consequences of climate change and global warming.
What makes Ho Chi Minh City worth your while?
Street food: like in any other place in Vietnam, eating is the number one thing to do. Sai Gon has all the delicacies on the streets you can name such as Banh my, pho, hu tieu, chuoi boc nep nuong (grilled banana wrapped in sticky rice), banh xeo, banh trang tron, com tam, and many more. Come to Van Kiep street or Vinh Khanh Street to explore the wonders of Vietnam cuisine.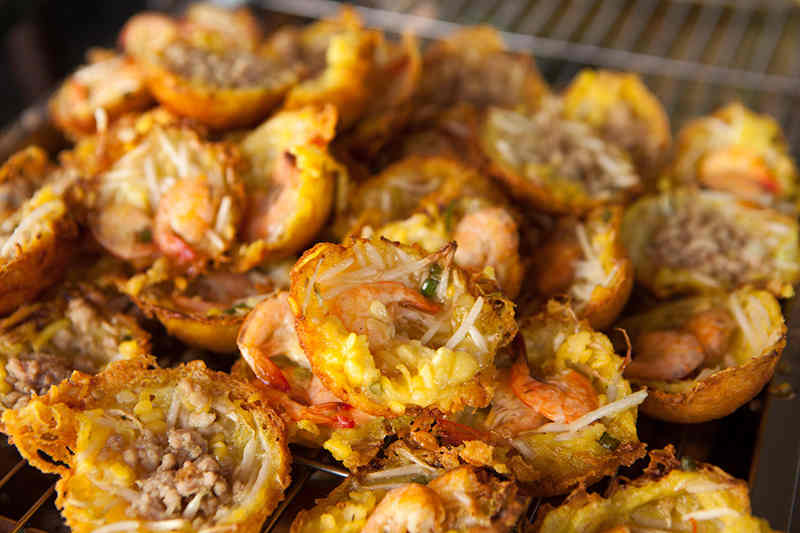 Ca Phe Sua Da: Vietnamese people have a huge crush on coffee. Despite the differences in drinking styles, coffee is a common and cheap drink from north to south, enjoyed widely by all ages and genders. Sai Gon people drink coffee by straws, in big glasses with no filter (phin). Also, the coffee in Sai Gon is often too sugary while in Hanoi, coffee is more concentrated. Ca Phe Sua Da (brown coffee) is black coffee sweetened by condensed milk.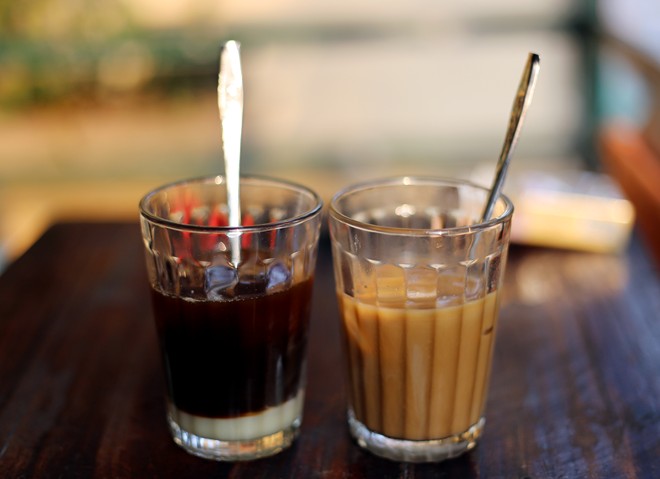 Pham Ngu Lao and Bui Vien street: these two streets are definitely where foreigners should go to find out what a night in Sai Gon is like. Indeed, the area is packed with tourists, sitting on plastic stools, a cup of beer in hand and busily talking with each other. All types of delicious night snacks are served here and of course, we can't forget to mention the fresh, cheap draught beer which can quench your thirst in seconds.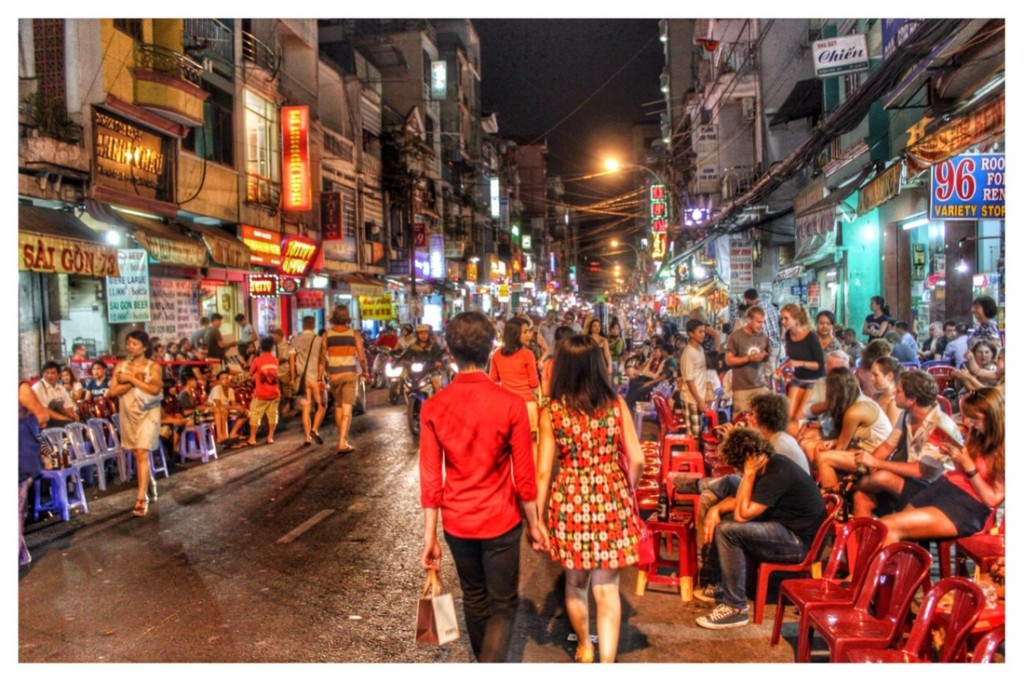 War Remnants Museum: this is the most important museum in Vietnam. The museum was founded right after 1975, operated by the Vietnamese government in order to give the fullest perspective from the Vietnam side about not only American war but also the first Indochina War involving the French colonialist. This is the place where the human sufferings should not be forgotten but at the same time the hope, the wish for peace and love of Vietnamese people also can be found.
Address: 28 Vo Van Tan street, District 3, Ho Chi Minh city
Entrance Fee: 15,000VND
Opening Hours: 7:30-12:00, 13:30-17:00
Explanation in English: available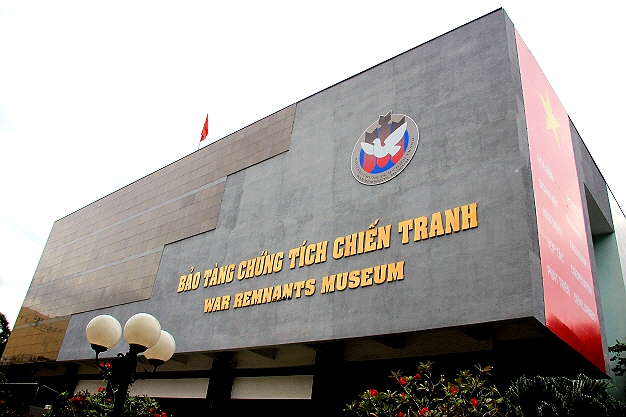 Cu Chi Tunnels: about 70 kilometres away from the city centre of Ho Chi Minh, Cu Chi is a great place to learn more about how Vietnamese people fought against Americans. This 250km long system of underground tunnels served as a tool to shield away from the artillery shells and tank's weight, a perfectly safe and hidden haven for communist soldiers and innocent citizens.  Cu Chi tunnels played a specific role in the final victory of the country. The prices of tickets range from 20,000VND to 90,000VND. Besides, there is a real shooting range in Cu Chi tunnel with a charge from 20,000VND to 40,000VND.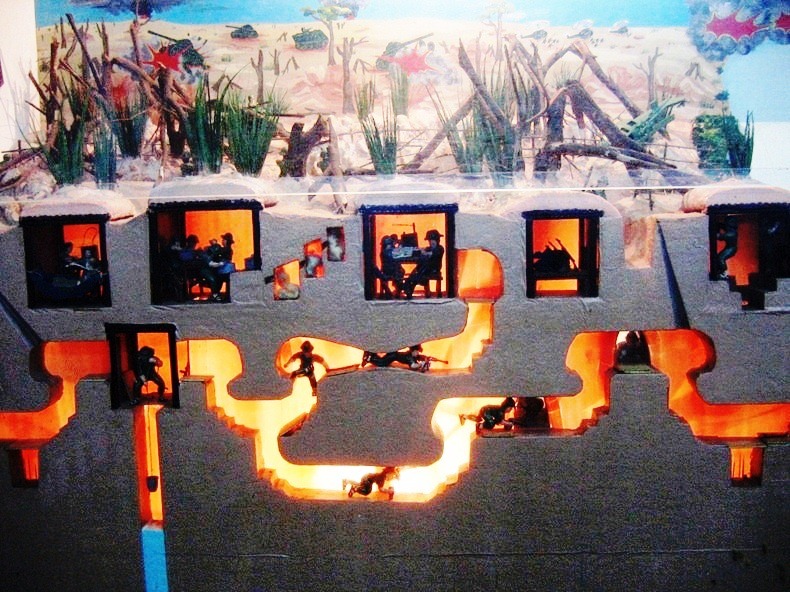 Ben Thanh Market: If you love somewhere you can shop and enjoy local specialities at the same time, Ben Thanh is probably where you should spend a lot of time in. This market is big enough that it has 4 main gates and 12 sub-gates. Each main gate locates at each direction facing a big road. You can find in here literally everything from foodstuff to silk, clothing, handicrafts and souvenirs…. All the delicacies of Sai Gon are also served in the food area, such as com tam, hu tieu, banh canh, etc.
Address: 32-30, 36-34-32-30 Phan Boi Chau, Ben Thanh, HCMC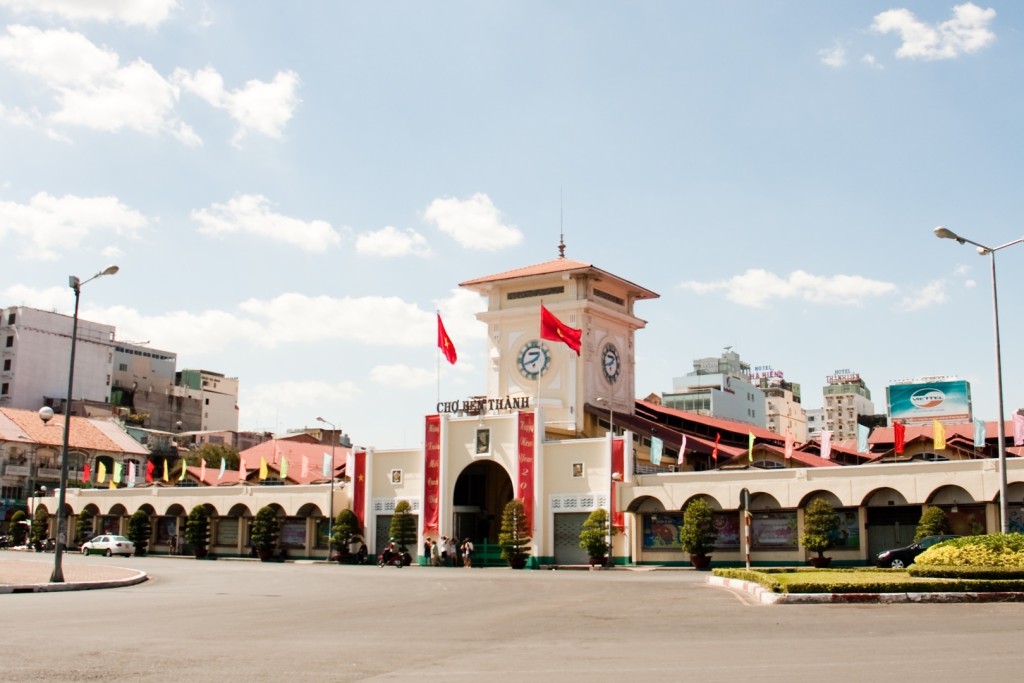 What's there to watch out when travelling around the city?
Taxi scam: this scam is common everywhere in Vietnam and has been a real concern for many foreign travellers. Fake taxis often disguise as taxis from famous brands like Mai Linh, Vinasun or Taxi Group and charge you at a very high price or even more dangerous, try to threaten and take your belongings. Things to differentiate fake drivers: they might not wear a company uniform, there is no meter inside the car, or hotline number doesn't match the brand's number on the internet.
Even the real taxi drivers also get some tricks on their sleeves to get more money from inexperienced travellers. They would choose a longer path or go in a circle to maximize the price on the meter. In some cases, a taxi driver would take you to a different destination, like a different hotel, then try to convince you to stay at this hotel instead of the hotel you have booked. Sometimes, they would aggressively ask for "tip" or manipulate the money exchange (from USD to VND)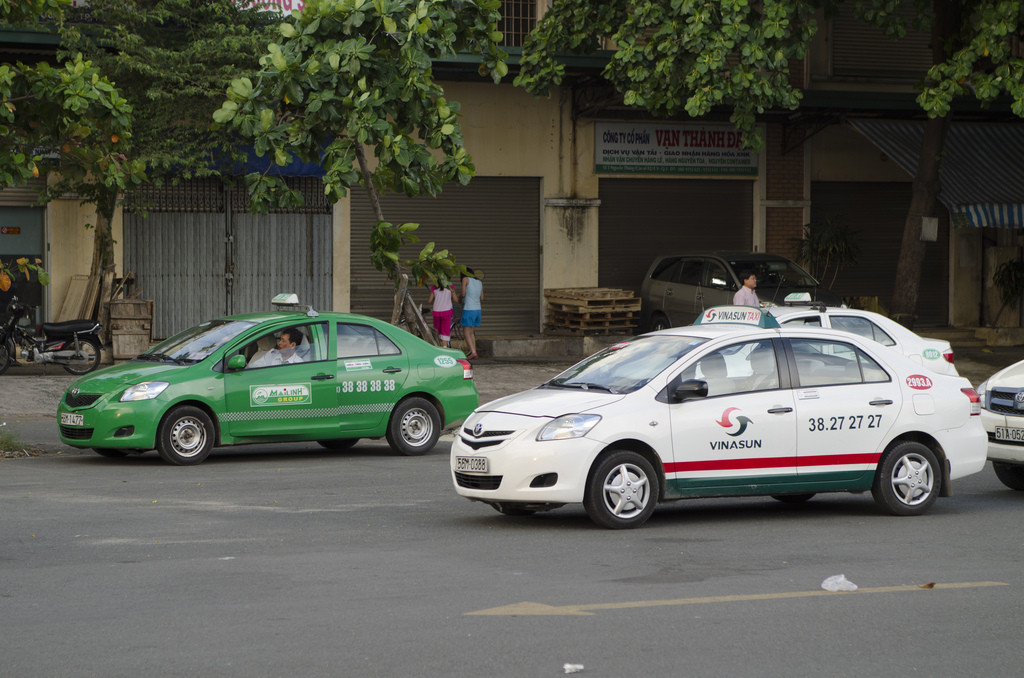 Bag-snatching thieves and pickpocketing: with bag-snatching thieves or pickpocketing, you better watch out because it can be quite dangerous. This problem for long has become a real concern for travellers around the world coming to Ho Chi Minh city and unfortunately not easy to remove in one day or two. Thieves often drive a motorbike, come up from behind and suddenly pull or snatch away bag, camera or phones, etc. This action can cause a serious accident unexpectedly. If the victims try to hold on or pull back, they might fall on the ground. Markets, night markets and crowded streets are places you have to be very careful. Always carry your camera and bags in front, not on the side. Do not hold your phone on your hand for too long in open space, especially texting while walking.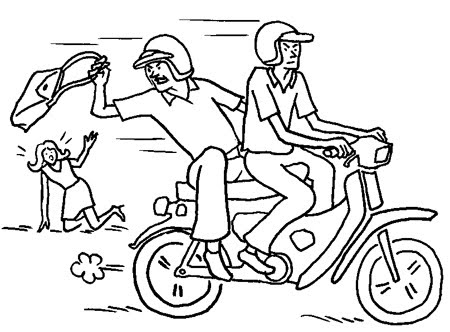 What should you do to stay safe?
When travelling by taxi:
You should use reliable transport services like Uber and Grab. They are safe, convenient and cheap. You don't have to worry about taxi drivers scamming you and getting away with it.
If not, only choose reliable taxi brands such as Mai Linh (green-white), Vinasun (white with green, red lines) or Taxi Group (white with red, blue lines).
Use a map app to know the shortest path to your destination, if possible, you can confirm it to the driver.
Take pictures of the taxi's plate or the meter
Do the math yourself if you are going to exchange money with the taxi driver.
Make sure you have arrived at the right destination before paying and getting off the car.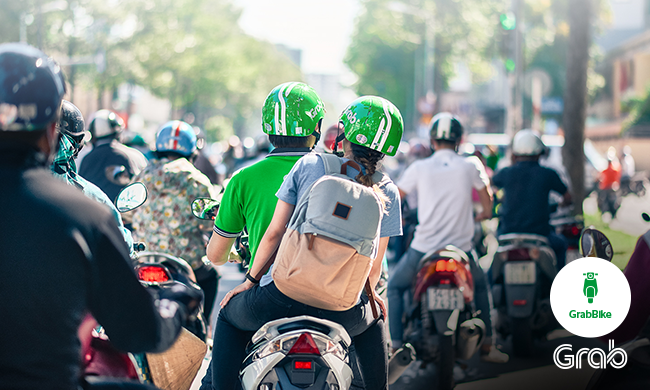 Tips to stay safe:
The hotline number of Vietnam National Administration of Tourism is +84 4 3942 3760, located at no.80 Quan Su, Hoan Kiem, Hanoi. This is where you should report your problem and get help from the administration.
Money, phone and other important items should be kept close to your body. We suggest you to use the waist bag (money belt) to keep those things.
If you want a Xe Om ride, we also think Grab Bike is number 1 choice. Grab is used exactly the same way as Uber, safe and price pre-calculated. If you want to ride a motorbike by yourself, abiding by the traffic laws only does you good things; always wear a helmet and bring your driving license.
Don't buy things or tours that are surprisingly cheap or just seemed suspicious. Try to bargain on everything you buy on the street.
To avoid vendors and touts, say "no" firmly from the start, make no eye-contact to them and pay no interest if you're not going to buy. Or you can pretend that you can't understand what they are saying.
When travel by bus, we recommend you to book in advance with reliable bus companies. Especially with an open bus, some companies out there have a bad reputation for their poor quality service. Tricks like letting you on the bus then ask for a higher price is used a lot. They might not let you get off if you don't pay. TheSinhTourist is a popular operator for its trust-worthy open bus service.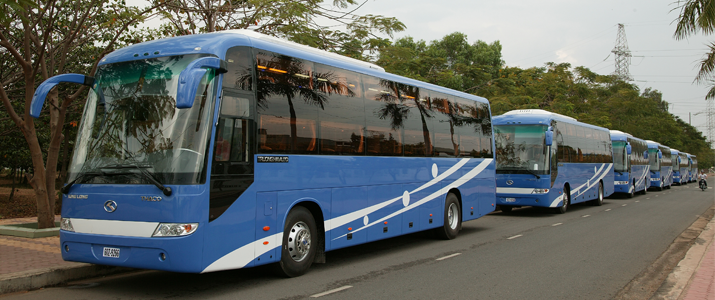 Our opinion
Ho Chi Minh city is just as safe as many other major cities in Vietnam – charming in their own ways yet still has many "developing-city" problems. We think if you are prepared, Ho Chi Minh is a lot safer than other cities in other countries which unfortunately are facing more complicated issues. Indeed, Vietnam overall has a much lower crime rate than Western countries, less anonymous attacks, robberies, violent attack or sexual assault happen against foreigners.
Ho Chi Minh city can be really overwhelming at times: it's the largest city in Vietnam, with millions of people, busy trying to make a difference every day. Ho Chi Minh is much intense than Hanoi, more modern in lifestyle, its people are more open and active. So as a tourist, you'll not find travelling around this city that much of a challenge because you'll get help anywhere you go. Be confident, daring yet prepared, we are sure that you won't have any problem here.