We are proudly presenting to you our very first Photography Contest: Together We Travel the World. Share your most beautiful travelling moments of you and your loved ones to win many presents from Vietnam Visa Easy!
What are you waiting for? Join us now to get big prizes!
From 7th September to 14th September, all you just need to do is sharing your most beautiful traveling moments recorded on camera on our Facebook Event Page.
The prizes the winners will receive are: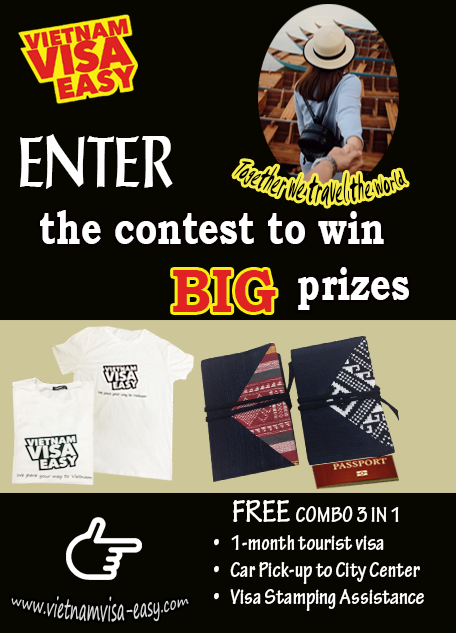 ?HOW TO PARTICIPATE:
✔️Step 1: Click Like on Vietnam Visa Easy fanpage and click to join event "Photography Contest: Together We Travel The World".
✔️Step 2: Post your original photos or videos (not limited in quantity) directly in the Discussion item of the event. Following is the contest rules:
• Photos or videos of you and your partner must be recorded during a journey.
• Write a caption with Title and Description which shouldn't exceed 10-15 lines to share with us your experiences on the trip.
• Hashtag: #TogetherWeTravelTheWorld #Vietnamvisaeasy
✔️Step 3: Inbox your information to our Facebook page, please write as following:
[Photography Contest]: Together We Travel The World.
Your Full Name:
Email Address:
? REWARDS:
Contestants who receive the most LIKEs will get rewarded with:
1️⃣First Place: Free combo 03 services* + 02 T-shirts + 02 Handmade Passport holders
2️⃣Second Place: Free combo 03 services + 02 T-shirts
3️⃣Third Place: Free combo 03 services
?NOTEs:
– Combo of three services includes:
?1-month single/multiple visa
?Car Pick-up to City Center
?Visa Stamping Assistance
– If you post more than one picture or videos, the LIKEs will be accumulated.
– In case you may not use the prized services, they can be transferred to your family members or friends with a validity of 6 months. After 6 months, the free services are no longer in effect.
– T-shirts and passport holders will be delivered free to the winners' addresses.
Should you need any information, just don't hesitate to contact us at anytime.