Situated about 2 km from Ca Mau city to the West, Culture Park or known as Lam Vien May 19th Park is an outdoor entertainment area of 18.2 ha including amusement parks, monuments, botanical gardens, stilt houses, Ho Chi Minh pond….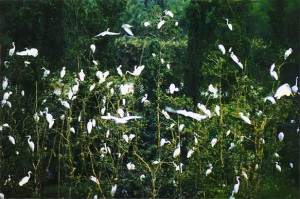 This is the park of many typically tropical species such as crocodiles, monkeys, snakes, lizards, pythons, … However, the main spot that attracts a lot of tourists every year is the bird garden.
At first, there is a forest of 2 ha in the park park that always get noisy every afternoon by the presence of thousands of birds, sporks. Gradually, other types of birds such as teals, swans… also gather here. Due to the overcrowding of the birds, the park was expanded more 6 ha to create favorable conditions for birds' residence and procreation. To protect the birds and landscape, it was enclosed by fences as a separate ecological site. At present, the City Bird Garden has a harmonious beauty made of natural ponds, forests, flower bushes and the most valuable birds in Southeast Asia.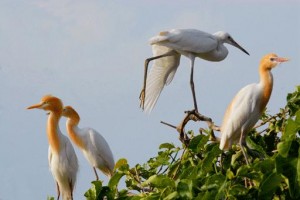 Not also being near to Ca Mau city, Lam Vien park is also a very interesting spot for every tourists in all ages. Just across a ditch of nearly 6 km, tourists will have chance to watch thousands of birds, sporks, teals, waterfowls…. swooping down the parcel of mangrove forest. They dance, express their love and together sing a great symphony until late afternoon. The City Bird Garden has opened for tens of years and received a special care from the local.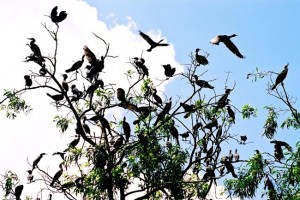 Regardless of strong development of constructions, the garden still exists as a significant character of Ca Mau, the southernmost province of Vietnam./.