If you are a backpacker, Moc Chau plateau can not be missed in your journey and now I will tell you why ist is so special.
Moc Chau plateau is situated at 1050 m high above sea level, about 200 km from Hanoi to the Northwest along Highway No.6. This large plateau stretches about 80 km long, 25 km wide with a grassland of 1.600 ha. Climate is the natural favor of creator that makes Moc Chau tourism exceptionally distinct. In the middle of the plateau locates a climatic sub-region with the summer's average temperature of 200C and a drier winter than other sub-regions. Moreover, Moc Chau is also famous for the diversity and unique culture of ethnic minorities such as Thai, H'Mong, Muong, Dao…. The best tourism products of Moc Chau are relaxing and entertainment tourism, sightseeing tourism, cultural and festive tourism and river tours.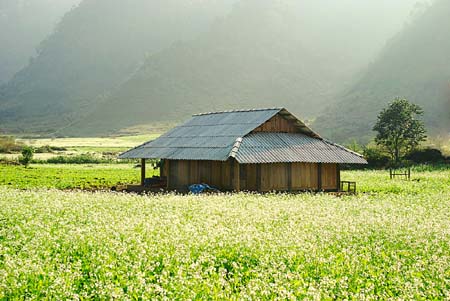 Best time to travel to Moc Chau
Moc Chau is charming during 4 seasons of the year. Its dreamlike beauty comes from the color of various types of flowers on the hills and valleys. In spring, Moc Chau welcomes Tet by the delicate white color of immense plum hills and the light pink of peach blossoms. In February of Lunar calendar, it is overwhelmed by ban blossoms, a specific blossom of Tay Bac highland region. When summer comes, this is a perfect destination to escape from hot weather of tropical area and enjoy delicious ripe plum fruits that have just harvested from the tree. The autumn in Moc Chau is very cool and fresh air. In winter, Moc Chau looks like a heaven on earth with the color blend of  wild flowers with white, yellow, purple and red. After all, whichever season travelling to Moc Chau, you could admire green tea hills and enjoy local specialties, immerse yourself in daily life of Thai, H'Mong, Dao people.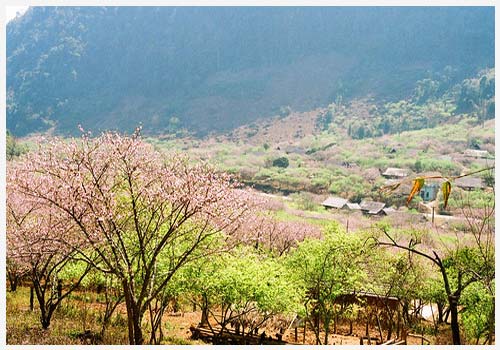 How to get to Moc Chau
It is about 190 km from Hanoi to Moc Chau. By motorbike, you pass Xuan Mai to come to Hoa Binh and then ride a long highway No.6 to Moc Chau. If by bus, you could catch a bus running Hanoi-Son La at My Dinh station or the one situated behind Son La guest house at Nguyen Trai-Thanh Xuan street. The buses to Son La often depart at 5.30 am, the ticket price is VND 120,000/pax. Many hotels or rest houses in Moc Chau deliver motorbike rental service for tourists to visit and explore surrounding landscapes.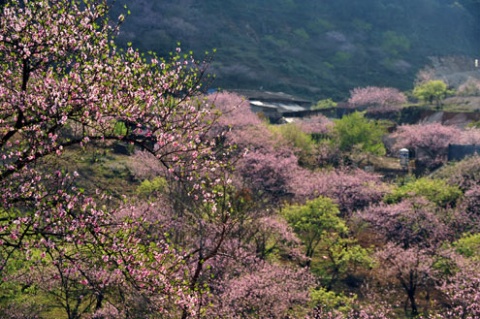 Where to go in Moc Chau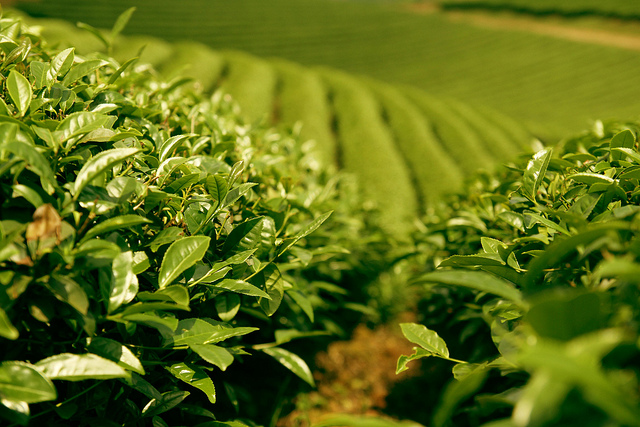 Son Moc Huong Grotto or Hang Doi (Bat cave): located close to the town's center, 300 km backward against the road to Son La town. Hang Doi is on the right, about 150 m from highway No.6. Hang Doi is not only a landscape but also archaeological site and war historical relic.
Dai Yem falls: situated 6 km from Moc Chau town, on the road to Long Sap border gate . Dai Yem falls is associated with residence history of Thai ethnic minority in Muong Sang.
The forest pine Ang village: Ang village area represents Thai character. This place has a horse complex. The tourists could row to 2 forests at km 45 and Chieng Sai, where Thai people in Moc Chau and Lao people speak the same language.
On village Ngu Dong: 16 km from Moc Chau farm. It is specially suitable to outdoor adventurers and nature lovers. Ngu Dong is very primitive with very large and deep caves for tourists freely to explore.
Ba Phach village: is also known as "white silk band on Moc Chau" due to its endless white flower fields. Ba Phach is located 10 km from center of Moc Chau town.
Thong Cuong and Loong Luong villages are considered as the land of Tam Hoa plums, peaches. Especially in spring, the villages is covered by the white color of plum blossoms.
Phieng Luong peak: is 15 km from Moc Chau to the East. The peak has a flat land area of 10 ha which is a perfect place for sports such as horse riding, trekking or climbing.
In addition, Loong Sap border gate  and Xuan Nha Nature Reserve  are also attractive spots in Moc Chau.