Moc Chau is located in Son La province and known as one of the best destinations in north Vietnam for its unreal scenic landscape. Moreover, Moc Chau is also identified with a rich culture of the ethnic minorities and friendliness of locals.
Moc Chau plateau is also home to 12 ethnic minorities including Thai and H'Mong are most popular with renowned cultures living in places such as Ang, Thung Cuong, Pa Phach villages which are all famous sites for tourists.
When to visit
Moc Chau is beautiful in all year round. In each season, the plateau has to its own a very different and unique beauty which makes Moc Chau always new in the eye of travellers.
Even though the best and most crowded time for tourists in Moc Chau must be the three months of Lunar New Year: December, January and February. In this time of year, travellers will have the chance to witness the immense scenery of peach and plump flowers fields all around the plateau. In March it's the turn of pinkish ban flower to bloom – the legendary flower of Northwest Vietnam and Het Cha festival to take place. From April to August, it's the rainy season also the time to witness the grace of Dai Yem waterfall. September has the biggest festival of H'mong people – Celebrating Independence Day. Travellers could easily arrange your itinerary accordingly to enjoy Moc Chau in your own way.
How to visit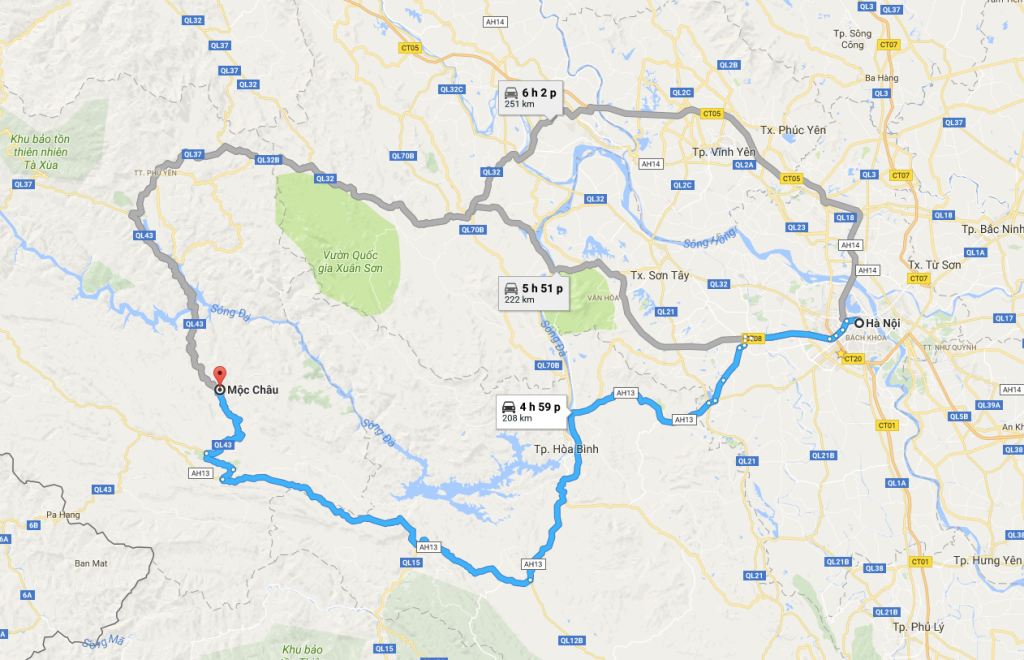 Moc Chau plateau is about 200km away from Hanoi by national highway 6, the distance is suitable for both motorbiking or taking a bus.
By motorbike, be aware of the road condition, especially Thung Khe pass which is located between Tan Lac and Mai Chau. The pass is steep with many bends and turns. To reach Moc Chau, you will have to pass Mai Chau through national highway 6. There are 2 highways 6 – the old one and the new one, you should choose the new highway not only for safety but also for the scenic landscape on the way.
By coach, you can catch coaches to Moc Chau (Son La) in My Dinh and Yen Nghia bus stations with ticket price ranging from 130,000VND – 160,000VND. Reliable companies are Hai Van, Bac Son and Hung Thanh. Coaches depart from morning to late night, taking you about 4-5 hours to Moc Chau.
Get around
No trouble with those who choose to travel by motorbike to get around Moc Chau, you can comfortably move from the place, but please notice about having proper resting time between rides.
With others, you can rent a motorbike in Moc Chau to discover the plateau in many hotels and hostels in Moc Chau town. The price for one day is from 150,000VND to 200,000VND (no fuel cost included), depending on the quality of the motorbike. It's very likely that the price will rise in the weekends during peak season due to the massive demand of tourists. Prepare your needed document carefully during the whole trip, follow the rules and beware of the dangerous roads.
Accommodation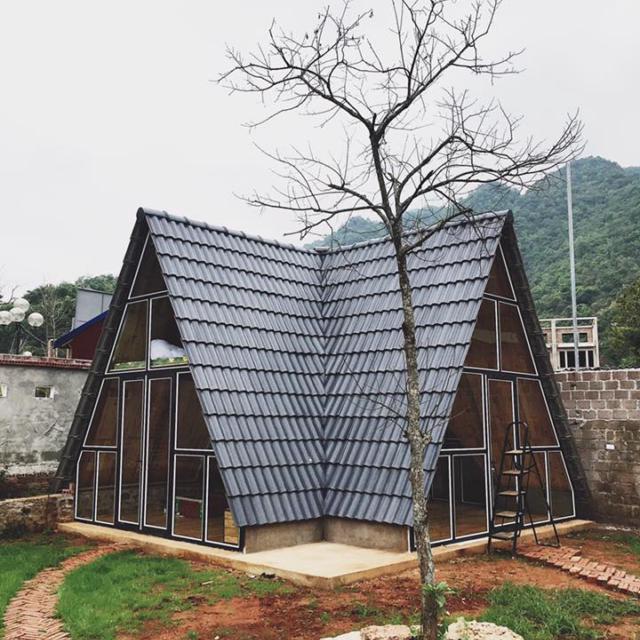 There is plenty of accommodation service in Moc Chau with a wide range of price. Cheap hotels and hostels are open for 100,000VND – 300,000VND per night per room in Moc Chau town. In other areas, there is homestay service in an ethnic village with a wide price range, can be anywhere between under 100,000VND per person per night to above 1 million VND per person per night.
Some stylish and cool homestays and hostels in Moc Chau:
Nha Ta Homestay – 53 Tran Huy Lieu, Moc Chau, 097 822 72 38
Moc Chau Arena Village – Km 122/180 Highway 6, Chieng Di, Moc Chau Farm | Hanoi Office: 26 Lo Su, 0981 937 750
Bơ House Hostel – Hamlet 2, Moc Chau Farm, 097 585 89 89
Attractions
Thong Cuong village: is a village of H'Mong people, located between 2 communes: Dong Sang of Moc Chau and Xuan Nha of Van Ho. The village is exceptionally beautiful in spring when the white clouds of plump flowers surround the grey proofs of H'Mong traditional houses. In another season, the small soil path leading to the village is embellished by a vast cauliflower field, making it a very romantic and peaceful scenery of Thong Cuong.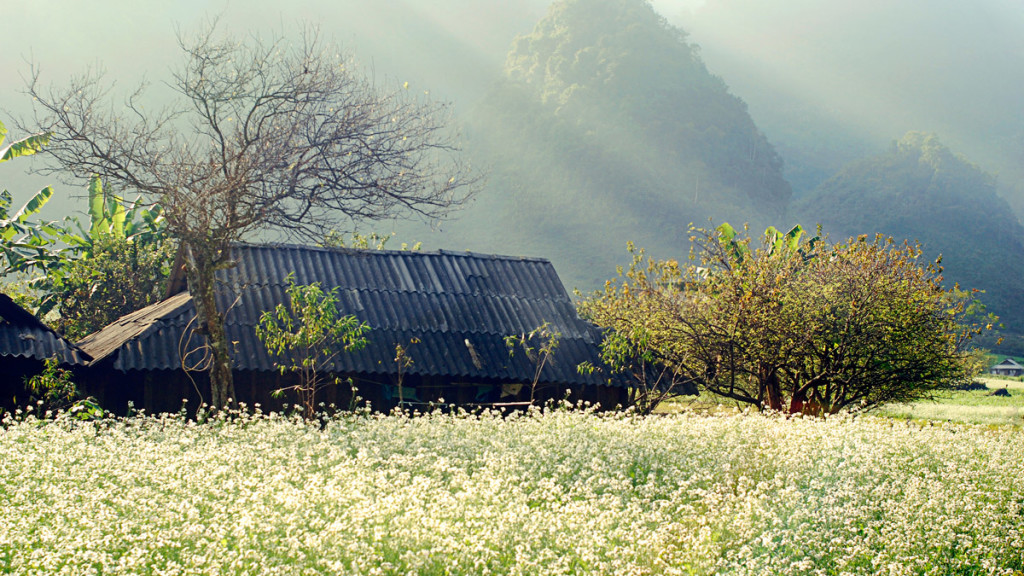 Tea hills in Moc Chau town: tea hills have a major part in making MocChau famous as one of the best destinations in north Vietnam. Once you come to Moc Chau, you shouldn't miss this site. About 15km away from Moc Chau Farming town, the tea hills capture our eyes by their unlimited green lines running to the horizon, a whole area is nothing else but green mountains follow green mountains. The photographic site is even more alive when the sunlight cascade down. We recommend you to visit Moc Chau in summer to have the best photos of tea hills.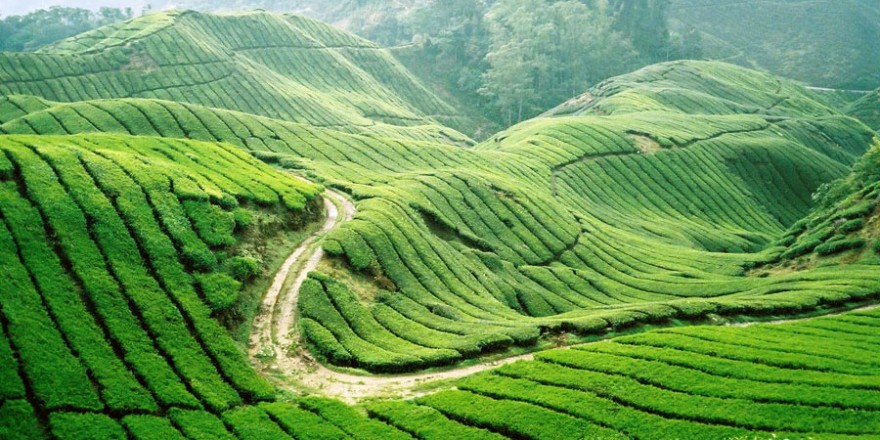 Ba Phach villages are a wonderful site to visit in spring. Ba Phach has not only the most wonderful sight of plump and peach flowers but also the unique cultural atmosphere of Thai and Mong villages in Moc Chau. Here you can have an in-depth sight into the life of ethnic people in the plateau with rich cultures and friendliness. Thai and Mong people have a tradition of living together for a long time. Thai people live and cultivate near a water source while H'Mong people live up high and cultivate on terraced fields. So that's why the Ba Phach has divided into 2: lower Ba Phach and Upper Ba Phach. The lower village belongs to Thai people and upper Ba Phach with 3 villages (Ba Phach 1, 2, 3) belonged to H'Mong. Two separate ethnic people with two renowned cultures living peacefully together make Ba Phach a must-visit site in Moc Chau.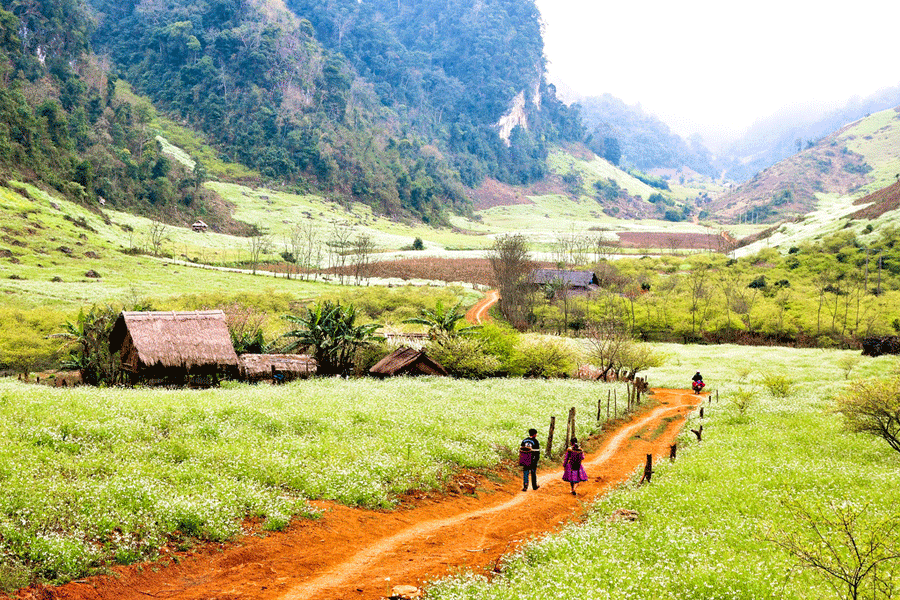 Dai Yem waterfall (Pink Blouse waterfall): is the icon of Moc Chau tourist, located in Muong Sang commune. In the rainy season, white water cascade down from the high ground with grace and beauty just as the legend it represents for. The fall tells the story of a girl who used her pink blouse (a traditional brassiere of Vietnamese women) to save her lover in a flood.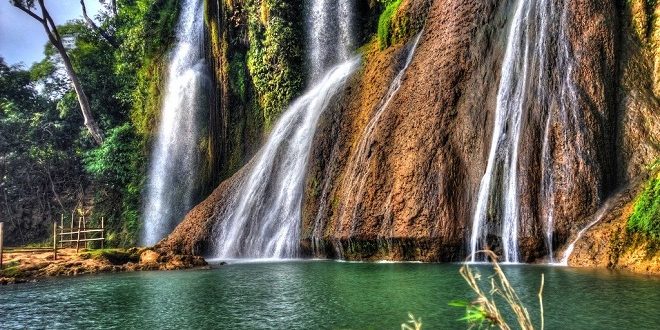 Pine forest in Ang village: a perfect place for camping and picnic. The forest is about 3km away from the big road. It's a fine complex of pine forest and lake with cool air. If you go with a group, you can do camping activities without being bothered by others. Besides, you can go trekking to Ang village of Thai people nearby. There are many flower fields around the areas.
Doi Cave: is located in the northeast of the town with a total area of 6915m2, away from the national highway 6 only 165m right in the centre of plateau's city. Travellers have to climb about 240 steps to reach the cave's entrance. The cave is related to a legend of a dragon. Once upon a time, when a dragon was flying to the East Sea and coming across this area, it was so amazed by the immense beauties of the landscapes below, making it wanted to stay. The dragon landed and lived in a mountain range. From the outside, the mountains appeared with mysterious colours: white as crystal in the morning, blue as sapphire in midday, pink as ruby in the afternoon, deep purple in the twilight. Time flew and the day the dragon had to leave came. Before leaving the land, it released seven jades through its mouth and turned them into mountains to thank the land and people of Moc Chau.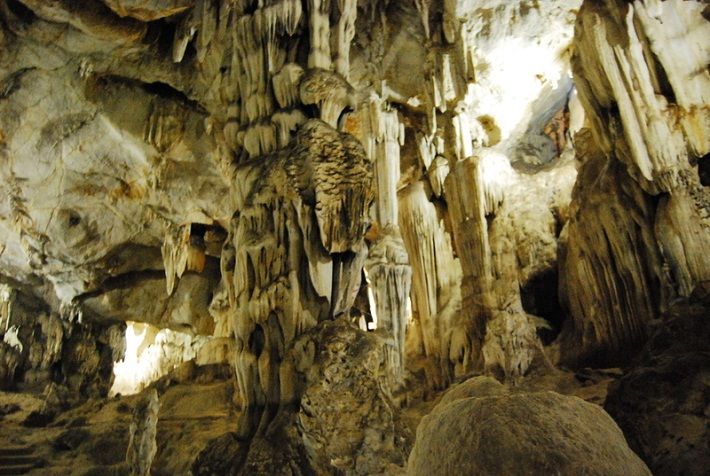 Pha Luong mountain: Pha Luong mountain has been mentioned in a very famous poem "Tay Tien" (West March) to praise the courage and will of the soldiers on the march to the west who overcame many difficulties and hardships from both enemies and harshness of nature. Pha Luong represents for the latter. On the height of 2000m, Pha Luong peak is the true summit for those who love adventures to challenge themselves. The path to the summit is known for the impossible slopes with steepness and dangers. For foreigners, because Pha Luong lies in a border area with Laos, you have to attain a permit from authorities to visit the place. For all travellers who wish to climb Pha Luong, you will stop at the border guard station which is located 10km away from the highway before going up. No one is allowed to stay overnight on the top. The road to Pha Luong's top takes you about 3 hours but you need a local porter who will take care of the guiding. The peak is a broad rock pointing out into the air. This is indeed one of the coolest sites to take pictures in Vietnam with the whole view of mountains and clouds behind your back.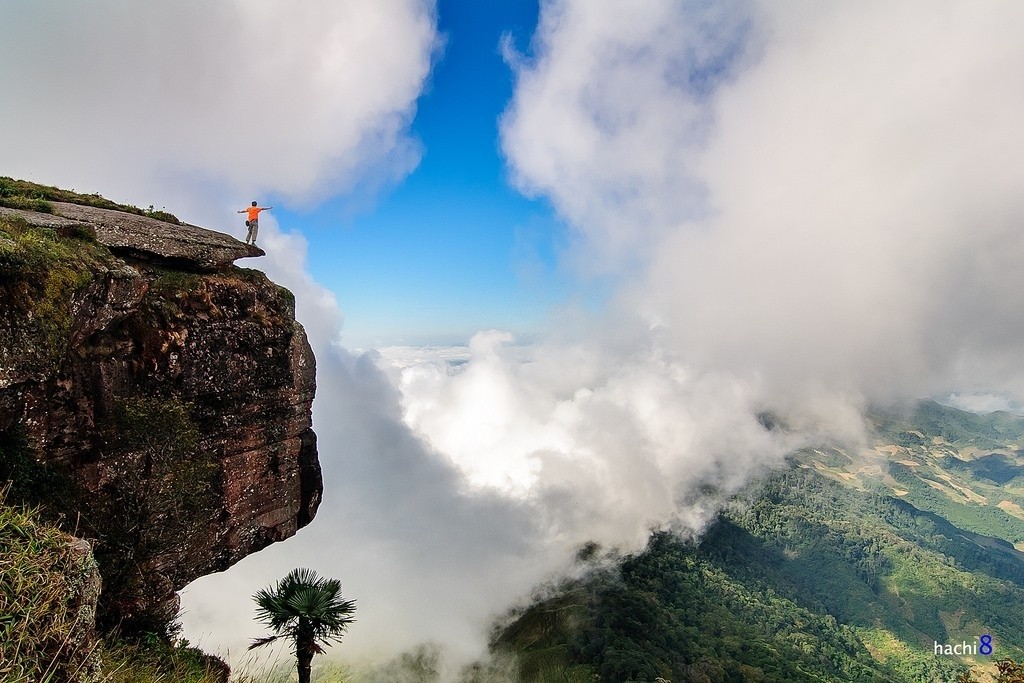 Festivals
Independence Day Celebrating of H' Mong people: in the old days, H'Mong people only celebrate once at the end of the year; but after the year 1945, H'Mong people in Moc Chau, Son La have had a new festival – the Independence Day Celebration which is to be held in 1st of September, one day before the historic event. Thousands of thousands of people from many ethnic minorities in North Vietnam and some from Laos come and gather in Moc Chau to celebrate this glorious day of Vietnamese history. September 1st is also the day of an annual love market in Moc Chau where girls and boys meet wearing their best costumes and sing their songs. Foods and all kinds of goods are sold in the market. If you are planning to visit Moc Chau in September, you should not miss such an event!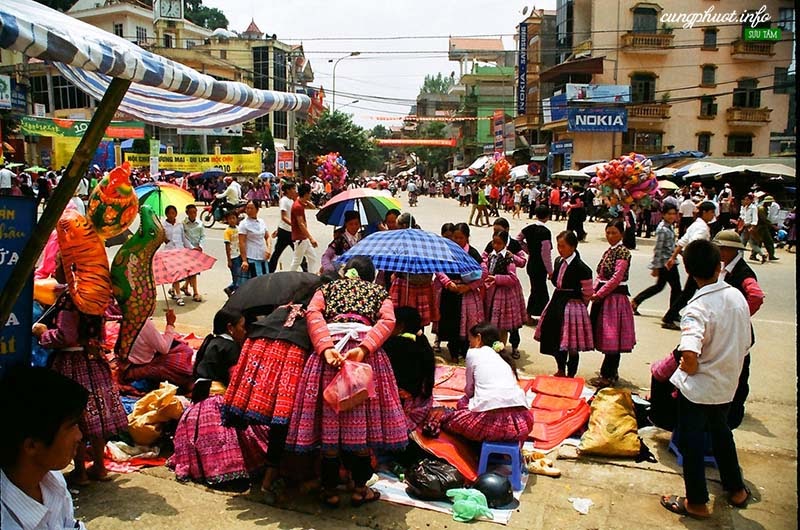 Praying-for-rain festival of Thais: this is the most important festival of Thai people in Moc Chau. In the 15th century, the festival was popular but lost until 2011 by when it was restored. The festival is held on 15th of February of Lunar Calendar annually to wish for a new bumper. Thai people prepare very carefully for this important day and one thing that can't be missed is the Neu tree which is believed to send the messages of the people to the gods above. An altar full of fine foods and votive is made and put out in the outside. A shaman will use a bamboo leave to splash water on everyone symbolizing that the gods shall give rain to the people.