Phat Diem stone Cathedral is located in Phat Diem town, Kim Son district, Ninh Binh province with specific features of oriental architecture style.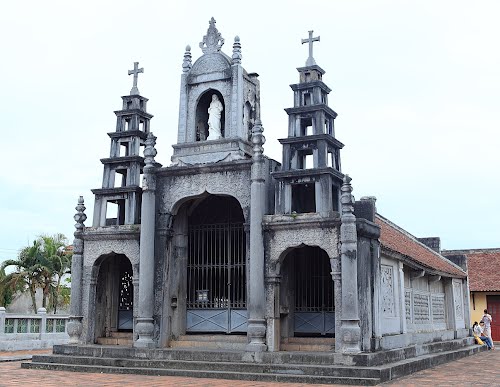 Phat Diem Cathedral is 120 km from the South of Hanoi. It was built from 1875 to 1898. The name "Phat Diem" was given by Nguyen Cong Tru with mean of arising beauty. It took 24 years to complete the cathedral. With technical standard and traffic condition in the late 19th century, the transport of thousands of tons of rocks (some rocks weigh 20 tons) and hundreds of iron wood trees to Phat Diem was an incredible attempt. Kim Son was actually a newly-exploited land. Previously, it was very muddy . Thus, to handle the settlement, they had to move a whole small mountain that was 40 km away to Phat Diem. When visiting the cathedral, tourists will see So mountain, which is a part of the mountain removed to Phap Diem.
This is a complex of oriental architectures including lakes, Phuong  Dinh, big cathedral and four churches at both sides, 3 artificial caves, stone church.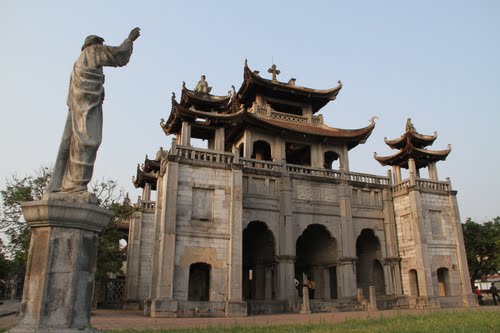 Phuong Dinh was the first area in architectural planning of Phat Diem. This was an architectural work of 25 m high, 17 m wide, 24 m long with 3 slate floors.  The ground floor is the largest which  is covered by large green flagstones. The art of Phuon Dinh's construction is very admirable. By the handwork industry of the local people, the stones of thousands of tons were arranged very regularly. In the middle of Phuong Dinh places a monolithic bed , the interior and exterior are reliefs with beautifully engraved images of Jesus Christ and gods. The second floor of Phuong Dinh hangs a big drum and the third floor hangs a bell of 1.4 m high, 1.1 m diametric and approximately 2000 kg weight. The bell was casted in 1890. The Phuong Dinhh's roof consists of five arches. Four arches lied at four lower corners and the highest arch was situated in the middle of the third floor. The roof of Phuong Dinh is not as towering as other churches' but so low and curved as the ancient roof of pagodas, shrines.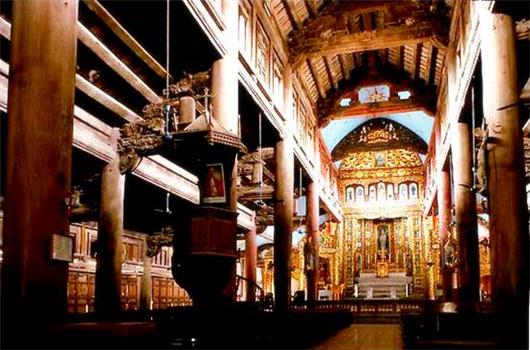 The big church: was the main church built in 1891 with five stone-arch doors. It is 74 m in length, 21 m in height and four roofs. There are six rows of iron wood pillars in the church including the two middle rows of 11 m in height, 2.35 m perimeter and about 10 tons weight for each pillar.
The top apartment has a big altar of monolithic stone of 3 m long, 0.9 m wide, 0.8 m high, 20 tons weighty. The front side and other sides were carved specific flowers of four seasons. At two sides of the church place four small churches designed in individual architecture style.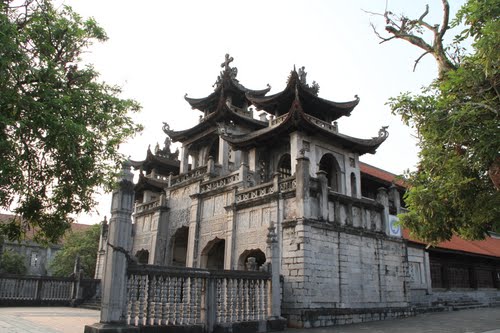 The stone church: everything in the church was made of stone from the floor, wall, column, rail of window … The interior was sophisticatedly carved reliefs, especially the Four Season on symbolizing the weather and beauty of four seasons in a year. Moreover, the animal reliefs such as lion, phoenix were also amazingly lively.
Artificial caves: In the North of Phap Diem stands three caves made from big and small rock masses of which Lo Duc cave is the best.
Phat Diem cathedral is truly a unique architectural work in Vietnam with spenlid oriental-style buildings but also in harmony with natural scenery.