Tay ethnic group in Lao Cai owns rich and diverse traditional culture expressing through folk songs, dances, festivals and spiritual customs…of which there is a unique instrument namely Pi Le pipe.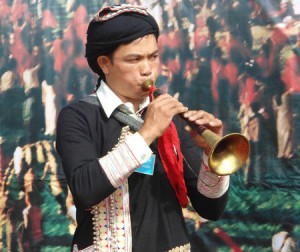 Pi Le pipe is made of solid, durable wood. The Tay ethnic people use Pi Le in religious ritual, wedding, new house ceremony, Long tong festival… Pi Le is a musical instrument of the woodwind family, different from other instruments in structure, sound. It is also an indispensable symbol in the spiritual life of the Tay ethnic group.
Pi Le's body is an empty cylinder tube of wood of 30-40 cm long including10 internodes. The internodes are created by separation between the edges of which 7 internodes in the middle are pricked tone holes in the front. The speaker is made of bronze, conical shape with the length of 10 cams and a diameter of 12 cm.
Pi Le has 2 sizes: small and large. Therefore, it requires 2 persons for a show.