Where Vietnamese couples often go to take beautiful wedding photos? Here are recommendation about 7 popular places in the North where you will get the best photos for a Vietnamese wedding album.
Hanoi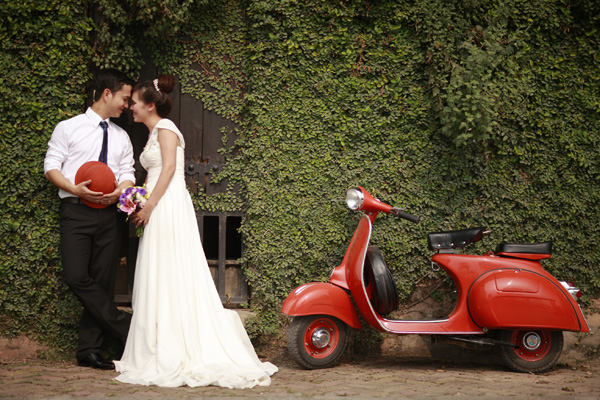 If you do not have big budget, do not worry, you still have beautiful pictures for your wedding right inside Hanoi. In autumn, Hanoi enchants everyone with light sunshine, strong wind, fresh air, and cool climate. You could choose the popular spots around Guom Lake, Tay Lake, Old Quarter, Kim Ma Street…
For more special photos, you could choose backgrounds in Quang Ba flower garden, Bach Nhat garden, sunflower garden, Vinh Tuy longan garden or coffee shops designed in ancient Hanoi style.
Duong Lam

Only about 60km from Hanoi capital, Duong Lam is a heaven of peace for couples. The ancient brick and late-rite houses, communal house, well, village's gate, rice fields are beautiful backgrounds for the photos of traditional ao dai.
Moc Chau in Son La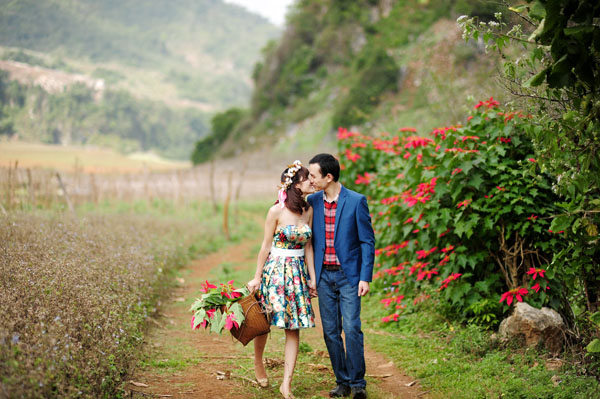 Thanks to mountainous area, Moc Chau is year-round cool and beautiful. Coming to Moc Chau this season, you will certainly be pleasant with golden yellow rice fields or blooming wild sunflowers. At the end of autumn, Moc Chau is overwhelmed with vast fields of hoa cai vang (yellow blumea flower) and hoa cai trang (white blumea flower). Besides, the couples could have other options such as tea farm, Dai Yem waterfall, or simply take picture with ethnic minority kids in colorful brocatelle costumes.
Sapa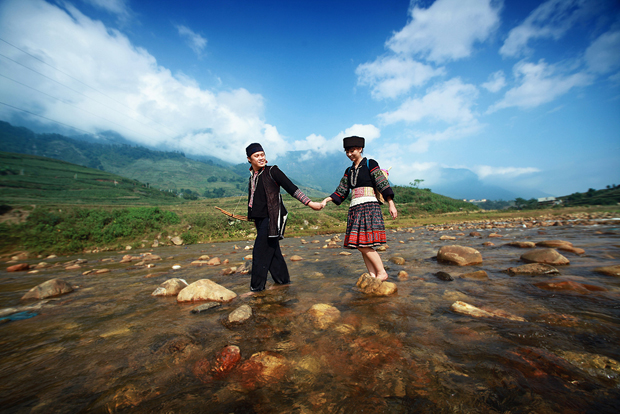 Terraced fields, villages of ethnic minorities, Silver waterfall, Heaven Gate… are familiar destinations for those who are interested in mountainous beauty of the North Vietnam. They are also perfect choice to produce romantic photos in foggy villages of Sapa.
Ha Giang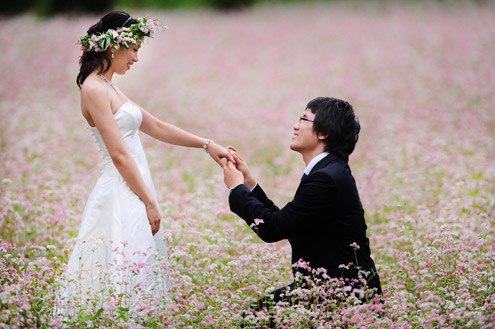 It is very worthy of a long distance to visit Ha Giang because landscape in this place will fascinate any couple. Ha Giang owns boundless terraced fields, rolling mountain ranges, and gorgeous tam giac mach flower hills, which are beautiful backdrops for a perfect wedding picture.
Van Don in Quang Ninh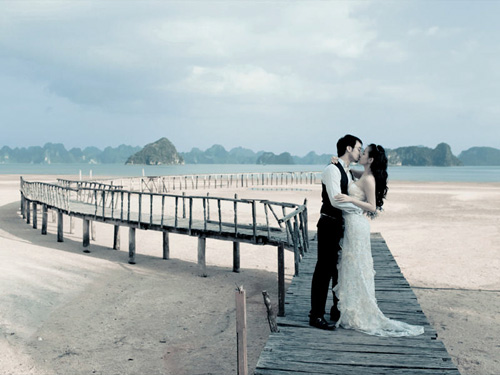 This is an ideal spot for couples who like to pose with sea. Blue sky, immense sea and long-stretching dock overlooking the sea is favorite location for wedding album.
Tam Coc-Bich Dong or Trang An in Ninh Binh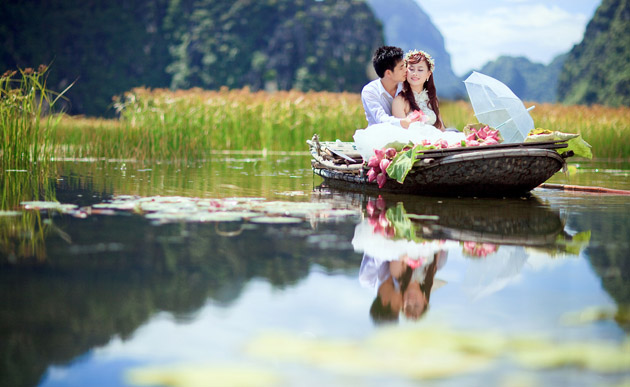 In order to own a distinctive wedding album, you could rent a boat and rowing through the canals, or the caves in Tam Coc-Bich Dong or Trang An. The scene in this place is extraordinary poetic with rice fields at both sides. This is also favored many couple because it is situated only 100 km from Hanoi.