Floating clouds, tranquil space, fresh air, unspoiled beauty… Con Dao, Phu Quoc, Ba Na… are romantic destinations for couples or visitors who seek a leisure holiday. 
Unspoilt Con Dao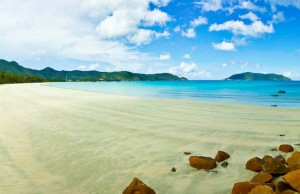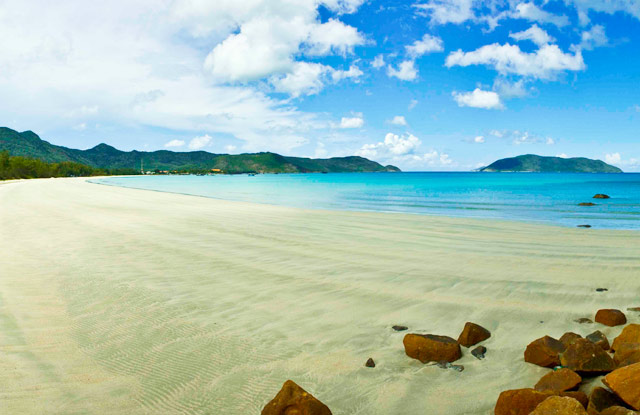 From "Hell on earth" to a tourism heaven in the country, Con Dao is selected by Lonely Planet as one of top 10 most beautiful unspoilt islands in the world. This place owns series attractive landscapes such as National Park, dense forests. It is also home to dolphins, turtles and appealing coral reefs.
More than that, tourists will admire fascinating blue sea, endless white sands, visit popular historical relics, see sea turtles hatching in breeding season from May to November.
Not many resorts set up on the island, so the island is quite pristine and peaceful. This may be the reason why the island is a romantic destination for couples who like to have private space in honeymoon.
Poetic Phu Quoc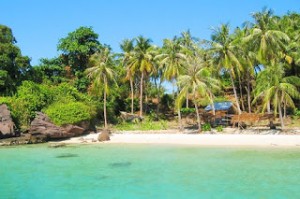 35 minute flight from Ho Chi Minh city, Phu Quoc is charming and poetic with immense forests, pristine beaches, fresh air and a dozen enchanted landscapes.
In Phu Quoc, tourists can enjoy yourself in nature with interesting activities such as squid fish squide, explore primitive forests, bath in clear streams or simply visit fish sauce, sim wine, pearl manufactures.
In particular, there is a natural phenomenon that interests a lot of tourists. That is many schools of fish dancing on the water surface and make it as it it were raining. This phenomenon can happen at any time at any public beach providing that there is no fishing boat nearby.
Floating clouds in Ba Na

Located at nearly 1.500 m above sea level, Ba Na is an ideal destination for those who like enjoy specific climate of 4 seasons in a short holidays.
The most worthwhile experience of tourists in Ba Na is not only panoramic view from the peak of mountain, the scenery of mountains and forest as beautiful as an aquarelle but also the feeling when you conquer imposing mountains by motorbike.
Peaceful Dai Lai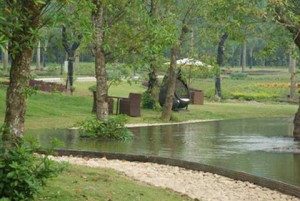 Situated 40 km from Hanoi, Dai Lai is peaceful and romantic with immense lake surrounded by green hills. Therefore, it is a perfect replacement for those who do not have chance to Dalat.
Especially, if you come here in bird nesting season, you will be amazed at hundreds of birds flying here. This scene not only excites you but also evokes the attachment in marriage and love.