As a UNESCO World Heritage Site, Ha Long Bay is well-known for both fantastic islets with sparkling stalactites inside the caves and mysterious legends associated with each attraction.
Hang Trong (Male Cave) and Hang Trinh Nu (Virgin Cave) are two familiar names to domestic and foreign visitors travelling to Ha Long. Not only is fabulous beauty but also the legend about the origin of the caves interests and excites so many visitors.
Virgin Cave is situated in Bo Hon islet ranges and a part of a system including Surprise Grotto, Fairy Lake Cave,  Luon Cave…, 15 km to the South of Bai Chay. While Virgin Cave is a sweet home to fishermen, the couples consider it as the symbol of true love.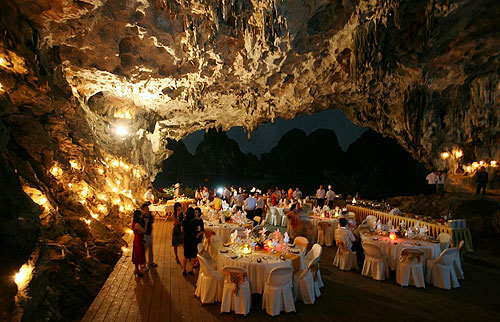 Right in the centre of the cave places a stone statue of a lying-girl looking to the sea in the vain hope.
In opposite of the Virgin, the cave is Male Cave (also known as Boy Cave) with the stone statue of a petrified man facing the Virgin Cave. It seems that the visitors could hear his constant vain scream is in tune with the wind blowing into the cliff somewhere.
A long time ago, when the French explored Halong Bay, they named this cave "La Vierge" (means Girl Cave). According to legend, there once was a beautiful girl born in a poor fishing family. They worked for a man who governs the fishing area. He forced her to become his concubine. However, the girl drastically refused because she already had a lover. Her fiancé at that time was offshore fishing to prepare for their wedding. So angry, the man decided to banish her to a desert island for punishment. She was starved and exhausted. Finally, she died and petrified on a rainy night. That was very the night when the boy heard the bad news. He rowed absorbedly to look for her. Still, the storm was so fierce that his boat was broken and he drifted on a desert island. In a lightning flash, he realized the girl in the distance. He tried to call her but his voice was carried away by the strong wind. He beat at the cliff with a stone to draw her attention. He kept doing this until his hand bled and he died of weariness.
The Male Cave is situate about 700-800 m from the Virgin Cave. The caves face two different directions but visitors can stand in either cave and hear a scream from the other cave.