Whenever autumn is coming in Ha Giang, the backpackers, photographers and photography lovers from everywhere flock to Northwest mountainous region to admire tam giac mach flower fields blooming.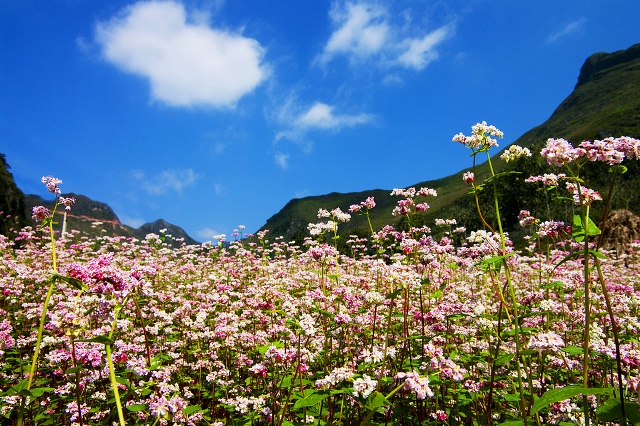 It is said that once upon a time, the habitants in Northern mountainous areas mainly lived on corn and rice until one day, all corn and rice in the house were nearly exhausted but the fields could not be harvested. The villagers were very hungry. Suddenly, they smelt a a scent in the wind.
They went along the ravine and found a field of tiny flowers with triangle-shaped leaves. The villagers brought seeds of the flowers home to substitute for corn and rice and called them tam giac mach. Since then, tam giac mach was used as ingredent for bread or mixed with corn to make wine such as Ban Pho wine in Bac Ha, Nam Pung wine in Bat Xat.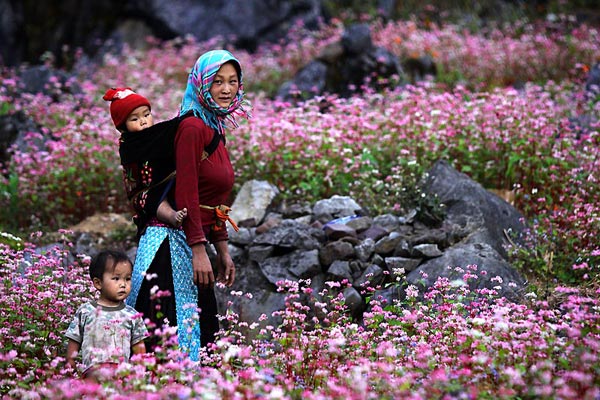 There are many places to contemplate tam giac mach flower such as Simacai, Bat Xat, Muong Khuong districts in Lao Cai province, Tra Linh, Trung Khanh districts in Cao Bang province. However, the most popular destination is Ha Giang province with familiar names like Sung Lan, Lung Cu, Xin Man…
Ealier, the road to Cao Bang and Ha Giang is full of obstacles. However, you are totally able to have a 3 day 2 night trip if catching bus from Hanoi or self-organizing motorbike trip with your friends.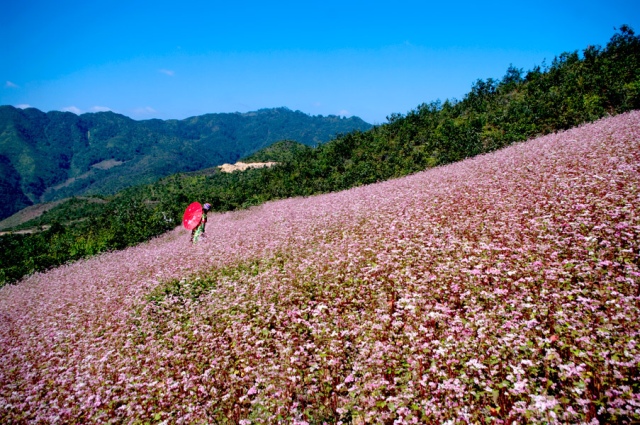 Normally, the flower blooms in late October, early November depending on the cultivating time. Tam giac mach flower often has 3 colours including light pink, glistening purple and dark red. Particularly, most of tam giac mach flowers in Cao Bang are white.
Recently, there are some complaints about lack of awareness of backpackers such as taking photos without permission, riding onto the flowers… Therefore, you should ask for permission from local people to take photos and have well-behavior for a meaningful and memorable trip.