One of the favorite thing that almost foreign visitors like to do in Hue is to sit on the cab and admire imperial citadel, ancient tombs, Perfume river, as well as Hue women in traditional ao dai.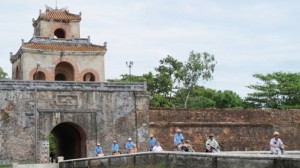 A tour of Hue imperial citadel is always the priority of the tourists
The cab drivers need to have basic information about Hue travel such as the place where sells Hue specialty, or restaurants serving Hue dishes to answer the tourists if being asked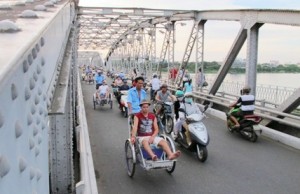 A series of cabs carrying dozens of tourists through Truong Tien bridge to admire poetic Perfume river or centre lines in the city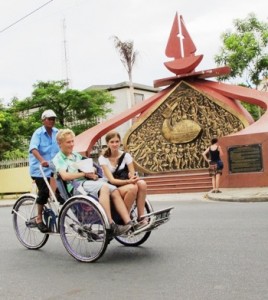 A European couple shows their interest on the cab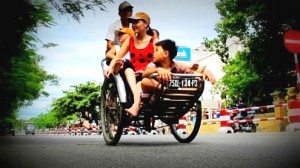 The children are excited to observe the scenery with parents on the cab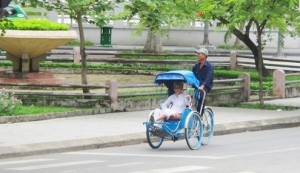 The cab is a helpful means for the elderly in Hue whenever they want to take a tour of the city or visit the friends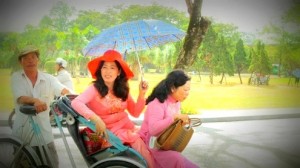 The image of pedicabs gets more beautiful with women in ao dai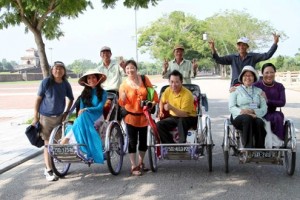 Many famous domestic and foreign stars also choose pedicabs as the main transport to visit Hue. In the picture is first runner-up Hoang My (blue ao dai), MrMartin Yan (yellow T.shirt), world famous chef and Ms.Hoang Anh- descendant of Mr.Ho Van Ta, the last royal chef of Nguyen dynasty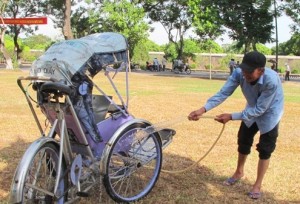 The cab is not only daily earn-ling means but also a soul mate associated with the cab driver for all life. Therefore, they attach special importance to keep their cab clean.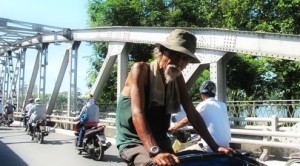 Many cab drivers are the old men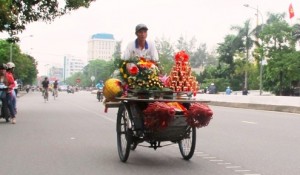 In off-peak time, they carry goods to earn extra income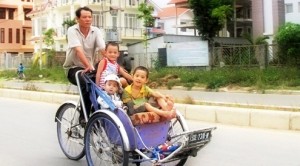 A father carries his kids on the road after a hard working day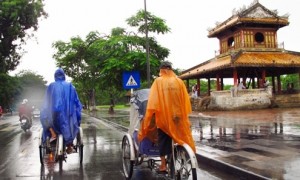 The cab driver is carrying the tourist visiting the city on rainy day