Undoubtedly, Hue has a strong tradition of vegetarianism in Vietnam, with many of its residents eating vegetarian food twice a month (the 1st and 15th day of the lunar calendar). This place always has about 30-50 vegetarian dishes available for tourists.

Travelling to Hue on Vesak or fast days, tourists will be surprised to see all food stalls sell delicious vegetarian dishes.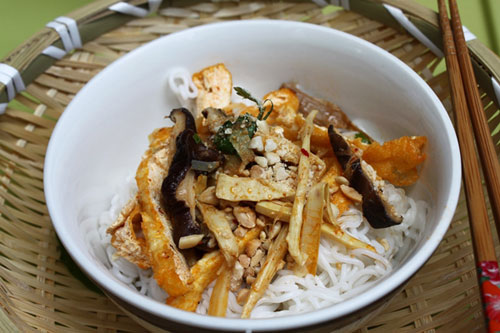 However, due to the rapid development of tourism, Hue now has some common vegetarian restaurants to serve tourists all the year.
The vegetarian restaurants in Hue that tourists recommend are Lien Hoa, Bo De, An Lac, Tinh Binh restaurants…. These restaurants are famous for distinctive vegetarian dishes.
With skilful hands and responsible spirit, Hue women process varied wonderful dishes from simple ingredients such as tofu, dried bamboo shoots, shiitake mushrooms, wheat gluten, celery cabbage, vegetables…
The distinction of Hue vegetarian food comes from the strange taste of delicacies such as pork roll, cinnamon ham, chicken thigh, fried fish, roast pork… made from tubers, fruits, legumes, vegetable oil ready to serve tourists.
For example, pork roll is made from ground banana with spices, flour. After that, the batter is mixed with hashed pomegranate and wrapped in banana leaves to steam. Cinnamon ham is made from beans, fried ribs are processed from sweet potatoes, green bean; ram spring is the combination of mushroom, crystal noodle, rice paper…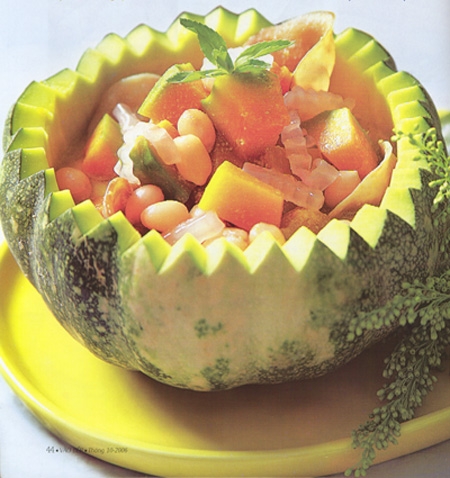 Besides, tourists will have the chance to taste Lotus Seeds Sweet Soup, a delicious dessert in summer. Lotus is a rare ingredient in Hue, in the past, it is only served for a king.
Moreover, you can visit street-side vegetarian stalls or markets in Hue on fast days. The popular vegetarian dishes include vermicelli, soup, rice, soup cake, dumpling…