These movies below are considered the best of Vietnamese cinematography. Watching these movies is one of the best ways to know more of the country's culture, values and history. There have to be over 50 movies ranging from the 80s to recent years in all genres. However, I've made a list of only 6 movies which I personally think are the best of best. If this is your first time to Vietnamese movies, start with these 6 first.
*Note: Some of the films here have free English subtitle, some haven't.
Bao Gio Cho Den Thang Muoi (When The Tenth Month Comes)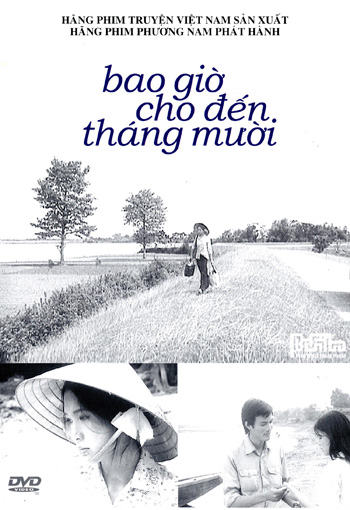 "The things that last forever are the things we can't see"
Directed by Dang Nhat Minh, created in 1985, this is one of 17 best movies of Asia according to CNN in 2008 and considered as the greatest Vietnamese movie that ever made. The film which means "When the Tenth Month Comes" in English literally describes the lives of many Vietnamese people who lived in rural areas affected deeply by the Vietnam war. The title of the movie refers to the month when the "Day of Forgiveness" in Vietnamese culture occurs. It is at this time that departed souls may visit their living loved ones. The story begins with Duyen – a young and beautiful wife live in a village of Trung Nghia – received the news of her husband had been killed in combat. This leaves her as a widow with a young child named Tuan. She decided to hide the news from everyone else especially from her father-in-law and her son with whom she is living. Then she asked her friend – a schoolteacher named Khang– to fake her husband's letters. She happened to see the soul of her husband in the spirit market occurred in Day of forgiveness of the Tenth Month.
Forgotten Classic of Yesterday gave the most beautiful yet haunting words for When the Tenth Month Comes: "It is a story about war. But more important than war, it is a story about loss. The loss of life, the loss of loved ones, and the loss of a future. Let us pray that we survive with our sanity intact."
It's the poet written on a kite that summarized the whole spirit of the film as well as Vietnamese people's:
"Bao giờ cho đến tháng mười
Lúa chín trên cánh đồng giông bão
Ta để lại sau lưng những ngày dài mong đợi
Những mất mát hi sinh, khổ đau, chịu đựng
Khi trời thu vẫn xanh mãi trên đầu"
Roughly translated to English:
"When the tenth month comes
Rice ripens in the storm-softened fields.
I leave behind my days of longing,
Filled with loss and hardship
While the autumn sky shines bright and blue…"
Chuyen Cua Pao (The Story of Pao)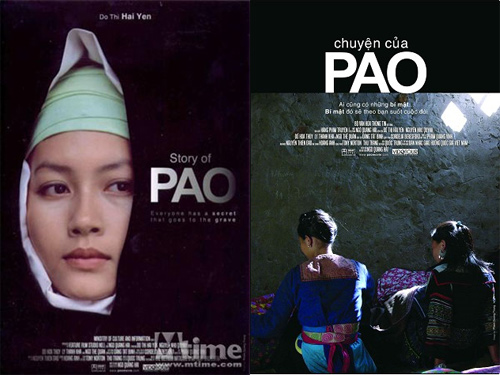 The house where this movie was filmed has become a must-visit tourist site in Ha Giang. The 70-year-old house belonged to Mua Sua Pao family is located in the beautiful valley Sung La. Made in 2006, directed by Ngo Quang Hai, Story of Pao is based on a real-life story of Giang Thi Thuong, adapted from a novel of Do Bich Thuy – the childhood friend of Giang Thi Thuong. The film tells the story of a Hmong girl named Pao. She was raised by her stepmother, for her real mother left her when she was little. One day, her stepmother committed suicide, and she decides to find and bring back her birth mother. But her journey turns out to disclose an unsealed sentimental drama of the family in the past.
The movie is not only and simply a moving story of a family but also an honest and striking picture of ethnic people's lives in rural countries of Vietnam that full of hardship but not without love.
Nowadays, tourists can easily visit the house in Dong Van, Ha Giang. Pao's house is the most perfect example of an intact traditional H'Mong house in northeast Vietnam.
You can watch the movie with English sub here.
The Quiet American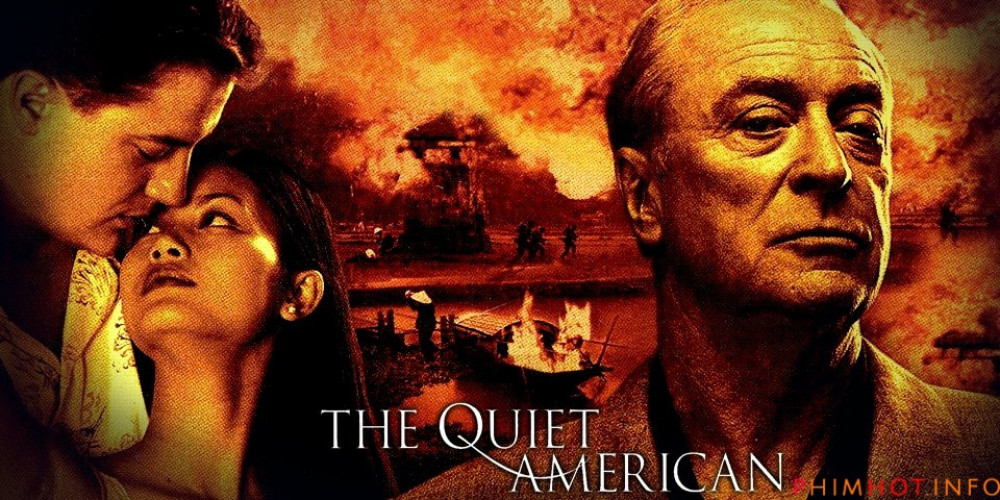 Quiet America is the first famous movie of the main star of The Story of Pao, Do Thi Hai Yen. The film adaption of Graham Greene's bestselling novel with the same name is made in 2002, directed by Phillip Noyce. The movie was well praised by both critics and worldwide audience.
Set in 1952 in Saigon, Vietnam, toward the end of the French war against the Democratic Republic of Vietnam (1945-1954), The Quiet American is a love story about the triangle that develops between Thomas Fowler, a British journalist in his fifties; a young American idealist, supposedly an aid worker, named Alden Pyle; and Phuong, a Vietnamese woman. On another level, it is also about the growing American involvement that led to the full-scale American war in Vietnam.
Mua Len Trau (Buffalo Boy)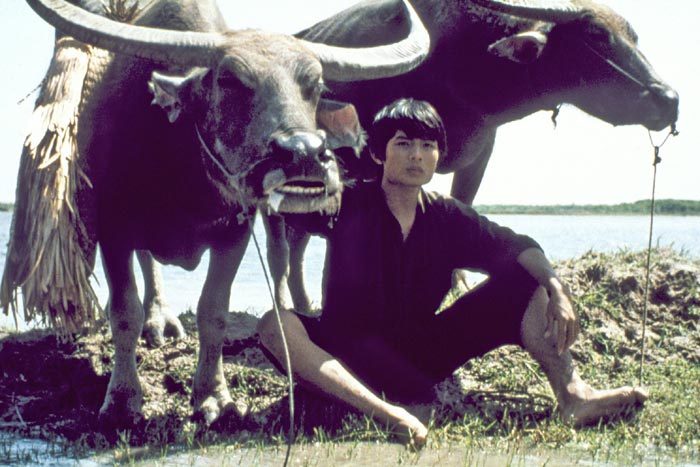 Mua Len Trau is made in 2004, directed by Nguyen Vo Nghiem Minh and was a collaboration between Vietnam, France and Belgium. The original story is also named Mua Len Trau, included in Son Nam's Huong Rung Ca Mau. If two of the three movies above tell you about war and love, then this movie is just a simple story about saving buffaloes in the wet season in South Vietnam. Yet it is hailed a masterpiece not only because of how unique the story was – a story I believe you can only find in Vietnam; but also how real and sad it was.
"Len" in the Khmer language means "wander". "Mua Len Trau" is literally "the season of wandering buffaloes". Set in the time of French colonialist, in every wet season, fields and lowlands were flooded and the water could reach from 1m to 4m. Most of the south is lowlands, and the only high area is located in An Giang province as known as "Land of Seven Mountains". Buffaloes had to go there in order to survive and if the animals could survive, the families could too. But how to do that when the distance could be 30-40km? Then there was no other way but the buffaloes had to go wandering for months, from place to place to avoid the floods. To add up to it, there was no one who could take care of the animals other than the young and uneducated village boys. They went to no school and helped their family by herding buffaloes. Kim, the 15-year-old boy on his journey with the animals sees life unfolds in front of him.
You can watch the movie here.
Ao Lua Ha Dong (The White Silk Dress)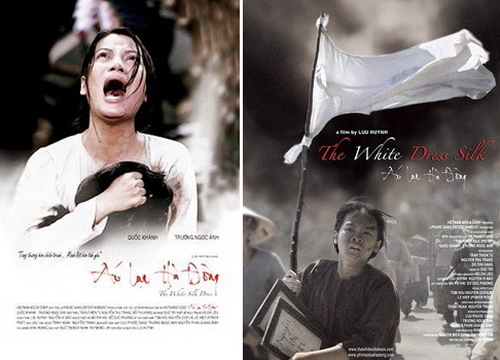 Another film about war but also about love. Ao Lua Ha Dong is made in 2006, directed by Huynh Luu, starred by famous actor and actress Nguyen Quoc Khanh and Truong Ngoc Anh. The film is a love story between Dan (a young woman) and Gu (a humpback), servants from two separate households in Ha Dong, Vietnam who have suffered most of their lives at the hands of their cruel masters.  The couple escapes to the south soon after Gu gives Dan a wedding gift – the precious white silk dress his mother had owned (his one valuable possession), while he promises her a proper marriage someday in the future. The couple arrives in the ancient town of Hoi An and start to build a new life here, with Dan ultimately giving birth to 4 daughters. Despite struggling through immense poverty and hardships, the family remains happy and content as long as they have each other, but the horrors of the encroaching war bring tragedy and threaten to tear them apart…
Mui Du Du Xanh (The Scent of Green Papaya)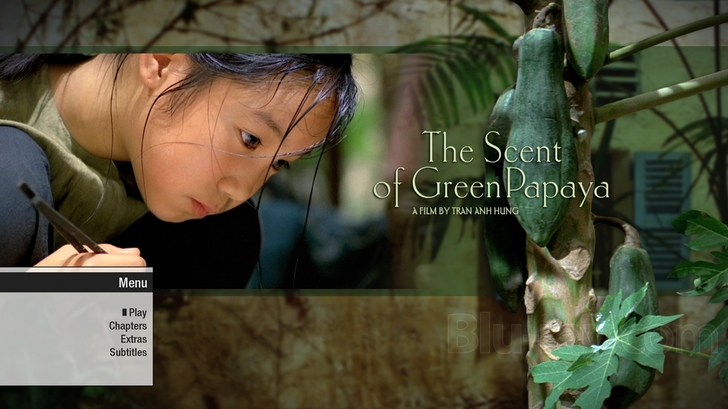 With original French name L'Odeur de la papayeverte, Mui Du Du Xanh was directed by French Vietnamese director Tran Anh Hung in 1993. The film was made in Paris, France and two actresses were also French with Asian origins. Mui Du Du Xanh was shown in Cannes festival 1993 and got an award for Caméra d'Or (Golden Camera) of a directorial debut, also nominated for an Oscar of best foreign language film award.
The film begins in 1951 when the beautiful and 10-year-old peasant girl Mui (Lu Man San) is hired to work at the home of an affluent Saigon family. When the father absconds with the family's money, the tireless mother (Truong Thi Loc) is forced to support the family through the low profits of her tiny fabric store. As the family struggles pay basic expenses, Mui becomes attracted to a friend of the family, a boy named Khuyen (Vuong Hoa Hoi). The scene then changes to 1961, when the family is in desperate straits. The father has died, and Mui (Tran Nu Yen Khe), now twenty years old, finds herself working in Khuyen's home instead. Khuyen has grown into an attractive, sophisticated French-speaking pianist, with his own expensive mistress. Mui serves him as she has served the family – with perfection and silence. She also loves Khuyen is silence, and gradually Khuyen begins to take notice of Mui's love for him…