To celebrate 20th anniversary of the establishment of diplomatic relations between Vietnam and United Arab Emirates (UAE), Vietnam Embassy in UAE coordinated with UAE's Ministry of Foreign Affairs to hold a formal reception participated by high-ranking officials of UAE, the Diplomatic corps, enterprises, international friends and Vietnamese people.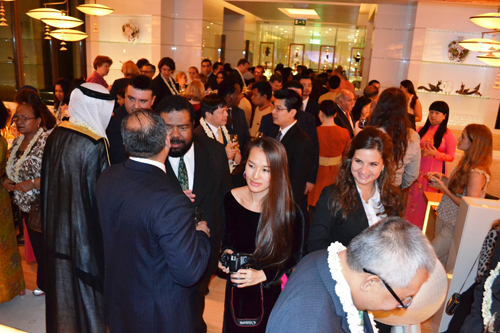 After the welcome speech on 20 year – diplomatic relation, Mrs Nguyen Phuong Nga -Vice-Minister of Ministry of Foreign Affairs of Vietnam, Mr Tran Ngoc Thach – Vietnam ambassador in UAE and Mr Tariq Ahmed Al Haidan – Vice Minister of Ministry of Foreign Affairs of UAE cut the ribbon together to declare 10 day Vietnam Festival in UAE from 9th-19th October.
This is the biggest Vietnam Festival held in UAE since the establishment of diplomatic relations of two countries. The festival is an opportunity for Vietnam to introduce potentials, rich culture and world cultural heritages in Vietnam, friendly Vietnamese people to UAE, Middle East.
The artists from Ho Chi Minh Academy of Music had an excellent traditional music performance to entertain international friends in UAE.
In particular, the guests in the festival will enjoy delicious Vietnamese specialities prepared by two master chefs who won the first and second prize of Vietnam Masterchef game show 2013. The popular Vietnamese dishes have been processed in front of guests and officials and recorded by a big television channel in the Middle East.
The event also draws the special attraction of press in UAE. The information about the event will be released on some popular daily newspapers and prestige magazines in UAE.
The festival will be broadcasted by Dubai One, the biggest television channel in the UAE.
A lot of Vietnam travel news and Vietnam visa information are available at blog of Vietnamvisa-easy,com. Follow Vietnamvisa-eay.com to read the hottest news.