In Vietnam, Tet Trung Thu or Vietnamese Mid-autumn festival is an ancient and wonderful annual festival, when not only the children can fully enjoy their best time of a year but adults have the feeling for being young again.
Vietnam's Mid-Autumn or the Full Moon festival falls on 15th of the eighth  lunar month. Every Vietnamese is longing for the day that the Moon is largest and brightest. This is the most charming and picturesque night of the year. The official day of the festival is on 15th of the eighth lunar month, but in fact people celebrate from 14th. Especially for children, they are excited to prepare for weeks or even a month before it really takes place. Coming to the countryside around that time, you can easily find yourself lost in the nights filled with joys, happiness and laughter of children who are rehearsing for singing, dancing or camping competitions of the festival.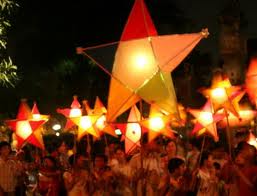 These days, not only locals, but also foreign tourists are warmly welcomed to join in the Mid-Autumn Festival. Surely, you will experience great time when taking part in the crowds, seeing children carrying lanterns, eating cakes and smiling during the Mid-Autumn Festival. Children will play procession of star & moon – shaped lanterns, lion dance, parties with moon cakes and fruits. All the streets are full of people buying festival stuff and wandering. Besides the assorted paper lanterns, cakes, candies, the toy animals made of rice dough, the dragon heads and crown of the princess made of paper or plastic… are displayed and sold everywhere in the streets or in the markets. Children parade on the streets, singing and carrying colorful lanterns of different sizes and shapes, such as fishes, stars, butterflies, which spin when candles are inserted, representing the earth circling the sun.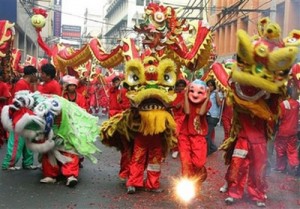 The Mid-Autumn festival is time for families to gather for small fun parties. It is also an opportunity that parents would use to show their love and appreciation for their children. One of the games that children love is the lion dance. Parents can help them make their lanterns and costumes for the lantern procession and discuss the history and culture of Vietnam. Vietnamese parents often tell their children fairy tales and serve moon cakes and other special treats under the silvery moon. A favorite folklore is about a carp that wanted to become a dragon. The carp worked and worked and eventually transformed itself into a dragon. This is the story behind the mythical symbol, Cá hóa Rông. Parents use this story to encourage their children to work hard so that they can become whatever they want to be.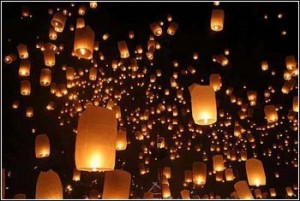 The Mid-Autunm Festival is a good time to enjoy tastes of all kinds of "Bánh Trung Thu", boxes of moon cakes, which are traditionally very rich in taste. The cakes are filled with lotus seeds, ground beans and orange peels and have a bright yoke in the center to represent the moon. There are two kind of cakes as "Banh deo" is the white cake, made of sticky rice and filled with sweet mixture of lotus seeds, pumpkin seeds or green bean, sausage. "Banh nuong" is the brown cake and has salty taste with a mixture of egg, pork fat, sausage, peanut and lemon leaves inside. Both can be in round or square shapes.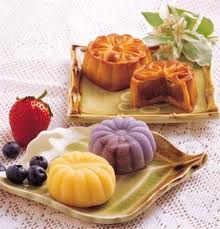 Come and enjoy the Mid-Autunm Festival to experience a full Vietnam. You may smile and think " Those were the days" and your childhood comes back to you sweetly.