After a hard-working week and troubles in life, it's pleasant reward yourself with a delightful weekend holiday with friends and family. Van Long Nature Reserve is just a perfect place for you.

Situated in Gia Vien district of Ninh Binh province, about 80 km from Hanoi, Van Long is the largest Wetland Nature Reserve in Northern delta. The most interesting for tourists is to sit on small boat, down the river and explore Van Long. The water in this place is so pure that you could see clearly seaweed in the bottom of the water.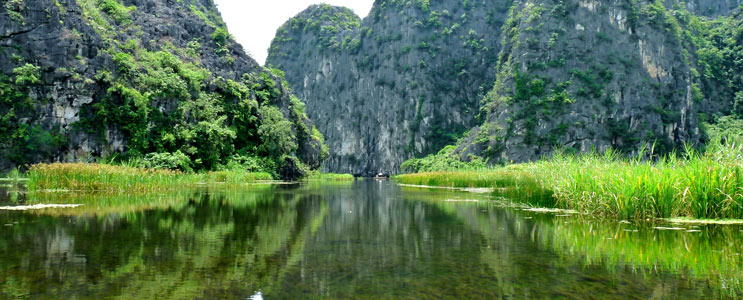 Coming to Van Long Nature Reserve, you will admire nearly 1.000 limestone caves in strange-looking shapes. Covering an area of 3.500 ha, Van Long is home to thousands of animals and plants, even rare animals listed in Red Book such as Asian black bear, lethocerus indicus, decalour's langur, chamois…
Not only is a Wetland Nature Reserve, Van Long is also a scenic spot and cultural relic. This place has many stunning caves with tourism potentials such as Ca cave, Bong cave, Rua cave, Chanh cave. Each cave has its own distinctive feature but the most charming is Ca cave at the foot of Hoan Quyen mountain. There are many big catfish, anabas, snakeheads… The cave is 250 m long, 8 m high, 10 m wide with high ceiling falling sparkling stalactites in interesting shapes.