One of the things that make Hanoi so addicted to many foreigners is street food. Speaking of Vietnamese street food, they aren't limited in some of the famous ones you often hear about like Pho, Bun Cha, Banh Xeo, Banh My, etc. There are dishes which you probably never heard of and they taste… just so good. The best way to eat in Hanoi is to eat like a local and you are no local if you don't know these foods below:
Pho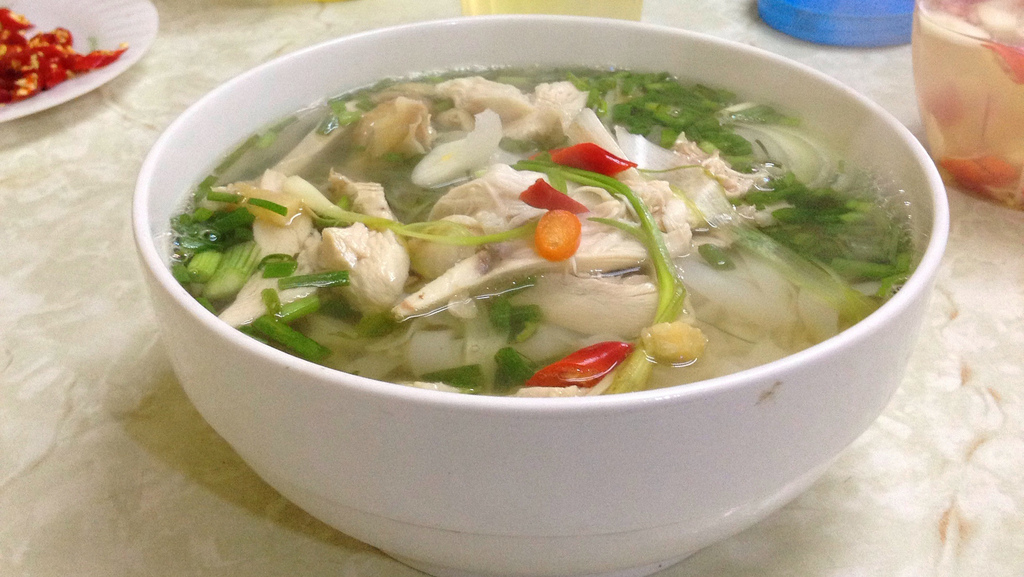 Hanoi is a sanction of Pho, the famous Vietnamese noodle soup. As you might already know Pho noodle is made from rice, served with a fragrant broth, some slices of tender beef or chicken and a lot of herbs. The most important thing is the broth which is made by hours of boiling pig bones, that has to be lightly sweet, fragrant and transparent. You can add lime, chilli and vinegar as you like but taste first before adding. Use chopstick and spoon to eat Pho properly.
Pho 10 Ly Quoc Su is the most famous Pho restaurant around the Old Quarter, offering different types of Pho bo, starting from 60,000VND. Pho here are made with the traditional taste – simple yet sophisticated.
Pho Thin 13 Lo Duc has a reputation of one of the best Pho restaurants in Hanoi for about 30 years. Only serving one dish – med-rare beef Pho yet it's so good everyone just has to try it. Price for one bowl is 50,000VND.
Pho Cuon (rolled Pho)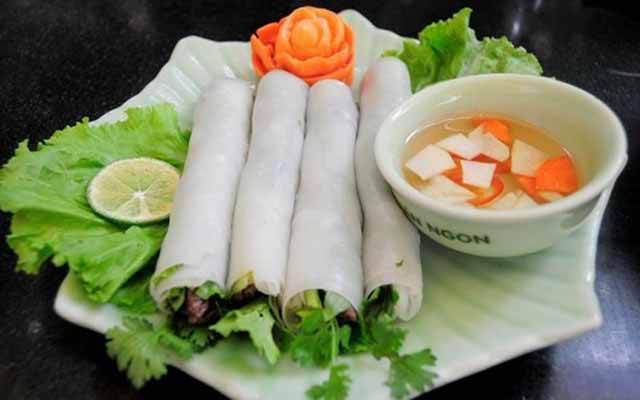 Pho noodle can be used in other forms too like Pho Cuon – pho rolls – for an example. This dish is famous no less than Pho yet is different in the way it's made and the way we eat. The Pho is cut into rectangles and wrapped fried beef and fresh herbs. A bowl of dipping sweetened fish sauce is the whole point. There is a myth that Pho Cuon was invented just a decade ago after a pho restaurant ran out of the broth. Now it has become a very popular summer dish.
Pho Cuon Huong Mai – 25 Ngu Xa, Ba Dinh, Hanoi and around Truc Bach Lake are good places to taste this dish.
Banh Xeo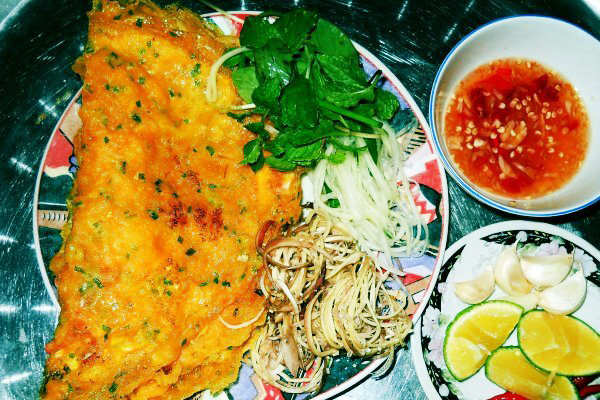 Banh Xeo or Vietnamese sizzling pancake is actually originated from the south but over the time it got very popular in Hanoi and became one of the must-eat dishes when you visit the capital. The name is literally translated from the sound when frying this cake. It is made of rice flour, water, turmeric powder and stuffed with fatty pork, shrimp, and bean sprouts. Traditionally Banh Xeo is served wrapped in mustard leaf, lettuce leaves and stuffed with mint, basil and other herbs, dipped in a bowl of diluted fish sauce. Once you take a bite, all flavours will explode in your mouth as well as the crispness of the pancake's crust will make it ten times better.
172 Doi Can is the favourite place to eat Banh Xeo of locals. The pancakes are made medium-sized, with full of fillings inside. Use rice paper to roll the cake with herbs, a slice of mango then dips it in the fish sauce.
22 Hang Bo is right in the heart of the Old Quarter is quite easy to find. The place is quite small so when it's crowded, you should order takeout.
Lau (Hotpot)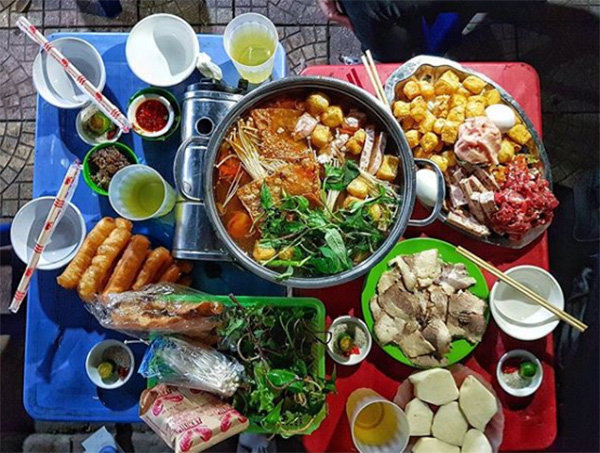 Lau is a popular dish whenever it's chilly. Hanoians are quite passionate about Lau because it's really a social meal, made for at least two people and very fun when a lot of people join. A large pot of simmering broth is put on a gas stove on the table, surrounded by plates of vegetables, beef, chicken, fish, pork, ribs noodles, tofu… all of them will be put into the pot gradually to cook directly. When the things put in the pot are well-done, a skimmer spoon will be used to get them out and to put them on another plate. You will have a plate and a bowl to eat the goodies and the soup. Lau has many types – mixed (has everything in it), seafood Lau, chicken Lau, beef Lau… This dish can be found around Hanoi, every big restaurant serves it, some streets where Lau dominates can be named such as Phung Hung, Truc Bach, Pho Duc Chinh.
Banh Cuon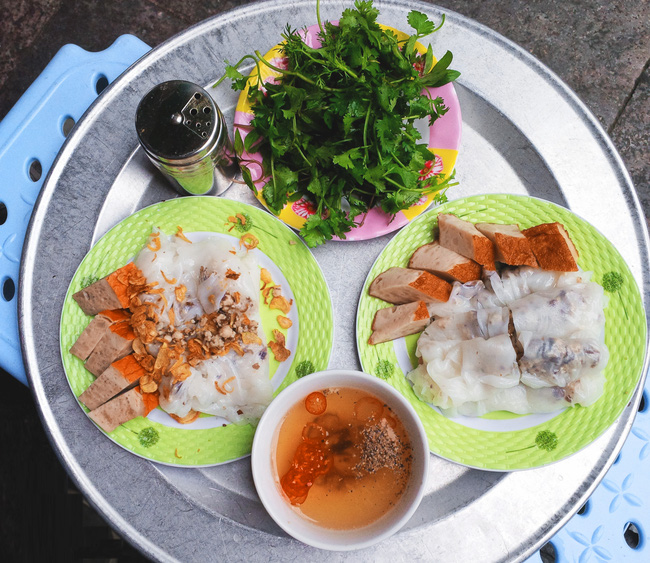 Banh Cuon is one of the most common breakfast dishes in Vietnam, also a traditional dish which has become so familiar to each and every Vietnamese. The dish is made mainly with steamed rice paper rolled with filling (usually minced pork and black funguses), served with herbs and special fish sauce. Banh Cuon is light, delicate yet flavorful. You can find Banh Cuon in the Old Quarter, almost in any market in town. Expect to pay about 20-25,000VND for one plate. If you want cha Lua or meatball to add in the sauce, pay a bit more. The toppings can be fried onions, pork floss or Banh tom…. The sauce is made from the diluted fish sauce with the addition of chilli and lime.
Bun Dau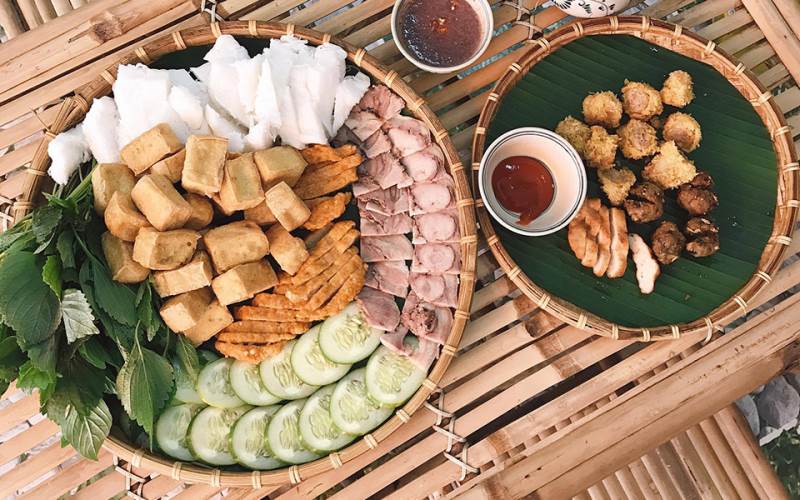 Bun Dau is such a sweetheart to Hanoians, to foreigners it's the smelliest food in Vietnam (asides from durian) but everyone agrees on the super delicious taste of the food once you can get used to the smell. Bun Dau is a textbook Vietnamese street food – from long ago the dish has been served on the sidewalks by the vendors. It only has vermicelli noodle, fried tofu and fermented shrimp paste back then. Nowadays, people add boiled pork, cha com and cooked viscera to the dish. The shrimp paste always needs lime (at least) and chilli to make it lightened and more flavorful. And when all added together, it does make magic in your mouth. You dip just a bit of the noodle and tofu in the paste before eating; don't forget a leave of Vietnamese balm which can't be missed when enjoying Bun Dau.
Bun Dau vendors and restaurants are everywhere around the Old Quarter. Find the ladies carrying two baskets on a bamboo pole with a pan with a lot of tofu inside; and restaurants with "Bun Dau" on its name. Hang Khay street has some serious quality of Bun Dau you should try out. Expect to pay from 15,000 to 45,000 VND depending what you want to have besides fried tofu.
Bun Cha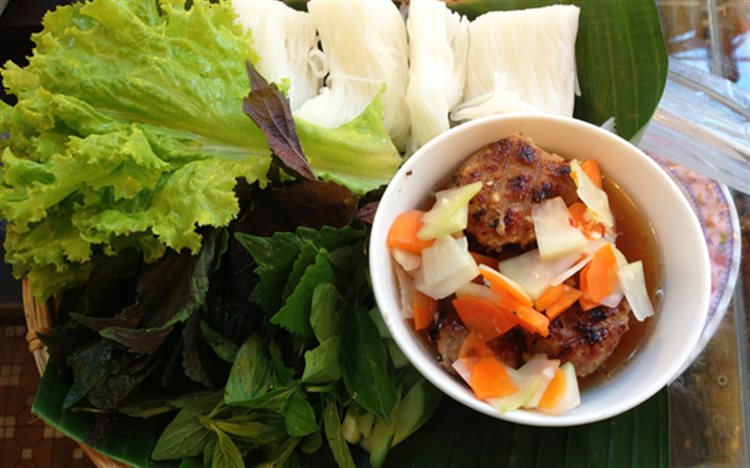 Bun Cha is indeed a Hanoi thing, everyone eats it, often for lunch. The dish is simply composed of two bowls and one plate. The most important is the dipping bowl containing the diluted fish sauce, some slices of carrots and green papaya, grilled meatballs and pork. Chilli and garlic are added as you like. The second important is the plate of vermicelli noodle. Use a chopstick to put noodle into the dipping bowl. A bowl of herbs is required to make the dish even more flavorful.
Bun Cha Dac Kim – 1 Hang Manh, Hoan Kiem District, Hanoi. First opened in 1965, this small restaurant is the place to try the real Bun Cha of Hanoi. Dipping bowl is full of meat with high-quality fish sauce.
Lane 74 Hang Quat Street, Hoan Kiem District is a paradise for Bun Cha lovers. The place has been around for 19 years, earned a reputation of making the best Bun Cha in Hanoi and really special for its sugar sauce on the grilled meat. A plate of Bun Cha here costs you VND30,000.
Bun Cha Huong Lien – 24 Le Van Huu Street, Hai Ba Trung District. This place suddenly has become very famous because President Obama once ate here with the famous American chef Anthony Bourdain. Actually, in the past, Bun Cha Huong Lien had gained their reputation as one of the best places to enjoy the dish. Remember to try their sea-crab spring roll, serving together. Prices from 40,000-80,000VND.
Banh Mi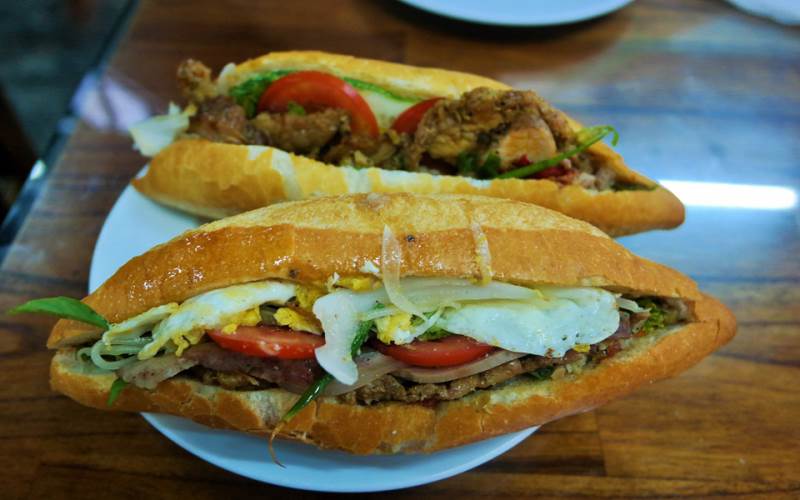 Banh My is still an everyday dish in Vietnam, often eaten for breakfast or lunch. Banh My is originally the French baguettes through the time were changed to suit the Vietnamese appetite – they got smaller, thinner, crunchier and served as wraps for many good things inside like grilled pork, fried eggs, cured pork, and a lot of vegetables. Some places use the sauce to make it even more savoury and delicious. Banh My stalls are everywhere you go in the city.  A band my will cost you around 15,000VND – 35,000VND depending on the fillings and the stall's quality. Recently Banh My Kebab is getting more love for its unique blend with Turkish kebab. Around Old Quarter there are a lot of Banh My stalls, especially on Luong Ngoc Quyen Street and next to bia hoi junction or Phung Hung and Tran Phu Streets.