Global grasshopper-a familiar blog website of tourists has listed 10 most beautiful Vietnamese tourist destinations. According to the author, Vietnam has a lot of incredibly fascinating landscapes. In the article, he also advised the readers to travel to Vietnam to see dramatic landscape and meet friendly people here.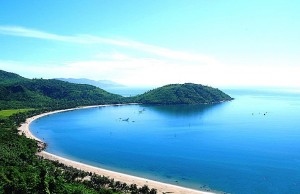 1. Son Tra Peninsula in Da Nang
Not far away from Da Nang, Son Tra peninsula features blue sea, white sands, sparkling corals and dense forests. Son Tra peninsula has plenty of gorgeous beaches such as South beach, North beach and Buddha beach…
If you are delighted to conquer spectacular forests and mountains, Monkey island is a perfect choice for you. I am pretty sure that you will be completely knocked out when standing on the top of the mountain and contemplate the whole view of Da Nang city with deep blue water and immense sands.
2. Tombs of Nguyen dynasty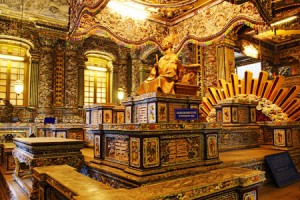 This is an ancient tomb nearby Hue city, stretching along poetic Perfume River. The tourists are always amazed at the tombs of Minh Mang, Khai Dinh, Tu Duc, Thieu Tri and Dong Khanh emperors. The tombs were built in local religious architecture style with symmetric corners, sophisticated traceries, and artistic royal gardens. Due to elegant potteries and glasses, Khai Dinh tomb is worthy of the best.
3. Phu Quoc Island in Kien Giang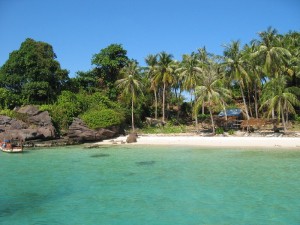 Recently, many tourists pay their attention to Phu Quoc-an unspoilt beautiful island. Apart from limitless sands with cool blue water and stunning coral reefs, Phu Quoc possesses a lot of dense primitive forests and rich vegetation, exotic scenes, meeting tourists' demand.
4. Mekong River Delta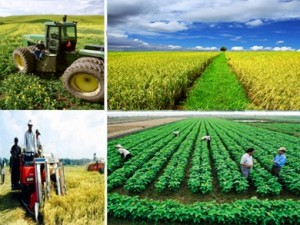 Thanks to rich alluvium of Cuu Long river, this place is endowed with diverse vegetation. not only is famous for agriculture, Mekong River Delta is also a large Nature Reserve.
Coming to Mekong River Delta, tourists will have opportunity to find out life, daily activities of the locals and admire unique landscapes: vast rice fields, snaking rivulets and canals envelop the mounds before pouring into the sea.
5. Tram Ton pass in Lao Cai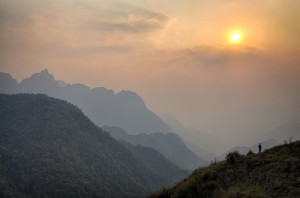 Sapa is famous for picturesque landscapes with boundless mountains, green valleys, specific traditional villages of ethnic groups, thick bamboo forests and immense terraced rice fields. In order to apprehend beauty of this place, you have to reach Tram Ton pass (or Heaven's Gate), the highest pass in Vietnam
Silver waterfall is also a charming attractions in Sapa. If possible, you should join the journey of conquering Fansipan summit to be able to admire magnificent views that hardly could be found in anywhere else.
6. Phong Nha-Ke Bang National Park in Quang Binh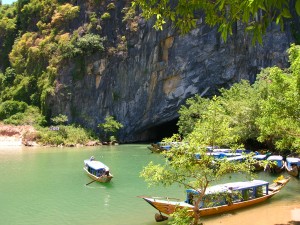 Phong Nha-Ke Bang was officially recognized as World's Natural Heritage by UNESCO. This is the home to Son Doong cave, world's largest cave and 300 other caves and grottos. Inside Son Doong cave places an 13 m deep underground lake with countless imposing stalactites.
Besides, Tien Son and Thien Duong caves are also well woth a visit. This area is a karst of 2,000 km2 with tropical vegetation.
7. Ha Long Bay in Quang Ninh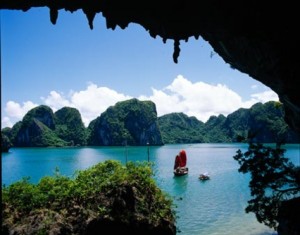 Fom calm blue water emerges about 2,000 islets and limstone peaks in various shapes and sizes. The atmosphere is often covered by a fog, which emphasizes the mystery of this place.
The tourist could rent a kayak, canoe to cruise around the bay and visit limestone islands with marvellous caves.
8. One Pillar pagoda in Hanoi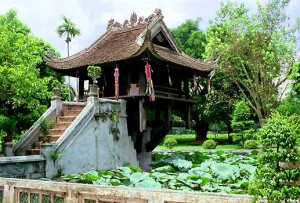 Situated in the center of Hanoi capital, One Pillar pagoda was built in 1049 according to the dream of Emperor Ly Thai Tong. He dreamt about a temple flying above the lotus pond. The pagoda was constructed of wood on a single stone pillar 1.25 m in diameter.
The pagoda was designed to resemble a lotus blossom with good-looking sophisticated carving. The current pagoda was rebuilt after the original one after being destroyed in the war.
9. Da Dia Rapids in Phu Yen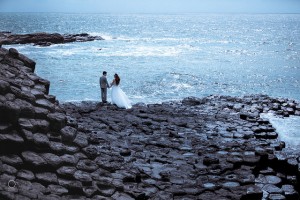 In spite of not as popular as other landscapes, Da Dia Rapids is truly a precious gem of Vietnam's tourism. This natural masterpiece was constituted from basalt, creating upright stone columns. Every thing seems to be carved by an excellent artisan millions years a go.
The rapids was formed by an erupting volcano thousands of years ago. The huge lava flows from volcanic grater was frozen when they encounter cold water from the sea and then cracked into layers of stone columns. This attraction is not widely popular due to remote location in An Ninh Dong commune, Phu Yen province.
10. Hue ancien capital in Thua Thien Hue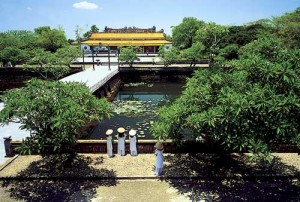 Used to be center of the Nguyens dynasty, Hue ancient capital is a complex of various ancient pagodas, citadels, streams, royal gardens. Altogether, they create a stunning landscape.
Thai Hoa and Truong Sanh palaces are two of the most splendid architectures in this place. Thien Mu pagoda nearby the bank is also a must-visit destination. Hue ancient town is really a typical symbol for forms of Vietnamese traditional art culture.