Diep Son Island, Khanh Hoa Province
Diep Son Island consists of 3 small and isolated islets located in Van Phong Bay. What travellers cannot forget about Diep Son is the 700 meters submerged winding path connecting three islets.
Travellers can walk on the path as it is 1.2 meters wide and just nearly 0.5 meters below the crystal clear water surface. How interesting to watch groups of tiny fishes swimming around or jumping off the water sometimes! The footpath can get totally dry when the water subsides
.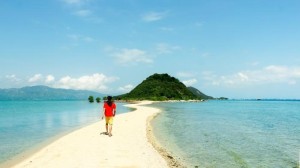 To get to Diep Son Island, travellers will take a boat from Van Gia Wharf in Van Gia Town, Khanh Hoa. It takes around one hour to reach the submerged road, and better to stop the boat near the middle islet and try your walk on the footpath.
Hon Ba, Vung Tau city, Vung Tau province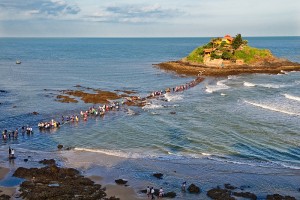 This small island is located at Bai Sau beach in Vung Tau city with an area of 5000m2. This is a spirit tourism place with a temple called Mieu Ba where pilgrims come for worship since the temple is strongly believed to make people's dreams come true. On normal days when the water level rises up, a usual mean of transportation to Hon Ba is boat or junk. However, on full moon days of the 14th and 15th every lunar month, the water draws out then comes out the stone path leading to this small island.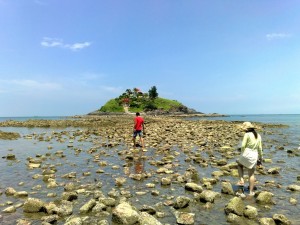 This bumpy road is full of rocks and oyster shells but is voted one of the mysterious roads in Asia. Hence, there is no reason not to give the strange footpath to Hon Ba Island a try when visiting Vung Tau city.
Nhat Tu Son, Phu Yen province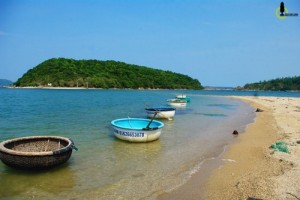 Located in Xuan Dai Bay of Song Cau Commune, Phu Yen Province, Nhat Tu Son is deemed the most beautiful island in the Bay. The people here believe the island is the guarding god of the sea, protecting people from tidal waves and storms.
The island covers an area of 6 hectares and is 300 km away and connected with the mainland by a sandy footpath appearing after the tide recedes. Visiting Nhat Tu Son would bring out the feeling of being in a Proterozoic forest with bunches of surrounded green trees and mountains.