Com hen – Cooked rice with baby clamps
If you look for genuine Hue cuisines, Com Hen should be ranked 1st of the to-eat list. It is steamed rice dish topped with baby clams, peanuts, sesame seeds, crispy noodles, basil, crisp pork cracklings, and a plethora of greens. A delicious hot mussel broth is served on the side for dipping. If you asked them to choose one dish representing Hue old capital, they would not hesitate to say Com hen. The dish is easily found at every restaurant, especially along the three-block Truong Dinh Street, and at the corner of Nguyen Thai Hoc and Ba Trieu.
Bun hen – Vermicelli noodles with baby clams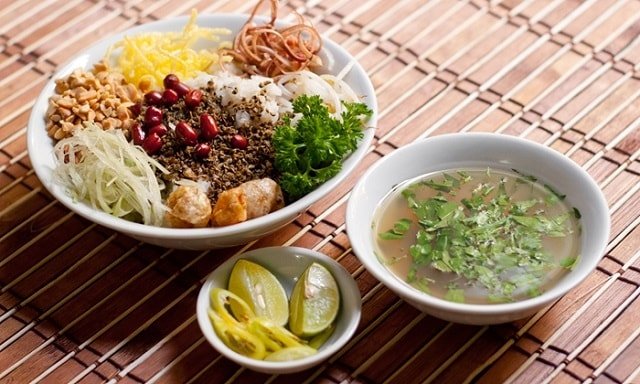 Basically, Bun Hen is similar to Com Hen since it uses the same ingredients. However, it is eaten with Vermicelli instead of rice. The clams are sauteed and seasoned with shallots, garlic, and black peppers.  Like almost Hue bun dishes, there needs to be a sauce.  The sauce is salty and pungent, made from fermented fish paste and the clam juice. Because people here considered clam as a "cold food", they add pretty much chili paste. If you cannot eat spicy food, ask the owner to leave it out.
Chao hen – Clam porridge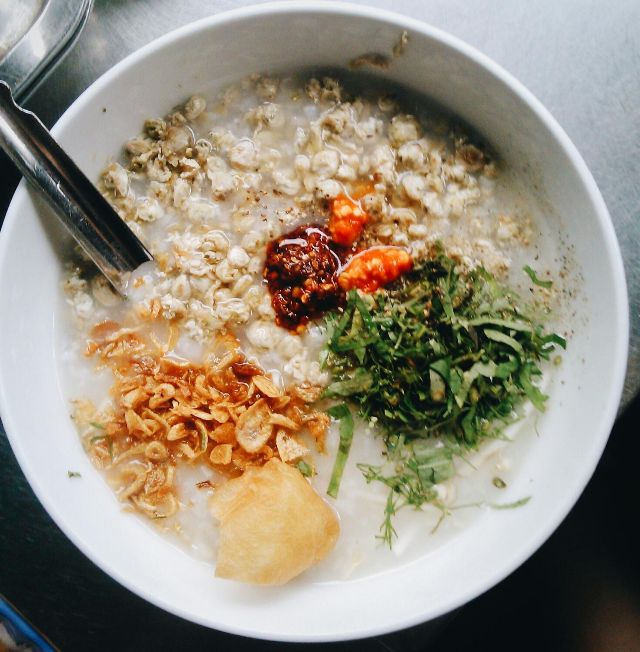 Chao hen is the third form of Hen cuisine. Rice is boiled in clam broth under low heat for 1-2 hours until the grains have the thick, creamy texture of porridge. Then it is topped with stir-fried clams and fresh julienned ginger, finely cracked black pepper and a squeeze of lime. The porridge needs to get proper thickness, smell fresh and taste good. The clam flesh is not too dried, taste fresh and smell fragrant. Chao hen is not so popular as bun hen or com hen but it is the best comfort food for sick days.
Hen xuc banh trang – Clams with rice cracker
Hen xuc banh trang is a wonderful appetizer that offers variety in both taste and texture. It's simple to make but offers a distinct and sophisticated flavour. The mixture of the soft clams together with the crunchiness of the rice crackers gives you a great contrast in texture. But this dish is really a delight for your taste buds. The multiple spices of fermented shrimp sauce, ground black pepper, Vietnamese coriander, salt, sugar, shallots and red hot peppers will really add a burst of flavours. And it really goes well with beer.