Son Doong cave, Cu Chi tunnel, dug-out in Metropole hotel are natural and artificial wonders introduced in many articles on CNN newspaper.

Son Doong, the world's largest cave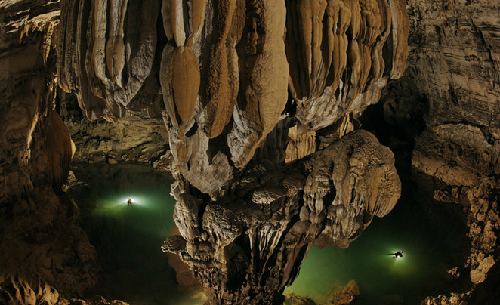 The cave is 150 m wide, more than 200 m high and at least 5 km long. The explorers even can't go to the end of the cave to provide an accurate figure but they said it could contain a block of Manhattan city. The ceiling is impressive with sparkling stalactites and dense system of underground cave, river and waterfall that makes tourists feel like on the way to the core of the earth. So many people have made a reservation to explore the cave so far. Join them if you also like an underground adventure.
Surprise Cave in Halong bay

Halong bay is most famous for spectacular system of limestone caves, of which Surprise Cave is the largest and nicest. Gate of the cave is situated 25m high above sea level and obscured by large foliage. Taking first step on the cave, tourists will definitely be amazed as if standing inside a giant theater with area of 12.200 m2.
The cave is divided into 2 parts including plenty of stalactites lightened by rainbow fluorescent lamps. The cave's ceiling is 30 m high and covered by lamp bunches of nature. Reaching the top of the cave, you will be surprised at the poetic landscape of plants, lakes and animals living in this place.
Cu Chi tunnel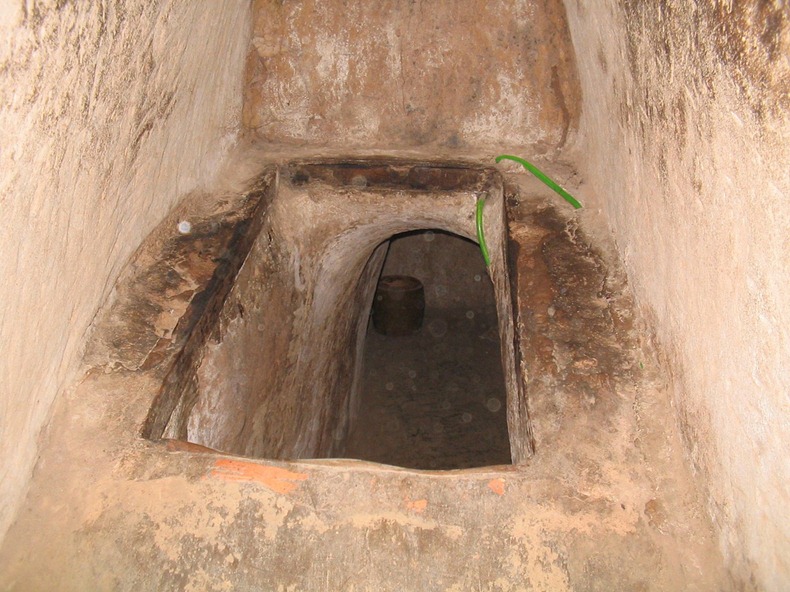 The first impression of tourists when entering the tunnels is light and air shortage. This is not a complicated underground tunnel but also historical destination, haven of thousands of Vietnamese people during resistance war against US. The tunnel system was built since 1940s and stretched 250 km to Cambodia border.
This 3 layer tunnel comprises hospital, specialized areas for daily activities, military room, weapon cache. At present, only Ben Dinh and Ben Duoc are opened to public. Entering the tunnel, tourists will have chance to experience the life as the Cu Chi's local people in the past.
Vinh Moc tunnel in Quang Tri

The tunnel system of 2 km is only a small part of Cu Chi tunnel but bearing historical beauty and strong will of Vietnamese people. In the past, the Vinh Moc area was surrounded by American attacks, so the habitants built a trench to lurk. The tunnel also supplied food and weapons for Con Co island – an important fort in the Vietnam war. It took 18 months to complete the 3 storey tunnel whose bottom storey is 23 m deep. According to record, 17 babies were born in this historical tunnel.
Underground relics in Thang Long Imperial Citadel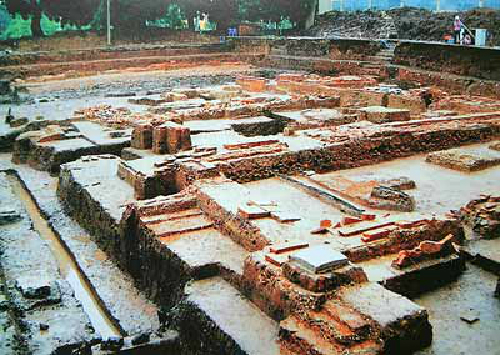 Entering the excavated area imperial Citadel of Thang Long, you will immediately think that this place seems to be suitable for you. The large excavated area disposed a very rich and diversified relic complex from the 7th to 19th century.
The relics consist of foundation, wall, base, path, brick bed with drain system, well, lotus lake…The relics such as brick, pottery, tile, stone base, jewellery, even animal skeleton and large shells were used to pave the court. The relic complex proves that vestiges of Thang Long ancient capital are still preserved until now.
Dug out of Metropole hotel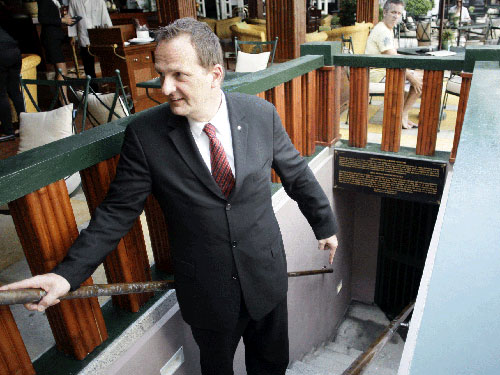 In August 2011, some workers discovered an abandoned dug-out inside Metropole hotel when building Bamboo bar. With an area of 40 m2, the dug-out comprises 5 rooms and 2 corridors in good condition of preservation. According to trusted information, Joan Baez American singer used to perform here when the historical attack took place in 1972.
Apart from the dug-out, Metropole hotel also arranges a gallery displaying the 100-year history of the hotel along the corridor that includes 13 boards expressing pictures of the restoration of the hotel from the early opening.