According to several travel agents, those who have high income and used to travel a lot prefer relaxation to sightseeing this year. Resting at luxury resorts is considered as their perfect choice, especially in hot summer.
The following are some beautiful coastal resorts in North region that you may like.
1. Cat Ba Island Resort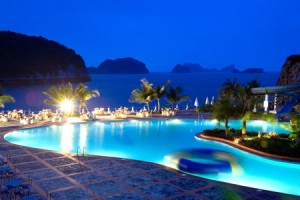 Situated in a private area in Cat Ba Island, Cat Ba Island Resort and Spa will give you and your family a meaningful and memorial holiday. The resort is designed as western oriental architecture. It is a hamornious combination between French and Vietnamese traditional style.
The resort comprises 109 well-equipped rooms with mordent comforts. All of them are overlooking the bay and the beach.
Material facilities of the resort include waterfall, meeting hall for 300 guests, 3 restaurants serving European and Asian food, 4 bars and many ohter conveniences for sport games such as tennis court, beach volley ball, pingpong, golf course,2 large swimming pools and Spa.
2. Cat Ba Sunrise Resort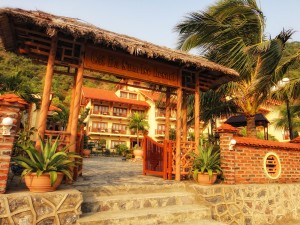 As a isolated island heaven surrounded by an arch limestone mountains, the resort is regarded as the most pristine that you could ever found in the world. With spectacular mountains, fine white sand and clean blue water, the resort has developed and remained the space of this place as its inherent beauty.
Cat Ba Sunrise Resort consists of the villages and suite of 39 four-star luxury rooms private balcony overlooking the beach and pool. Featuring luxury, elegant design and decor, the resort is where mordern Western architecture meets Vietnamese traditional oriental style.
Besides, Cat Ba Sunrise Resort has Arca Shell restaurant which can hold a party for up to 130 guests and Fsisherman's Grill, a tranquil outdoor space with capacity for 200 guests at a time, is also a great location for meetings and conferences.
The most distinguishedis Beachfront Cafe Bar. This is the only bar on Cat Ba Island serving swimmers. A collation or a cocktail prepared by professional bartenders will surely please tourists.
Room prices range from VND 2.5 million to VND 6.5 million/per night. The resort is located at Cat Co beach, 500 m from Cat Ba Town. From Hanoi, it takes tourist 2 hours bus drive to go to Haiphong and one more hour to reach Cat Ba by ferry.
3. Do Son Resort in Haiphong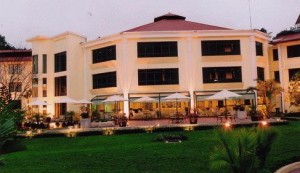 With romantic quiet space and perfect location in a large area, Do Son resort is the only 4 star hotel attached with a luxury modern casino-one of the most favourite entertaining spot of tourists across the country. The hotel has a unique design with sea-overlooking rooms.
The hotel is 150 km from Noi Bai airport and close to the beach. It is nearby Hon Dau resort and 1 km from Ben Nghieng. Room price of this place ranges from VND 2 million to VND 3.5 million/per night. Although it is not cheap compared to conveniences and service quality of Hon Dau resort, Do Son resort has the shortest distance to Hanoi and casino serving for entertainment of gentlemen.
4. Van Chai Resort in Thanh Hoa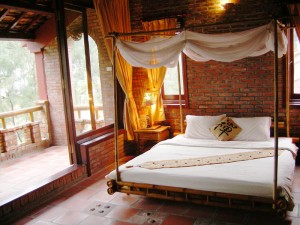 Van Chai means fishing village in Vietnamese language. Situated at the shore of Sam Son Commune, Thanh Hoa Province, 170 km from Hanoi, Van Chai resort is outstanding with traditional architecture style of Northern villages in combination with mordern comforts.
Van Chai resort includes 82 rooms and 2 villas with area of 125 m2. Every room is equipped modern amenities with spacious bathroom and balcony overlooking sea or garden.
With 2 swimming pools: an indoor pool supplying hot water in cold season and an available outdoor pool serving for swimming hobby of tourists regardingless of weather conditions. With body and face treatments, massage, herb bath,… dry and steam saunas, jacuzzi pool, Nature Spa will definitely refresh and wake up all your senses.
In addition, fitness center and outdoor sports will bring you a friendly healthy living environment. Taipan Bar delivers indoor entertaining services with rich menu of beverage and snack. 2 system of restaurants include: Ocean Restaurant serves fresh seafood, which you can not ignore when travelling to Van Chai and Fisherman Restaurant serves European and Asian food.
Room price at Van Chai resort is flexible for your choice. It ranges from VND 2.3 million to VND 11.5 million. However, Van Chai offers a lot of promotion programs with attractive prices in each season of the year. The resort is nearby popular tourists destinations of Thanh Hoa such as Cam Luong God Fish stream, Truong Le mountain, Doc Cuoc temple, Co Tien pagoda and citadel of the Ho dynasty.