There are six high-classed resorts in Nha Trang with not just expensive amenities but also the stunning views over the sea.
1. Six Senses Ninh Van Bay
Location: Ninh Van Bay
Room rate: VND 7.2 million/room/night
Reviews: 8,9 (Agoda)
Lying on the famous and beautiful peninsula of Nha Trang bay, Six Senses Ninh Van Bay attracts tourists for its fresh air, cool wind  in harmony with individual surroundings. With an area of 26.000 m2, the resort comprises 54 high-ranking villas which are distinctly French and Vietnamese.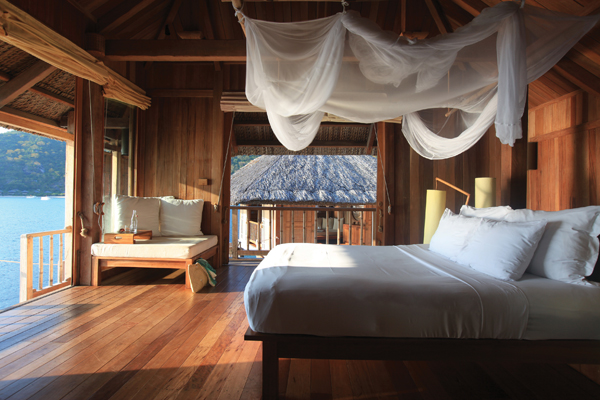 The facilities in every room is luxurious and elegant with open-air swimming pool, spacious living room, private cellar. All furniture are artfully made of pottery, wood, and bronze.
2. Vinpearl Luxury
Location: Hon Tre island, Vinh Nguyen ward
Room rate: VND 7.0 million/room/night
Reviews: 9 (Agoda)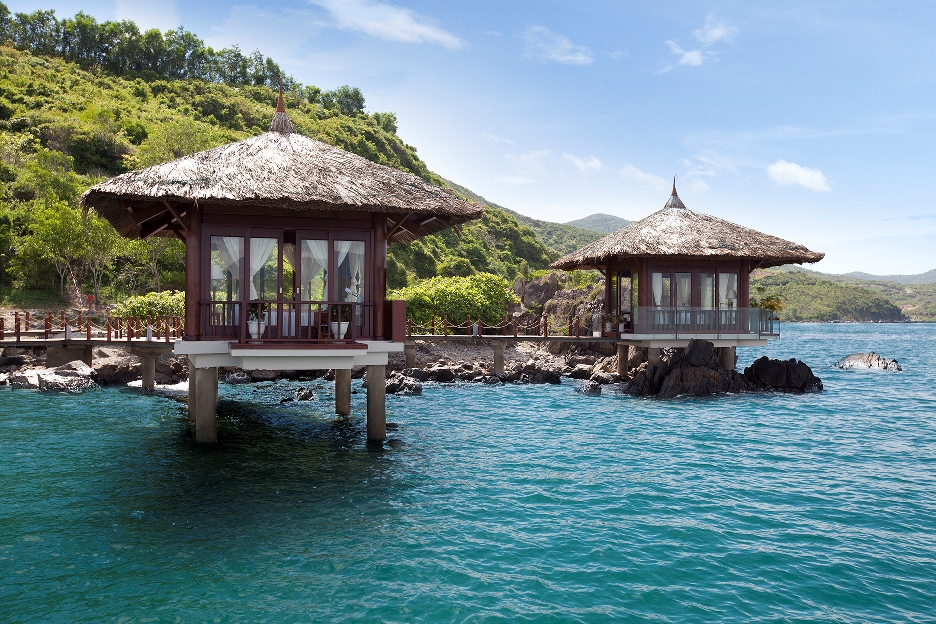 Designed in neoclassical styles to create a romantic and harmonious atmosphere steeped in luxury and privacy, Vinpearl Luxury Nha Trang is outstanding in entertainment-tourism complex. The resort includes 84 high-ranking coastal villas which divided into various types such as pool-side villas, beach-front villas, hill-top suite, grand hill-top suite. Of which, the most- chosen type is pool-side villa. The distinction among Vinpearl Luxury and other resorts is the ultimate sense of blue sea, sandy white beach, birth sun  from the view of private bathing room at balcony.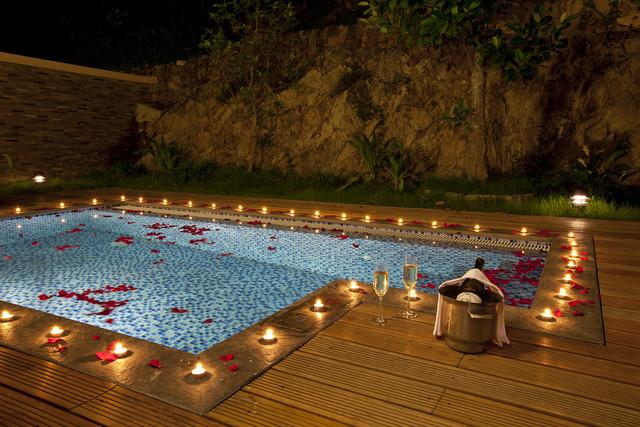 Vinpearl Luxury Nha Trang delivers a various selection of service from transportation service, beauty salon, mini bar, baby-sitting service, gift shop,… to  varied sports and beach games, swimming pool, golf course, tennis court, outdoor hydraulic bathtub, massage and spa…
3. An Lam Ninh Van bay
Location: Ninh Van bay, Ninh Hoa
Room rate: VND 5.8 million/room/night
Reviews: 8.9 (Agoda)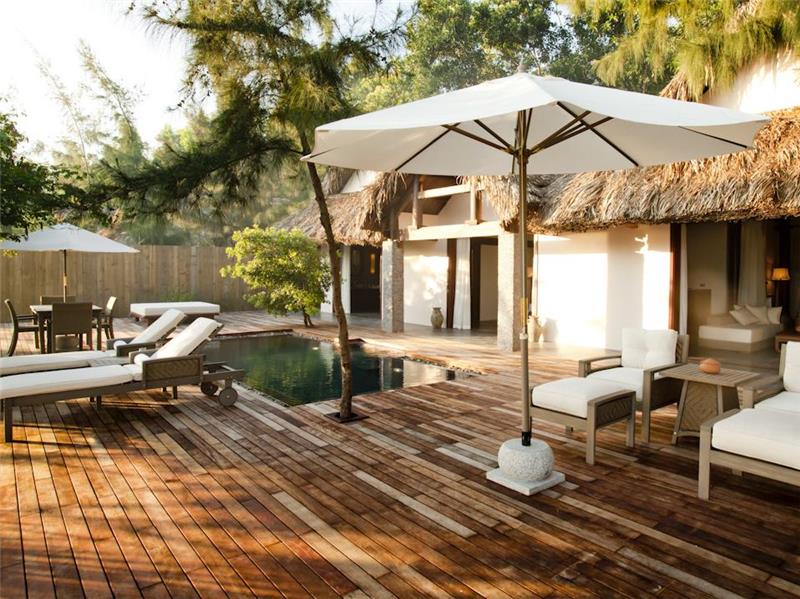 Away from Nha Trang City, An Lam Villas are on the lay side of Ninh Van Bay, with the sea in front of the resort and protected by beautiful hills and vegetation behind the villas. An Lam Ninh Van bay is where modern architecture meets natural aesthetics. The resort offers 35 spacious villas looking over blue sea, sandy white beach or leaning on natural rocks which are divided into categories such as beach-front villa, beach-side villa, lake-front villa, lagoon villa (villa has one-bedroom with spacious outdoor living), hill rock villa .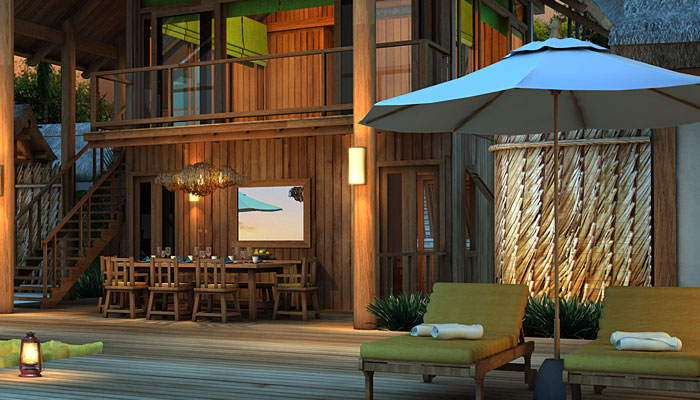 The resort also provide high-class comforts such as family room, bar, kids club, equipped gym, water sports…
4. Mia Resort
Location: Bai Dong, Cam Hai Dong, Cam Lam
Room rate: VND 3.5 million/room/night
Reviews: 9 (Agoda)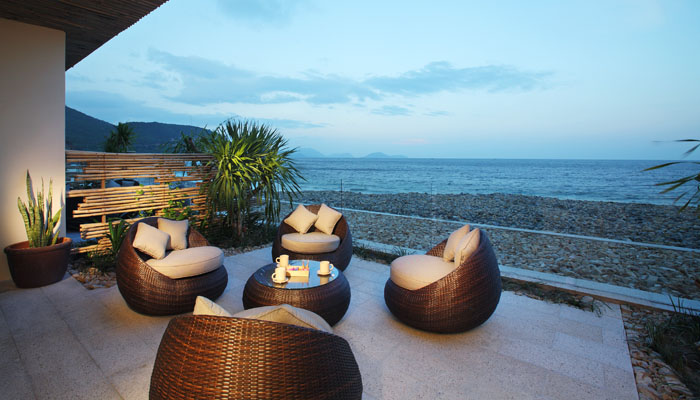 Being located at Bai Dong sea, one of the famous areas in Nha Trang and 20 km from city centre, Mia Nha Trang is an ideal destination to rest and visit nearby tourism sites such as oceanography institute, Con Se Tre island.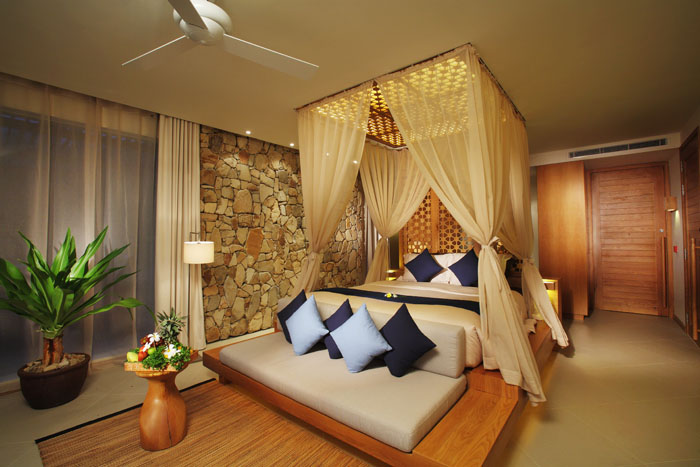 The resort is equipped with excellent facilities including hot spring bath, kids swimming pool, gym, massage, kids club to refresh guests after a long day exploring interesting events in the city. Mia Resort Nha Trang is trusted and praised a lot by many tourists. That is also why vacationers are advised to book room in advance if you want to rest here.
5. Evason Ana Mandara
Location: Tran Phu beach
Room rate: VND 4.2 million/room/night
Reviews: 8.7 (Agoda)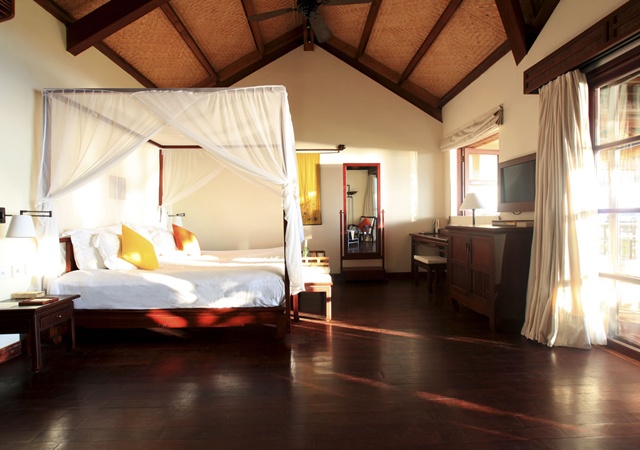 Matched with European classical and natural beauty, Evason Ana Mandara resort consist of 74 rest rooms  helping tourist enjoy the most comfortable relaxation space and admire poetic beach sunset or sparkling candle in the hotel. Each room has attached balcony with a stunning view of deep blue ocean in beautiful Nha Trang bay.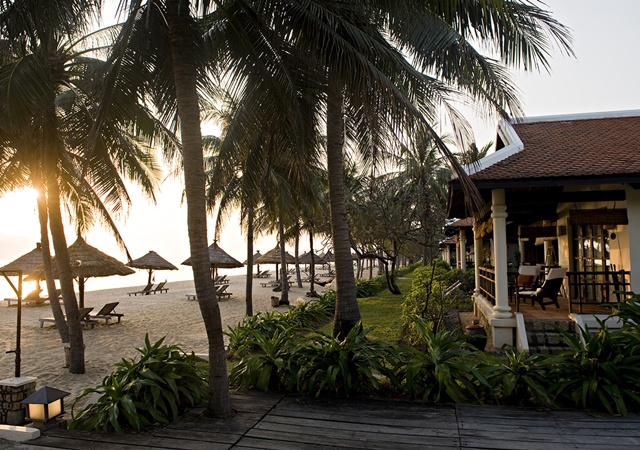 If travelling with kids, guests can play with them at kids club, kids swimming pool or enjoy fresh seafood cooked as per request at outdoor Beach or Ana Pavilion restaurant.
6. Vinpearl Resort
Location: Hon Tre island, Vinh Nguyen ward
Room rate: range from VND 4.0 million/room/nigh
Reviews: 8.4 (Agoda)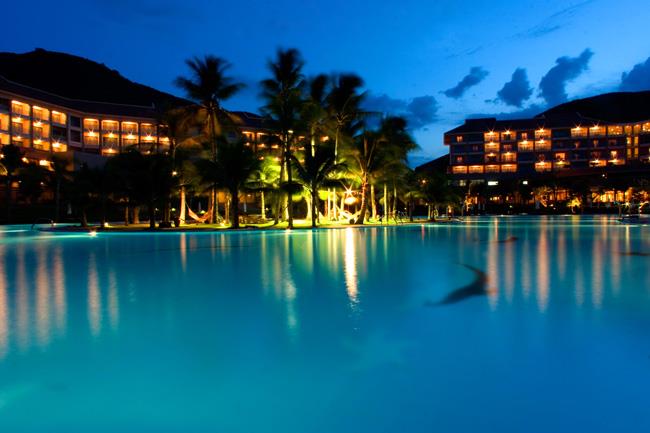 Vinpearl Resort and Spa is famous 5-star rated resort situated on beautiful Hon Tre island. The resort owns 485 modern rooms which features as a luxurious, idyllic, romantic and attractive resort. Vinpearl Resort and Spa owns  the best natural beach in Nha Trang and the most modern and largest outdoor swimming pool in South East Asia. In addition, a wide selection of service such as spa, health center, entertaining park, Vinpearl water park, discotheque club, or Vinpearl mall will help vacationers have a perfect luxury holiday.