Ba Trai Dao beach (3 Peaches beach) is situated about 22 km from Bai Chay tourism wharf to the Southeast, nearby Cat Ba island. This is a gorgeous beach possessing unspoilt beauty and poetic landscapes. The place is named Ba Trai Dao because it has 3 soft sandbanks in form of an arch embracing entirely peach-shaped mountains.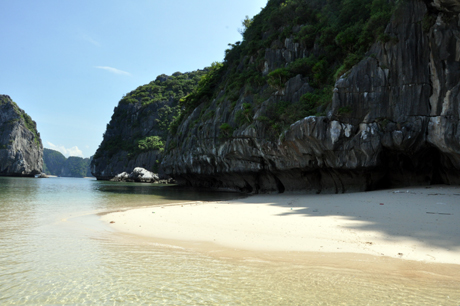 Three peaches are three small mountains of about over 20 m high which look like three fairy peaches from the distance. This destination is attached with a romantic love story between a good beautiful youngest fairy and a poor fisherman. Because they lived in two different worlds, the fairy stole three peaches of his father (Jade Emperor) for her lovers with a hope that they will live together forever. However, Jade Emperor knew this. He turned three beaches into three rocky mountains and forced the fairy to come back to the heaven.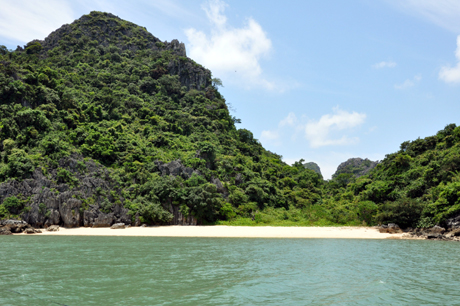 Ba Trai Dao beach is extremely beautiful with find sands, clear and clean water. On sunny day, visitors could see to the bottom. Compared to other beaches in Ha Long Bay, Ba Trai Dao beach is shallower,safer and more airtight. This is because it is surrounded by rock islands. Particularly, the cliffs above the beach have strange shape which is a perfect background for tourists to get impressive photos… More than that, on the mountain grows various plant species with radiant color, creating an animated landscape. Still, not all the time could tourists admire and swim in the beach. When the tide is high, it will drown the whole beach and that is why your time at the beach is limited about 2-3 hours/per day. Therefore, before going to the beach, you should survey tide tables if you want to swim in the beach.