On the afternoon of 8 June 2013, Khanh Hoa Provincial Tourism Association held an opening ceremony of Cuisine Festival 2013 at Beach Park across Khanh Hoa's museum.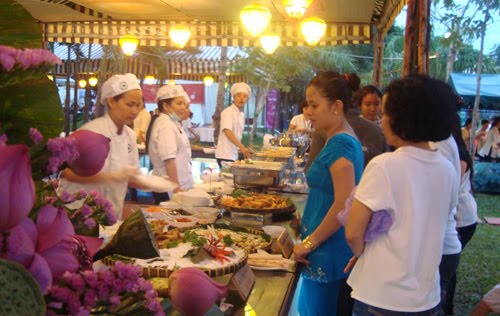 Cuisine Festival is an activity of Sea Festival 2013 with participation of 10 booths of restaurants, hotels, travel agencies in Khanh Hoa such as Evason AnaMandara, Champa Island,Duyen Hai hotel, Au Lac Thinh Wedding Hall, Yasaka Saigon Nhatrang hotel, Waterland Suoi Thach Lam tourist destination, Ngoc Suong tourist destination….
Through Cuisine Festival, the organizers hope to bring unique and delicious dishes which are only in the menu of luxury restaurants, hotels to the street to serve local people and tourists. The festival closes on 11 June 2013.