Making a temporary residence declaration is a requirement for foreign visitors in Vietnam, particularly when the covid outbreak is still ongoing. In this post, Vietnam Visa Easy is going to guide How to declare temporary residence online in a minute.
Step 1.
Access the national immigration portal https://www.xuatnhapcanh.gov.vn/vi_VN/web/guest/khai-bao-tam-tru and selec the city or province at which you are located from the list. Next, click on UK flag icon to choose English language. If you have the landlord make the declaration on your behalf, it would be much easier.
Step 2.
Create an account. If your landlord already has an account, she or he can sign in to go directly to the form. If not, please input required information to complete the sign-up. Below is the screenshot of the sign-up form.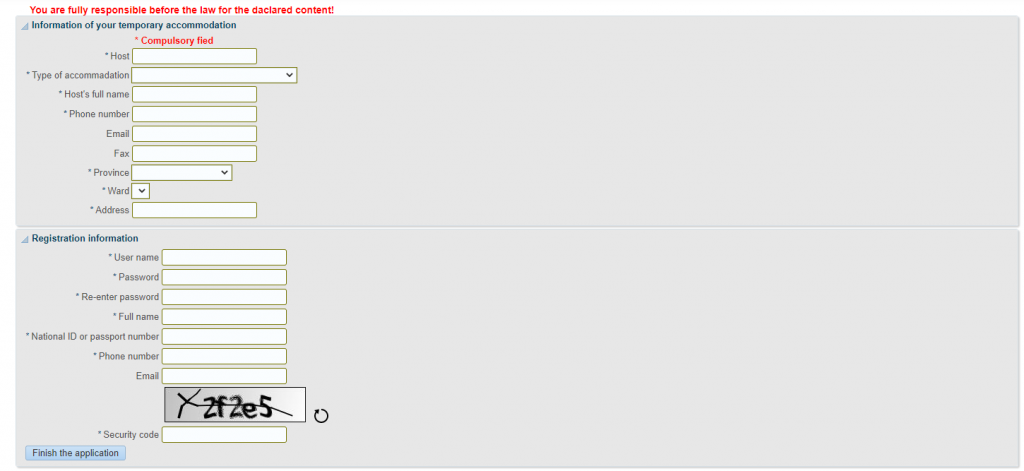 Step 3.
Fill out the temporary residence declaration form online with with following information:
Room Number
Passport numberNationality
Full name
Gender
Date of birth
Date of moving it
Intended date of moving out
After completing the form, you click on "Save" button, and then you will see a notification of success. It's the end for your procedure to register your temporary residence in Vietnam online.
The temporary residence declaration is required to apply for a visa extension and temporary residence card. Make sure you update the residence address on the immigration portal online each time you move to a new place.
The alternative traditional way of registering temporary residence can be carried out directly at public security agencies of communes, wards or township or police station in localities. You just need to submit a completed form Na17 as shown below and the officer on duty of the commune-level police station receives dossiers to check the eligibility and declared information. If the declaration form is appropriately completed, it shall be imported and certified according to regulations; Otherwise, declarant is required to amend and supplement the form.